The red carpet was full of some fab fashion for this year's Emmy Awards ceremony -- take a look at who really stepped it up for the big event!


---
'Mad Men' Style Showdown
The women of "Mad Men" are getting a lot of coverage over their attention-grabbing red carpet style -- but which one pulled off the best look?



January Jones wore a royal blue Aterier Versace (left), Elisabeth Moss opted for a beige Donna Karan (center) while Christina Hendricks donned a lavender Zac Posen lined with ostrich feathers (right).

Question is ...


---
Emmys: Shop Celeb Style!
The red carpet looks at the Emmys last night all had a couple things in common: They were stunning, flawless and, most likely, very, very expensive.




While you may not be able to shell out the big bucks for Kyra Sedgwick's gorgeous Monique Lhullier gown or Emily Blunt's beautiful Dior, we tracked down a few affordable alternatives that'll still make you feel like a star.

Click the photo above to get the goods!
---
Jimmy Fallon's Emmy After-Party!
After the Emmy Awards ceremony went down last night, the stars were all ready to get their party on -- and host Jimmy Fallon's bash at Trousdale was the place to be.



Claire Danes and Kyra Sedgwick were holding their golden statues when they showed up to the party -- which Jon Hamm, Kate Gosselin, "True Blood's" Sam Trammell, Matthew Fox, Padma Lakshmi, Amy Poehler and more all attended.

Check out the after-party action!
---
Emmys: Governor's Ball Bash!
The champagne was flowing after the Emmy Awards last night -- and everybody was in a celebratory mood, even if they didn't go home big winners!



Check out these candid moments with the stars of shows like "True Blood," "Mad Men," "Glee" and more as they hit up the Governor's Ball after the show!
---
Emmys Video: Top 10 Fashions
From Heidi Klum's super-short Marchesa to January Jones' edgy blue Versace -- these are the Top 10 looks this year on the Emmy Awards red carpet!


---
Betty White: Too Fab Timewarp
 With 5 wins and 16 nominations, Betty White is an Emmy Awards staple.
 

Check out how our favorite Golden Girl has changed over the  past 55 years!

---
Flawless Faces: Zoom View ... NEW!
The final touch of a winning award show look is a good paint job -- zoom in and take a closer look at some of the makeup masterpieces on the red carpet.


---
Emmy Winners: The 'Family' Photos
"Modern Family" had a big night at the Emmy Awards -- and every member of the huge ensemble cast was ready to celebrate the show's wins!



Sofia Vergara, Ed O'Neil, Julie Bowen, Rico Rodriguez and the rest of the hilarious crew lived it up after nabbing the Outstanding Comedy Series award during the ceremony  -- and it was doubly exciting for Eric Stonestreet, who also picked up the trophy for Supporting Actor!

Check out all the "Family" fashion -- and the after-party pics!
---
2010 Emmy Award Winners
The 62nd Annual Emmy Awards were full of surprises and first-time winners -- here's a breakdown of who went home with a trophy!




Directing for a Drama Series: Steve Shill, Dexter
Lead Actor in a Drama Series: Bryan Cranston, Breaking Bad
Supporting Actress in a Drama Series: Archie Panjabi, The Good Wife
Supporting Actor in a Drama Series: Aaron Paul, Breaking Bad
Writing for a Drama Series: Matthew Weiner and Erin Levy, Mad Men
Reality Competition Program: Top Chef
Lead Actress in a Comedy Series: Edie Falco of Nurse Jackie
Lead Actor in a Comedy Series: Jim Parsons from The Big Bang Theory
Directing for a Comedy Series: Ryan Murphy of Glee
Supporting Actress in a Comedy Series: Jane Lynch of Glee
Writing for a Comedy Series: Steven Levitan and Christopher Lloyd from Modern Family
Supporting Actor in a Comedy Series: Eric Stonestreet from Modern Family


---
'Glee' Fashion Hits a High Note
The cast of "Glee" hit the red carpet for their first Emmy Awards with the show.




From Lea Michele's festive Oscar de la Renta gown to Jane Lynch's glam Ali Rahimi dress, check out how the ladies really stepped it up for the big event!
---
Emmy Awards: Dapper Dudes
The Emmy Awards aren't only about the beautiful ladies and their gorgeous gowns -- it is also about these handsome men!


---
Emmy Red Carpet Cuties!
They can walk the red carpet with their best gown, most glamorous jewelry or dapper suit -- but the most talked about accessory can also be their arm candy.



Check out these loving couples who spent Emmy night together looking glamorous as always!
---
Backstage Laughs!
Not all the fun went on during the Emmys telecast -- check out all the candid moments with people like George Clooney, Claire Danes and Al Pacino that went on behind the scenes, in the Emmy's press room!


---
Emmy Sparkle: Zoom View!
A good dress is only one part of a winning Emmy Award outfit -- zoom in on this gallery and take a closer look at the shiny accessories that also really made a statement!


---
Red Dress Style Showdown
A few ladies matched their dress with the carpet at this year's Emmy Awards -- but who rocked the color best?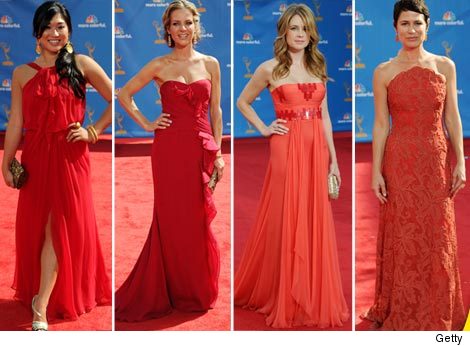 Out of "Glee" stars Jenna Ushkowitz and Jessalyn Gislig, Jenna Fischer of "The Office" and Maura Tierney, question is ...


---
Hot Emmy Heels: Zoom View!
We're going head over heels for these red carpet shoes -- zoom in and take a closer look at the fashionable footwear of all your favorite stars!


---
Vote for Your Favorites!
"
Glee
," "
Lost
," "
Modern Family
" and the rest of TV's best shows will face off during the
2010 Emmy Awards
this Sunday -- but before the show goes down, let us know who you're rooting for!
From
Outstanding Comedy
to
Outstanding Reality Host
, tell us your picks for this year's ceremony!
Be sure to come back here this Sunday, where we'll have up-to-the-minute updates on all the pre-parties, red carpet fashion and big winners!
Coverage starts at 3pm PT!
---
Rehearsals: Jeans & T-Shirts
Before the Emmy Awards presenters got all dressed up for the big event, they kept it cool and casual during rehearsals yesterday in L.A.




From Betty White to Anna Paquin, check out the stars before they got glam!
---
2009 Emmy Earrings: Zoom View!
Earrings make every actress' close-up sparkle -- zoom in on these gems from Emmy Awards past!


---
Whose Emmy Heels?
Every actress stands tall on the red carpet thanks to their heels -- see if you can figure out which stars got an extra lift from their precious pumps!


---
Hot Emmy Award Hair-Dos!
Don't be caught on the red carpet with a hair-don't -- check out the sassy updos from 2009 that we gave two thumbs up.


---
Jane's Emmy Style Showdown
Jane Lynch hit up two different Emmy events this weekend in L.A. -- and actually wore a dress to one of 'em!



First, the "Glee" star stepped out of her comfort zone and went to the Creative Arts Emmys in a glittery, silver gown before going to an Emmy kick-off party last night in one of her signature suits.

Question is ...
---
Creative Arts Red Carpet
The Emmy Awards aren't until next Sunday -- but yesterday in L.A, the Creative Arts Emmys were handed out, and gave a sneak peek at what kind of fashion to expect next weekend.
Kathy Griffin, Kristin Chenowith, Jane Lynch, Christina Hendricks, Ryan Seacrest, Mel B, Neil Patrick Harris and more all hit the red carpet.

NPH also picked up an Emmy for Best Guest Star on a Comedy for "Glee," while John LIthgow took home the one for Drama for his role as the Trinity Killer on "Dexter"

Other winners included "Modern Family" and "Mad Men" for casting, Betty White for guest actress on "SNL" and Jeff Probst for hosting "Survivor."
---
Emmy Week Kick-Off Party
The Emmy Awards are less than a week away -- and as we get closer to the big day, the stars of your favorite TV shows are stepping up their red carpet game and showing off some fab fashion.



Stars of "Glee," "90210," "Modern Family," "True Blood" and more all hit Audi & Chopard's Emmy Kick-Off Party last night at Cecconi's Restaurant in L.A.

Check out all the glamour shots!