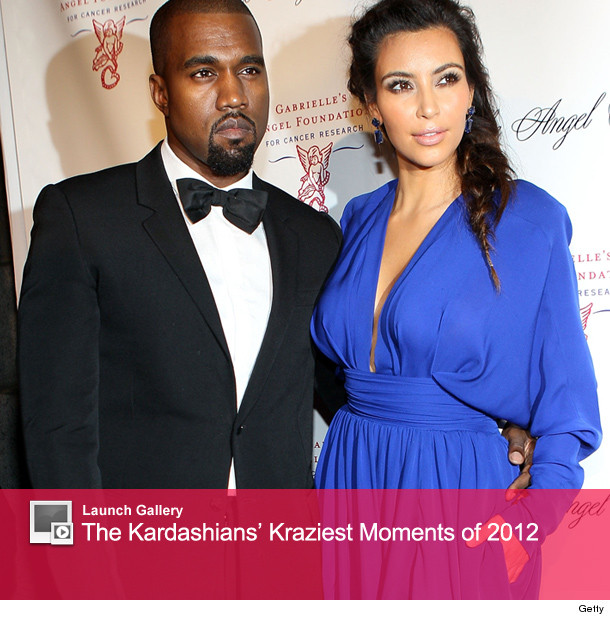 The Kardashians capped off 2012 in a big way -- by announcing that Kim Kardashian is pregnant with Kanye West's baby.
While the rapper broke the news during a concert Sunday night, the reality star didn't confirm it until this morning, posting about her pregnancy on her blog.
"It's true!! Kanye and I are expecting a baby," she posted on Monday. "We feel so blessed and lucky and wish that in addition to both of our families, his mom and my dad could be here to celebrate this special time with us. Looking forward to great new beginnings in 2013 and to starting a family."
And her friends and family (and entire Twitterverse) have been tweeting up a storm since.
Check out what they've been tweeting below ... and see the one star who clearly isn't a "Keeping Up with the Kardashians" fan.
Ryan Seacrest
: It's true :) @KimKardashian & @KanyeWest are having a baby! congrats u guys
La La
: Kimmie's going to be a mommy!! Sending major love & congrats to @KimKardashian and @kanyewest! 2013 is starting off with LOVE and BLESSINGS!
Demi Lovato
: So happy for you @KimKardashian.. Love you SO much and I'm so excited to babysit!! Miss you girly.. Once again... SO happy for you!!! Xox
Khloe Kardashian
: Keeping secrets is hard with so many family members! Especially when you are so freaking excited. LOVE is everything!!!!
Kourtney Kardashian
: Been wanting to shout from the rooftops with joy and now I can. Another angel to welcome to our family. Overwhelmed with excitement.
Lamar Odom
: I'm excited for Kanye and my sister! There's nothing like bringing life into this world! Let's keep Gods blessings coming!
Kris Jenner
: Im a happy girl !!!!!!!!! Wowza. Oh BABY BABY BABY!
Kylie Jenner
: Congrats to this beautiful couple. I love you guys
Kendall Jenner
: Whos excited about the KIMYE babbyyy?! :D weeee
Larsa Pippen
: Congrats @KimKardashian. You're gonna be the best mom ever!! Can't wait
Tamar Braxton
: What a baby boom! Happy for Kim&Kanye :-)
Jonathan Cheban
: I better be the godfather...LOL!!
Brittny Gastineau
: I am so beyonnnnnnd excited no words....#crying #emotional #bffforever @KimKardashian
Crystal Harris
: Congratulations on your pregnancy @KimKardashian!
Devon Sawa
: So Kim and Kanye are.... F*** it, who gives a s***.
Are you excited for the baby? Check out more of the Kardashians' wildest moments of 2012 above.