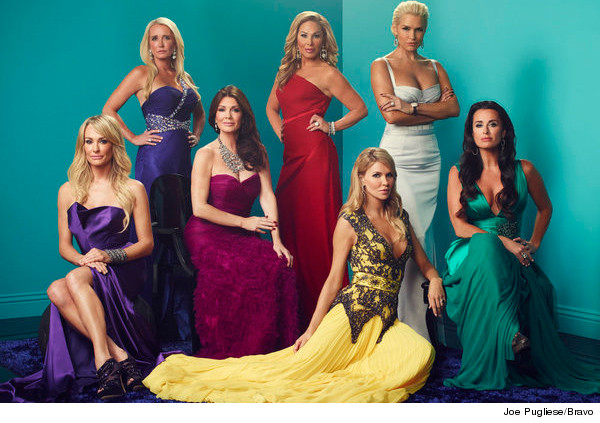 Part 1 of "The Real Housewives of Beverly Hills" reunion aired last night, with rumors dispelled and secrets revealed.
1. There was no lawsuit between
Adrienne Maloof
and
Brandi Glanville
All season long, Brandi claimed Adrienne was suing her. There was no lawsuit.
Brandi had a friend Geneva who used to work for Adrienne. Adrienne suspected Geneva was feeding Brandi information. Adrienne's lawyer sent a letter to Geneva, naming Brandi. Adrienne's lawyer then reached out to Brandi's lawyer asking for a meeting. Brandi claims that Adrienne's lawyer said if they didn't meet, Brandi was getting sued. But was she ever served? It doesn't seem that way.
2.
Yolanda Foster
and
David Foster
have a pre-nup
Yolanda is the fourth wife of music producer David Foster. She revealed they have a pre-nuptial agreement. "Everything is great when you're in love," the Dutch model said. "A pre-nup is a contract, an understanding. If things ever come to an end, you can walk away."
3. Yolanda has Lyme disease
Yolanda has been sick for two years. Her brain function was so impaired that she couldn't carry a conversation with
Taylor Armstrong
. Apparently, the disease was causing her memory lapses
at the reunion
, according to Brandi Glanville.
4. The confusion over
Kennedy Armstrong's
whereabouts
Viewers were shocked when a seemingly drunk Taylor called
Kyle Richards
and was surprised to learn her daughter Kennedy
was with her castmate
. In reality, Taylor believed her nanny had taken Kennedy to her mom's house. Kim corroborated Taylor's statement, and said that part of their conversation was cut from the show.
5. Taylor is "madly in love" with a married man.
Taylor Armstrong fell in love with her attorney
John Bluher
. She admitted they had been dating since the summer, and that he is in a "protracted divorce."