Jennifer Aniston and Justin Theroux finally tied the knot, after a three-year long engagement marked with never-ending tabloid gossip about splits, babies and everything in between.
While it's Justin's first marriage, this is the second time down the aisle for the former "Friends" star, who was famously married to Brad Pitt from 2000-2005.
How does this celebration stack up against her first trip to the wedding rodeo? Let's investigate!
The Venue
When Jen and Brad said "I Do," they rented out a five-acre property in Malibu owned by "Cosby Show" and "Roseanne" producer Marcy Carsey (above).
The grounds were set up with tents, lanterns, tables covered in flowers from La Premiere of Beverly Hills and even a fountain made especially for the occasion. They had a string quartet, a jazz band and a 12-year-old "Sinatra-style singer" perform, before a 13-minute firework display set to songs from Radiohead and Garbage. The former couple (and their 200 guests) also enjoyed a six-tiered cake.
The entire setup allegedly cost around $1 million.
For her second wedding, Aniston kept things closer to home -- by having the ceremony in her and Justin's own back yard!
The couple set up a walkway over the pool at their $21 million Bel Air estate, and covered the area in tables and candles and a large bar. In photos on TMZ, a cake with two puppets on top was also spotted going into the space before the ceremony.
Looking at the setup, it appears it was a very intimate occasion, with only about 70 guests in attendance.
The Guests
Both Pitt and Aniston had a ton of celebrity friends at their fancy soiree ... and quite a few "Friends" too. Courteney Cox attended with then-husband David -- and David Schwimmer, Matthew Perry and Lisa Kudrow were all in the house as well. Matt LeBlanc was working on a film at the time.
Other attendees included Edward Norton, Salma Hayek, Cameron Diaz, David Spade, Kathy Najimy and Jon Lovitz, who gave a toast at the reception. Melissa Etherirdge and Dermot Mulroney reportedly performed as well.
The guest list at Justin and Jen's nuptials was equally impressive.
Kurdrow once again attended, as did John Krasinski and wife Emily Blunt, Chelsea Handler, Howard Stern, Sia, Lake Bell, Ellen DeGeneres, Scott Campbell and photographer Terry Richardson.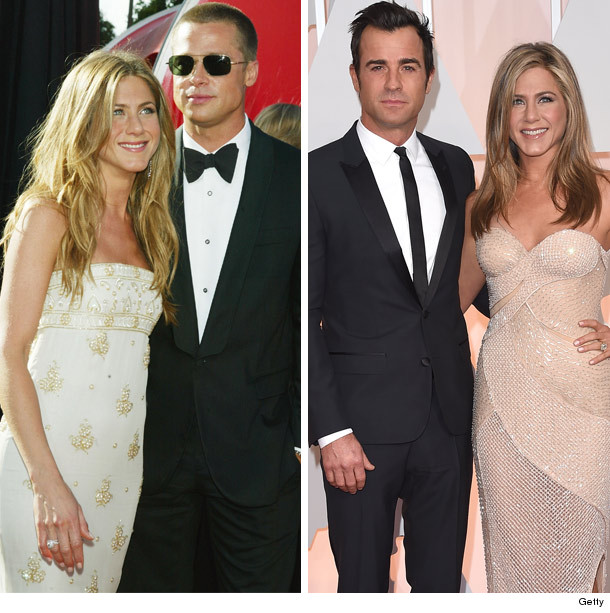 The Groom
When Jen tied the knot with Brad, the two had been together for about two years. They first went out after being set up on a date by their reps and got engaged shortly after. 
The marriage lasted only 5 years, as the two separated and then finalized their divorce in 2005, amid gossip that Pitt was hooking up with his "Mr. and Mrs. Smith" costar Angelina Jolie. Pitt and Jolie would tie the knot as well last year, after being together for almost 10 years.
Pitt & Jolie just released a new trailer for their second film together, "By the Sea," today. Coincidence?
Aniston met Theroux through Ben Stiller (who wrote "Tropic Thunder" with Justin), but became closer after working together on the film "Wanderlust." They got engaged about 18 months into the relationship, with Theroux popping the question on his 41st birthday.
They waited a good three years before finally saying "I do."
The Ring
Pitt proposed in 1999 with a ring he co-designed with jeweler Silvia Damiani, who also worked on the former couple's wedding bands. The spiral, diamond-studded sparkler was estimated to be worth around $500,000. 
Justin's ring was far more traditional, with the emerald-cut bauble featuring a massive stone and gold band.
We can't wait to get a glimpse at her wedding bang this time around!
Congratulations to Jen and Justin -- it sounds like they had an intimate evening perfectly suited to their low-key attitudes.