J.K. Rowling is a wizard when it comes to marketing.
Last week, the author of the "Harry Potter" series unveiled a new website named Pottermore, which bore her signature and the cryptic message "Coming soon..."
Fans speculated that Pottermore would be a Potter encyclopedia (to rival the popular fan-driven Harry Potter Wiki and MuggleNet sites) or a new entry in the series (either a prequel or sequel).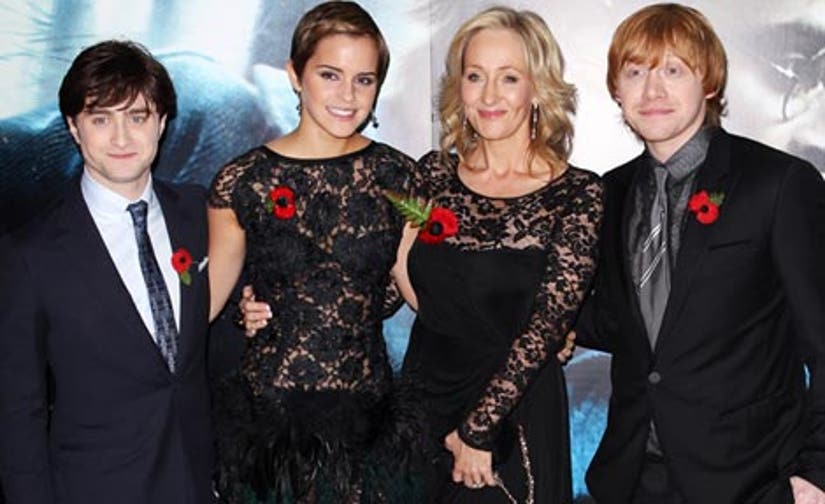 Rowling revealed Pottermore's contents in a news conference today. The website will serve as a supplement to the seven books, offering both new and old readers a bevy of new background material written by Rowling herself. The press release offers more details:

"In the new website, the storyline will be brought to life with sumptuous newly-commissioned illustrations and interactive 'Moments' through which you can navigate, starting with the first book, 'Harry Potter and the Philosopher's (Sorcerer's) Stone.' On entering, you choose a magic username and begin your experience. As you move through the chapters, you can read and share exclusive writing from J.K. Rowling, and, just as Harry joins Hogwarts, so can you. You visit Diagon Alley, get sorted into a house, cast spells and mix potions to help your house compete for the House Cup."
New users will be placed into Hogwarts houses by answering questions from the Sorting Hat (as the characters do in the novels) and gain custom magic wands, creating a totally customized experience. Users will also be able to contribute content as well. Check out a photo of the site:
"I wanted to give something back to the fans that have followed Harry so devotedly over the years, and to bring the stories to a new digital generation. I hope fans and those new to Harry will have as much fun helping to shape Pottermore as I have," Rowling wrote. "Just as I have contributed to the website, everyone else will be able to join in by submitting their own comments, drawings and other content in a safe and friendly environment – Pottermore has been designed as a place to share the stories with your friends as you journey through the site."
The website activates on July 31 -- Harry Potter's birthday -- but only to one million registered fans. The rest will have to wait until October for the website's official release. "Harry Potter" ebooks will be available via the site at that time too.
Of course, the timing follows the release of "Harry Potter and the Deathly Hallows Part II" on July 15 -- the final time Daniel Radcliffe, Emma Watson, and Rupert Grint share the screen. Rowling's betting that fans will be hankering for even more Potter material after watching the final movie, and Pottermore will give them just that -- more Potter!