Julianne Hough wore a tuxedo dress from Rachel Zoe's collection to the NYC premiere of Footloose at the Tribeca Grand last night. She was joined on the patterned carpet by her costar Kenny Wormald. Julianne and company moved on to an afterparty at Catch Roof, where Peter Facinelli got in on the photo fun. Julianne and Kenny have been doing lots of press in the run-up to the remake's release tomorrow.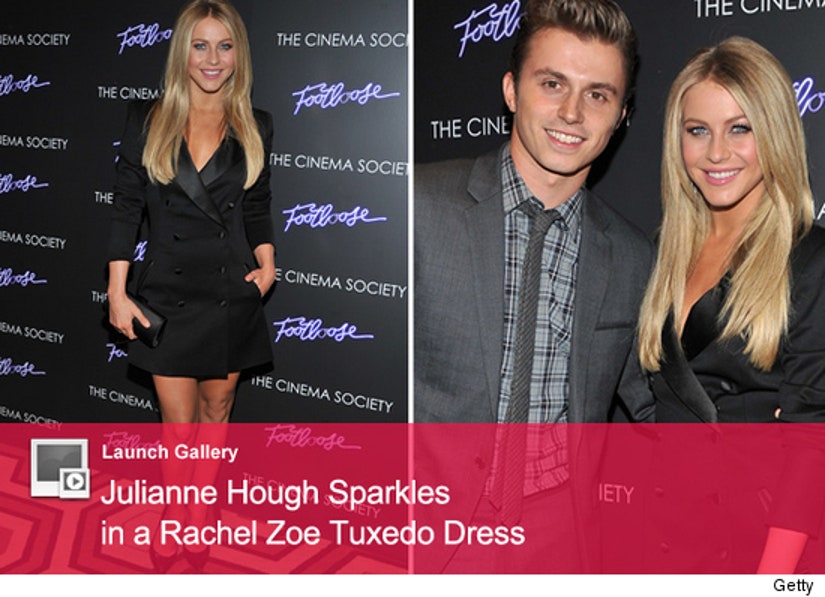 We caught up with both actors at their recent press junket, and Julianne revealed her favorite dancing scene in the whole film. Julianne told us, "They were all so much fun, but I loved the country line dance 'cause it was so sexy, it was such cool dancing. My mom and my three sisters came down for it. They were in the movie, they got to do the scene. They were dancing, and it was just a blast — we had so much fun." There are more interviews in store for Kenny and Julianne. She tweeted this morning, "Gonna do Sirius radio, NY live WNBC, and then Jimmy Fallon later! A great day of interviews for Footloose before we head to London!"
Click "Launch Gallery" above to see the star studded night!