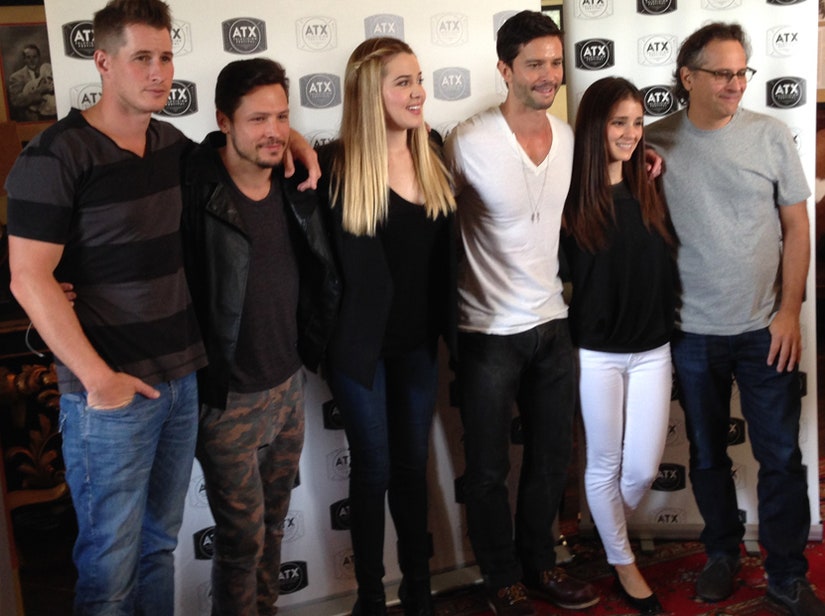 TooFab
Break out the hot sauce, the "Roswell" crew is together again!
The incredibly good-looking aliens and their equally-attractive human buds reunited in Austin, Texas over the weekend during the ATX Television Festival -- their first get-together as a group since the show went off the air in 2002.
Jason Behr, Shiri Appleby, Brendan Fehr, Majandra Delfino, Nick Wechsler and creator Jason Katims were all on hand for the event, with Katherine Heigl, Colin Hanks, William Sadler and Emilie de Ravin noticeably absent.
The cast had A LOT to catch up on and were very chatty during a small press conference on Sunday afternoon, opening up about how much their lives have changed since the cancelation of the WB series and revealing a little TMI from the set.
See some of the reunion photos in the gallery above and keep reading to learn 10 things you probably never knew about "Roswell."
1.) Brendan Fehr Might Do ANYTHING for $100
This was definitely the biggest TMI moment of the conference, with Brendan Fehr -- who played Michael Guerin -- giving an explicit play-by-play of a dare that ended with him peeing his own pants.
Shiri's shocked expression says it all.
While Jason Behr was a surprise for the audience at the panel, there was another surprise in the audience itself: Snooki!
The "Jersey Shore" star came all the way from New Jersey for the reunion because she's such a huge fan of the show. The reality TV star even asked the cast a question, closing out the panel by seeing if they actually believe in aliens.
Snooks and Shiri started tweeting back and forth about meeting up later in the day. Stay posted for more ...
3.) Your Favorite Alien Teens Are All Parents Now!
When toofab's Brian Particelli asked what it's been like catching up with each other after all these years, Behr said most of them have kids now so it's been nice to talk about that.
FYI: Nick, who makes a oral sex joke in the video above, is the only one who hasn't had babies yet.
5.) Nick Has One Big Style Regret
Nick Wechsler used to have earrings when he played Kyle Valenti back in 1999. But now, they're long gone. Does he miss 'em at all?
"That was a foolish mistake," he says of his ear jewelry. "I was playing a football player too! That's ridiculous. That would be too much of a pain, pulling your helmet on and off, catching your earring."
Yes, that's one trend best left in the late '90s/early '00s.
6.) "Twilight" Is a Rip Off!
One reporter asked Jason Katims if he thought "Twilight" was heavily influenced by their show, as both revolve around a young girl being saved from death by an other-worldly boy.
While Katims said he's never seen any of the films, Majandra copped to reading the first book -- and said that yes, there were definitely some similarities there.
Wechsler also said he heard writer Stephenie Meyer was a fan of his because of "Roswell," so she's definitely seen it!
Brendan told toofab that he sometimes forgets how long it actually has been since the show's been on the air.
"I'll see a 20-year-old girl and be like, 'She knows Roswell,' I view our fans the same as I did 15 years ago. But 15 years, now they'll be 35," he says. "I'll have parents who have 15-year-old girls, they'll be like "Dad, I don't know.' It'll really put me back in my place. You were barely alive when 'Roswell' was on!'"
8.) Some of Them Have Revisited the Series Recently
It's been 15 years since the show was on the air, but the series lives on via Netflix, Amazon and DVDs -- so who's popped the show back on recently?
Watch the video above to see who re-watched to update their reel and who sat down and viewed it with his godchildren.
9.) Answering The Inevitable Movie Question
Anytime a group reunites, the question then becomes: When's the movie?
"As far as I'm concerned, I would love to speak any words Jason [Katims] writes, he would never put something out there that is not worthy of the fans' love," says Majandra. "I would be up to him."
This is very similar to what the stars of one of Katims' other shows, "Friday Night Lights," told us about that much-discussed film. Everyone would be on board, if the creator/writer could come up with a new way of telling the story that doesn't tarnish its history.
"It's like some s**tty reunion of like a band that you used to love," Nick says of not wanting to disappoint the fans. "S**t all over their memory of what you loved by writing some new piece of s**t album."
10.) "Roswell" Fans Are In It for Life!
Like Snooki, some fans will go to great lengths to prove their love for the show.
Shiri and Jason revealed they've come across quite a few hardcore "Roswell" aficionados who found a very permanent way to express their devotion to the series. See their explanation above.
Check out how much the entire cast has changed since the show ended in 2002 -- and check out more reunions from ATX below!