Halloween is still a day away, but all the morning shows celebrated on Friday -- and we're LOVING some of the costumes on daytime television today.
Ellen DeGeneres was one of the first to reveal her costume, going as the "other," less famous Kardashian sister Karla. "My name is Karla Kardashian with a K. Because we're known for our double Ks, these are double Ks too, by the way," she said with a laugh, referencing her giant breast plate.
Sporting an animal print top, black leggings, a wild wig, oversized glasses and a pair of "Kim's Shape-Ups," DeGeneres looked hilarious. "For some reason, I've always been cut out of the show. And I understand – because they only have like 12 reality shows that are on TV 80 hours a week, but you know they didn't have room for me," she explained.
Like a true Kardashian, she also said she got her first endorsement deal ... with Funyuns!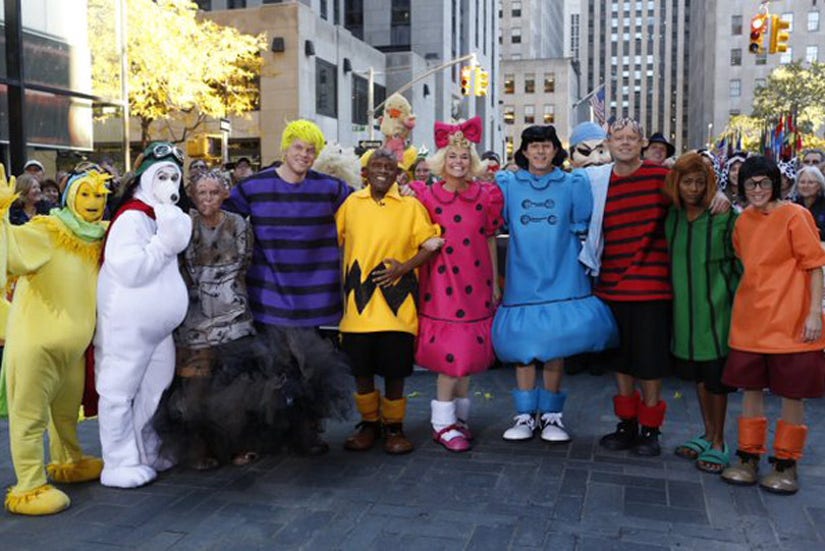 NBC
The "Today" crew totally transformed into the cast of "Peanuts," with Matt Lauer once again wearing drag and going as Lucy.
Seeing Hoda Kotb and Kathie Lee Gifford as Woodstock and Snoopy, respectively, was crazy ... and also a little bit creepy. Same goes for Meredith Vieira, who looked a bit off as Pig Pen. But we gotta applaud the group's dedication!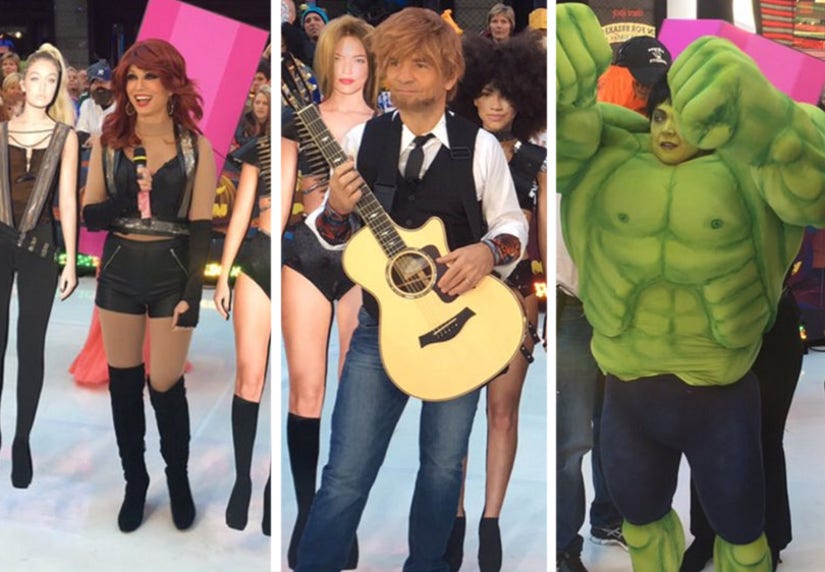 ABC
Over at "Good Morning America," the gang covered an array of pop culture costumes.
Paula Faris and Amy Robach went as dueling divas Katy Perry and Taylor Swift -- Swift coming equipped with her "Bad Blood" squad. George Stephanopoulos went the pop route too, transforming into Ed Sheeran.
Ginger Zee tackled The Hulk, Lara Spencer made a spot-on Donald Trump and the entire group also dressed as the cast of "Star Wars: The Force Awakens."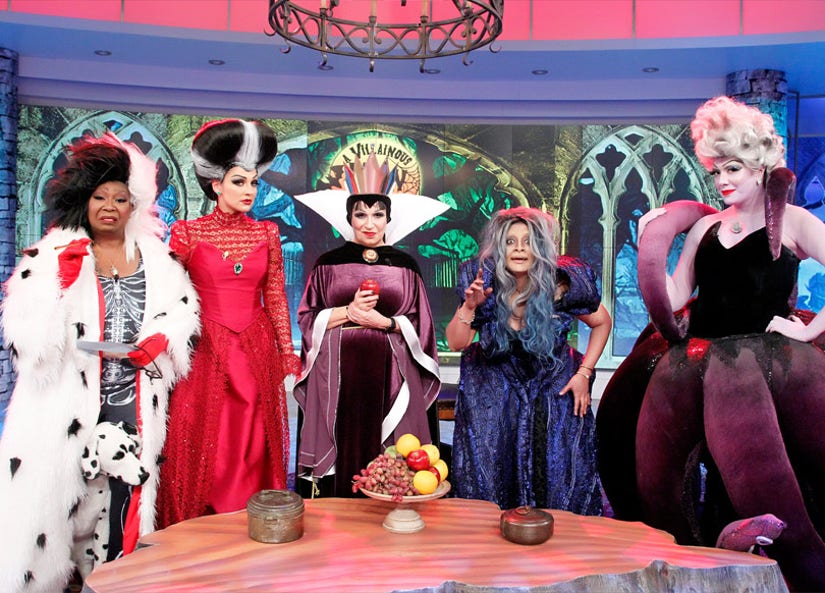 ABC
The women of "The View" transformed into Disney villains, each rocking incredible makeup, hair, and costumes straight out of a storybook.
Whoopi Goldberg channeled "101 Dalmatians" bad gal Cruella de Vil down to the last detail. Goldberg wore a skin-tight skeleton body suit with an oversized fur Dalmatian coat and trademark hair. She even topped off the look with a Dalmatian stuffed animal.
Joy Behar showed off her spirit by dressing as the Evil Queen from "Snow White," poison apple and all ... while Raven-Symoné transformed into "The Witch" from "Into the Woods." The outspoken host looked unrecognizable in a long tangled wig, old age makeup and dramatic dress.
Michelle Collins pulled a Colton Haynes and tackled Ursula from "The Little Mermaid," rocking purple body paint, an extravagant wig and stuffed tentacles. Paula Faris pulled off quite the evil makeover as well, dressing as the Wicked Stepmother from "Cinderella." With the Victorian red dress and dramatic wig to the scowl on her face, Faris nailed this costume.
Sara Gilbert's transformation into Celine Dion was absolutely incredible -- we've never seen her look so made up, sporting some dramatic makeup and a long brunette wig. Sharon Osbourne was also unrecognizable, thanks to a Sia haircut that covered half her face.
Julie Chen looked amazing as a '90s-era Madonna, Aisha Tyler turned it out as Beyonce and Sheryl Underwood had us rolling with laughter as James Brown.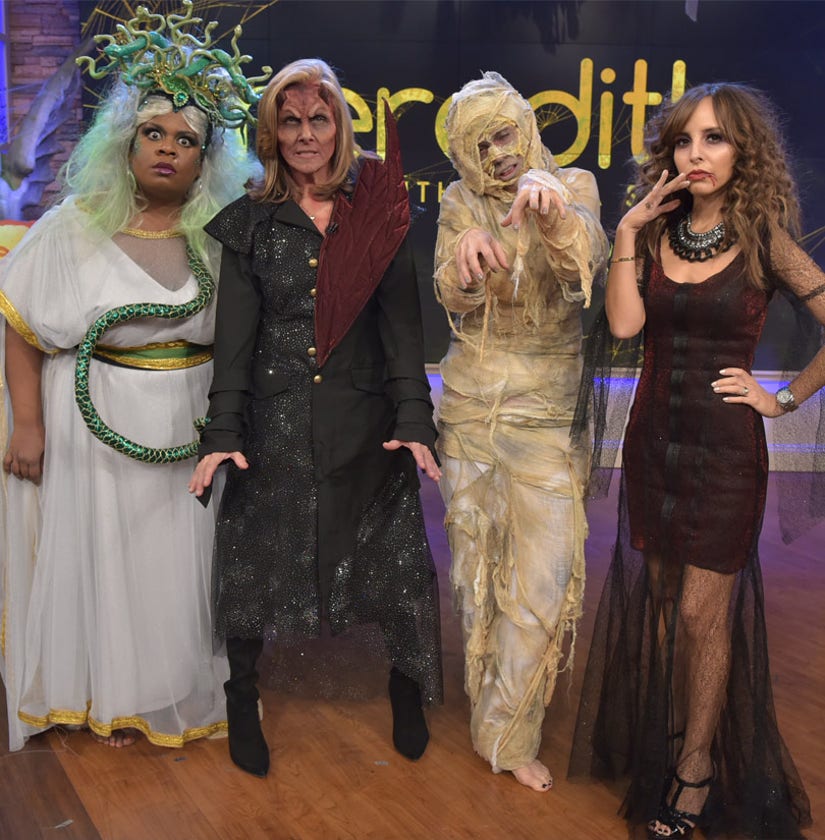 The Meredith Vieira Show
Meredith Vieira's panel went the monstrous route.
The host herself was a freaky demon, Yamaneika Saunders was a snake-haired Medusa, Megan Colarossi was unrecognizable as a mummy and Lilliana Vazquez made for one sexy vampire.
Lance Bass also popped up on the show as a demented clown -- this one will give us nightmares!
The crew over at "Live with Kelly and Michael" once again went above and beyond, with Kelly Ripa and Michael Strahan tackling a number of incredible getups.
Ripa nailed her Kim Kardashian costume (again), this time dressing as the reality TV star's now-infamous Paper magazine cover while sporting a giant booty and that ridiculous ponytail.
The duo also made themselves into Pope Francis, "Star Wars" characters and yes, even the cast of "Magic Mike." Major props to Kelly for sporting chest hair!
We'll keep updating the gallery above with more photos as they come in!