It should go without saying, but this is a "Walking Dead" recap ... so, beware, spoilers below!
Once again, Eugene himself, Josh McDermitt, is answering some of our burning questions, while also giving us some inside intel from the set. Let's do this!
First thing's first: No, we didn't find out what the hell happened to Glenn.
After last week's episode made Twitter explode, the show-runners did nothing this week to even hint at our favorite pizza boy's fate. But he we all agree he's still alive, right? Hopefully, we'll get answers soon ... but we have a feeling the big reveal may still be a few weeks off.
Instead of giving us a Glenn payoff, we got some serious Morgan backstory -- as Sunday's episode filled in the gaps between when Michonne and Rick saw him in "Clear" to his trek to Terminus last season.
Most importantly, we learned how he picked up his serious Donatello moves. Turns out, John Carroll Lynch -- of "The Drew Carey Show" and Twisty the Clown fame -- is quite the martial artist.
"The Morgan episode was shot out of sequence if I remember correctly," McDermitt tells toofab. "The cast knows what's going on, without knowing too much detail of what's going on season to season until we read the scripts. I was so excited to see this Morgan episode as he's been one of my favorite characters from the start, and Lennie James is in my top 5 favorite actors. That guy is a beast. I told him the other day that after TWD is long gone, I just want to watch a show where it's Lennie James and a different actor week to week battling it out. He's a true American Treasure even though he's from the UK. We've made the exception in his case."
The episode started with Morgan talking to someone unknown, someone we'd later find out was one of the Wolves he captured during their siege on Alexandria. "He said that you want everything that I have. Every last bit," he said, intensely. "Well here it is, every last bit."
The "Then" slate then popped up on the screen, as we joined Morgan moments after Rick and Michonne left him in "Clear" -- the survivor screaming crazy. We then followed him on a solo trek through the woods, as he continued to "clear" the area by killing every walker and human he came across. Was it just us, or did one of the guys who attacked Moragan look like Craig (Jake Epstein) from "Degrassi"?
Morgan then stumbled across a goat (named Tabitha, aww!) and two small cabins, surrounded by an alarm system made up of cans on a string. Before he can even react, Morgan gets knocked out by Lynch's character, only to wake up inside a prison cell inside one of the cabins.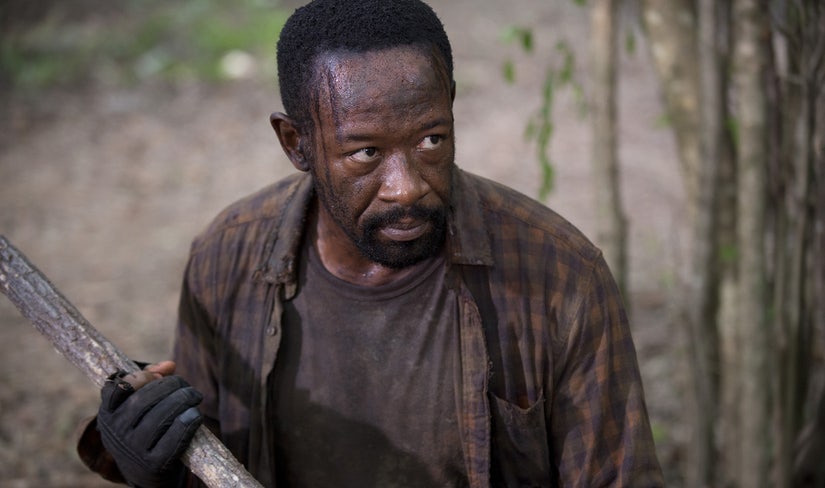 AMC
We soon learn that the home he's at belongs to a forensic psychiatrist named Eastman, who tells Morgan he's clearly suffering from PTSD after the death of his son and wife.
"You loved them. You loved them a lot if you're like this. You saw it happen, that's how it started. It's all happening right in front of your eyes over and over.," he explains. "Your body's here but your mind's is still there."
Of course, this doesn't go over well with Morgan at first, as he tells Eastman he plans on killing him, "because I have to clear." Eventually, Morgan cools off (after attacking his host), with Eastman filling him in on Aikido, a type of non-lethal martial arts.
"Aikido means not to kill. Although nearly all creeds have a commandment against taking life, most of them justify killing for one reason or another," he tells Moragan ... making us instantly think of Carol. "In Aikido, however, we try to completely avoid killing, even the most evil person."
Eastman then smoothes out Morgan's spear, turning it into a bo staff, as the two start training together on a regular basis.
"I want to say Lennie had to learn a lot of his fighting a long time ago for the episodes we shot earlier, but I may be wrong," McDermitt explains. "To my knowledge John didn't know anything so they brought in an expert to train him. This poor guy shows up on set to film one of the hardest shows to film, opposite a character who is not saying much in the story at this point, has to learn 900 monologues, and learn how to fight? JCL is an American Treasure. I take back what I said earlier about Lennie."
Morgan's new BFF (or best friend until a zombie bite) then tells him his Aikido training came in very handy one day while evaluating a "complete psychopath" in prison. The man, Creighton Dallas Wilton, tried to kill him after he realized Eastman saw right through his perfect prisoner charade -- and wouldn't ever let him get out on parole.
But, he still found a way out ... only to show up at Eastman's home to kill his wife and daughter before turning himself back in. The jail cell in Eastman's living room -- he built it in hopes of kidnapping Creighton from road work and locking him up there to starve him to death.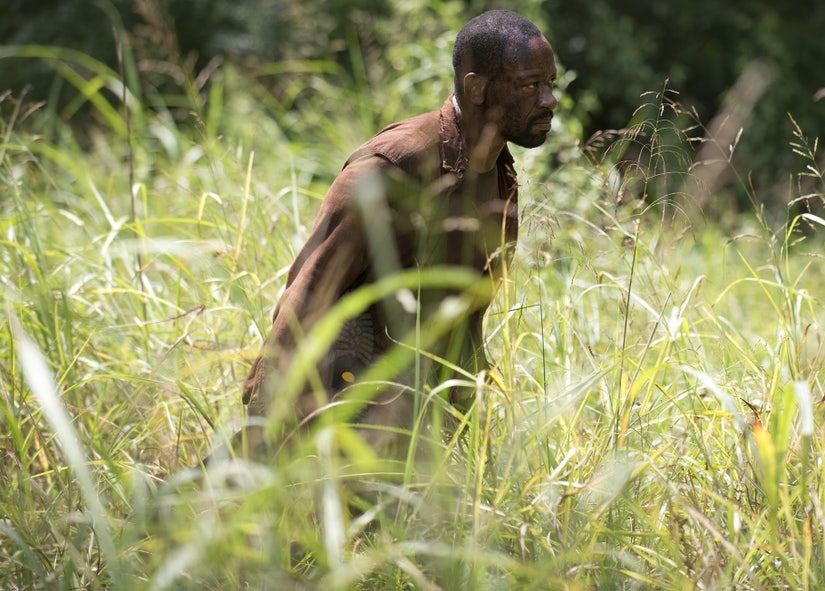 AMC
While the zen newcomer said he never followed through with his plan, we would later learn that wasn't the case.
"It took 47 days," Eastman revealed after getting bitten by the "Degrassi" look-alike Morgan killed earlier. "What I did to him, it didn't give me any peace, I found that peace when I decided to never kill again. To never kill anything again."
Eastman then pleaded with Morgan to leave the relative safety of his cabin after he died. "You stay here, you'll be alone. Everything is about people, everything in this life that's worth a damn. It shouldn't be just you."
He then gave Morgan the good luck rabbit's foot Eastman's daughter gave him. "Hope it's lucky for you, whatever you decide."
Then, he took off for Terminus.
The episode ended with Morgan once again talking to the creepy wolf, clearly hoping he too could be rehabilitated. That's when the guy revealed he was dying.
"I saw how settled this place was in pictures I found. I thought maybe there'd be something here, medicine, to help this. But that was before you people won," he told Morgan. "I know I'm probably going to die. Butm if I don't, I am going to have to kill you, Morgan. I'm going to have to kill every person here, every one of them, the children too. Just like you friend Eastman's children. Those are the rules. That's my code."
While Morgan definitely felt rage upon hearing this, he refrained from killing him over the threat, instead leaving him locked up in the townhouse.
"I can't figure out if Morgan locked the cell, or unlocked the cell when he shut the door," adds McDermitt. "I think the wolves are dangerous and when one of them says he's going to kill you and everyone in the town, I might believe him... Personally, I wouldn't wait around to see if the guy changes. Machete to the head IMMEDIATELY! This is the apocalypse for crying out loud!"
It can't be good to have a murderous madman lurking around Alexandria, right? What are the chances he escapes and causes some major problems? And do you think Morgan will be able to stick to his code? Both Carol and Rick will do anything to survive -- including kill -- but Morgan is on the opposite side of the spectrum. How long until this dichotomy erupts?
With Halloween this weekend, we also had to ask Josh if the cast celebrates on set at all.
"Halloween every year on 'The Walking Dead' is always fun. The crew goes all out on their costumes and they have the materials and know-how to make them great," he reveals. "I'm into Halloween for the candy only so I usually pop over to the store and pick up a few bags to pass out to the kids. I might throw on a scary mask or something. I dress up for a living and Halloween tends to be my night off from that. Christian Serratos (Rosita) on the other hand usually has something like 4 costumes for the different parties and events she goes to. This is her favorite holiday and her childlike excitement is so infectious it usually catches on to the rest of the cast and others will join her."
FYI: This was her costume -- check out more celeb getups below!