After almost 20 years in the business, Anna Paquin has gone from child star to fang-banger in front of our very eyes.
While her roles as Sookie Stackhouse on "True Blood" and Rogue in the X-Men franchise have made her a household name, the birth of her twins with husband (and former "True Blood" costar) Stephen Moyer has changed the types of projects she approaches. And this week, she's proud to be part of a film that her three-year-old children can actually see!
Paquin voices a cowgirl T-Rex by the name of Ramsey in the new Disney/Pixar film, "The Good Dinosaur," a flick that ponders what it would be like if dinosaurs never became extinct ... and lived alongside early humans.
Keep reading to see why Anna was initially nervous about signing onto the family film, why her kids will likely never see her work on the vampire-packed HBO series and what her future in the X-Men franchise could hold.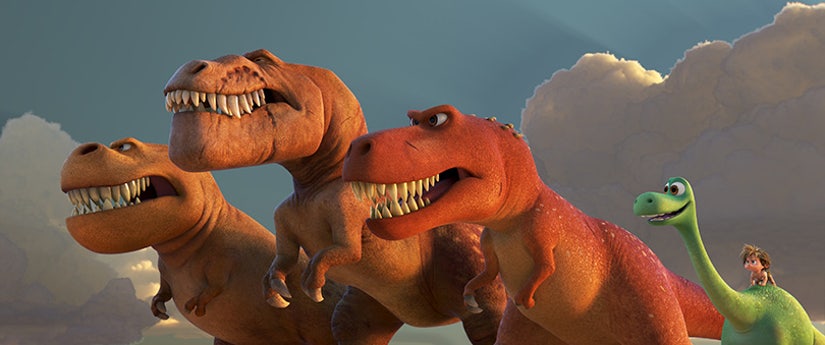 Disney Pixar
toofab: How does it feel to be part of the Pixar family?
Paquin: Kinda mind blowing actually. Being a part of something that already has this kind of anticipation, it's both sort of intimidating and incredibly exciting. And we get to come along for the ride. Me and my little posse of T-Rexes.
toofab: How was it coming off of "True Blood" and coming into this?
Paquin: I bounce job to job to job, I've done stuff bouncing back and forth between jobs, that's weird, that is a bit trippy. But this, I mean I didn't record it until we had been wrapped for ages. [There was] No like, going "Oh, I'm sorry, I'm not supposed to eat you or hurt you"
toofab: Now one of the big themes of the movie is overcoming ones fears. I was wondering if there was a personal story of a particular fear you've overcome?
Paquin: I hope that one day to have a really cool story about overcoming my fear about public speaking .. it has not happened yet. I'm terrible at it. I'm talking like having to actually speak, not just as a character, in front of people -- even if you're reading a teleprompter. I find it terrifying. So at some point, I hope to have an awesome story about how I finally became really confident; however, I don't. And there are a few things I'm really scared of that I will never admit to publicly, because there's part of me that's paranoid that somebody might like mess with me. I'm like, "Don't show your actual weaknesses!"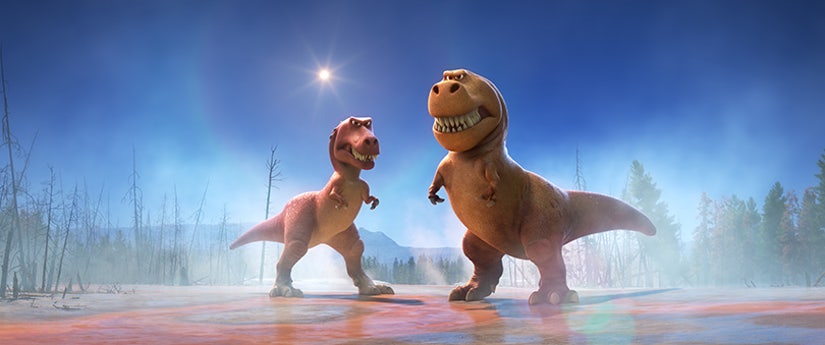 Disney Pixar
toofab: As a parent now, how did this script resonate with you?
Paquin: Having kids makes me kind of more aware of what kind of entertainment I want to put into the world, that is going to be seen by younger viewers. It would be nice to do something that my kids can actually see. There will be some stuff that they will never see.
toofab: So "True Blood" is off the table?
Paquin: I don't think they'll want to. That would be really weird. I'm like, that's a lot of therapy. But I find these stories beautiful and moving and incredibly profound in a way that I didn't know animation could be, way prior to having kids. That's just kind of an added bonus.
toofab: What was it like when you first saw your voice coming out of the T-Rex?
Paquin: I didn't like how my voice sounds on my own answer phone! I'm totally fine not watching myself or listening to myself. I was kind of nervous to see how it turned out -- I really hope mine isn't like the voice where people are like "Eeek ... thumbs down!" So I was a bit nervous watching it for the first time, [but] now that I know, I look forward to just getting to experience it as a film.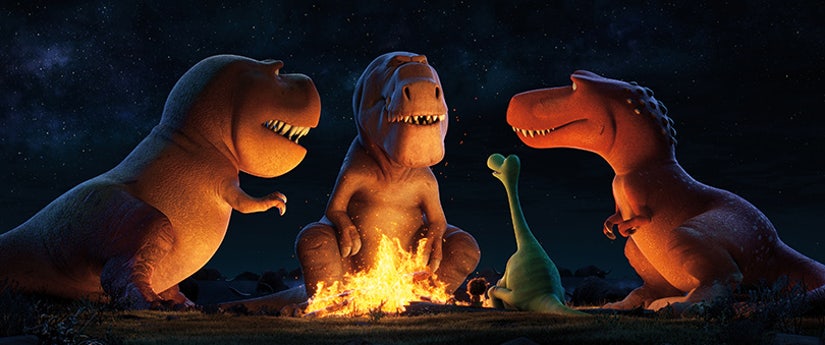 Disney Pixar
toofab: What are you hoping people take away from this film?
Paquin: I think depending sort of on what's going on in your life, I feel like people will see different things and take away different things. There's obviously quite a lot of thematic stuff about loss and mortality, and I'm sure that that's going to be something that hits people. I'm fortunate enough that that is not currently something that is at the forefront of my daily life.
I think some of the stuff for me that hits home is the all the stuff about scars, the things you go through, the knocks, actually make you stronger and it's something to be proud of not to be ashamed of or scared about or have it sort of diminished you. The more you get knocked down and get back up that's something to be proud of. And I think that's a really good, I like that as a message, especially for little kids.
toofab: We're huge X-Men fans over at toofab, so we gotta ask -- would you ever step into Rogue's shoes again?
Paquin: If they have a place for her in their 800 different spin-offs and permutations of that incredibly vast comic book series that has turned into this amazing multi-blah-to blah universal entertainment extravaganza, then cool. If not, you know, I'm all-good. They cast me when I was 16. It's been quite a while since that was like their choice. If there are other stories that are interesting to be told in that universe and they don't feel like I'm part of it, I'm not offended.
Hear Anna in action when "The Good Dinosaur" hits theaters November 25.