Kris Jenner was an open book on Tuesday in a new interview with Maria Menounos, talking about everything from her daughter's derriere to the status of Kourtney Kardashian's relationship with baby daddy Scott Disick.
The momager seemed a little surprised by Kylie Jenner's latest photoshoot with Interview magazine, where the 18-year-old fashionista bares her booty in an extremely racy spread. Before admitting that she wasn't on set for this shoot, Kris called the pictures "beautiful and artistic," while adding, "I think she could have covered her bum a little more!"
"The pictures are insane. This is so Kylie. I love that my girls get to work with the most fantastic photographers in the world, it's such a great experience," she continued. "She is a very artistic girl, she thinks outside the box and she really pushes the envelope and she's very edgy. She's always been like that. She doesn't do it in a bad way, she's just dances to her own drummer."
Waiting for your permission to load Soundcloud audio.
While Kris says she tried to put some stipulations on her shoots in the past, that all went out the door when her youngest turned 18.
"I can give her lots of advice, which she usually takes. Sometimes these shots that [my kids have] done become bigger than they are and they make good decisions. For them to have iconic and fabulous shots by some of the best photographers in the world isn't a bad thing. [Kylie] does worry about influencing kids that are younger and not wanting to be a bad influence. She comes at it from a really good place."
Kris was then put on the spot about some of the other headlines her family has been making lately, including whether Kylie is really back with Tyga and if Kourtney has reconciled with Scott.
"They've been spending a lot of time together and with the kids, so we'll see what happens," she said of Kourt. When asked if she'd be O.K. with them getting back together, she replied, "Of course, he's the dad of my grandkids and he'll always be in our lives."
She went on to add that Scott has "hopefully" gotten the help he needs. "Everybody deserves another chance and I know that she just wants the best for her and her kids. I'll wait and see what happens for the two of them. All a mom can do is pray."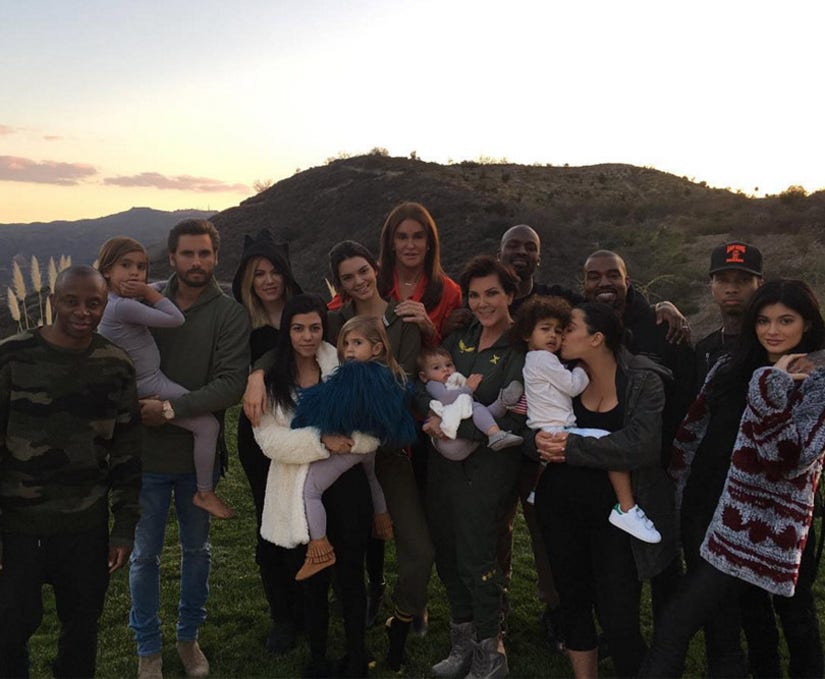 Instagram
The other big mystery in the Kardashian-Jenner clan: Where was Rob Kardashian on Thanksgiving?! He was MIA from the family photo -- and has been keeping a very low profile for quite some time now.
"He lives with Khloe, so he was around and then went over to a buddy's house," Kris said of his Turkey Day whereabouts. "He's doing alright, he's doing his best. He's not as into being on camera as much as the rest of us, but he's working on himself. He's gonna be OK."
What do you think of the Kardashian matriarch's candid comments? Sound off below!
Waiting for your permission to load Soundcloud audio.