Miranda Lambert has never looked better!
The "Little Red Wagon" singer stole the spotlight at the 2015 Kennedy Center Honors Gala in Washington, D.C. on Sunday night, showing off her killer curves in a strapless baby blue metallic gown with a tight bodice and a flowy skirt. She completed her picture-perfect ensemble with a silver clutch, tousled waves and a pretty pink lip.
The night before, the blonde bombshell put some serious cleavage on display in a plunging white gown at the formal artist's dinner (below).
While the country star is flashing a big grin on the red carpet, the 32-year-old says she's still struggling with her recent split from husband Blake Shelton.
"We were together for 10 years, married for four, were very quickly divorced, and are friends. I'm still processing everything and figuring out where to go and what happened," she said in the January issue of Cosmopolitan magazine.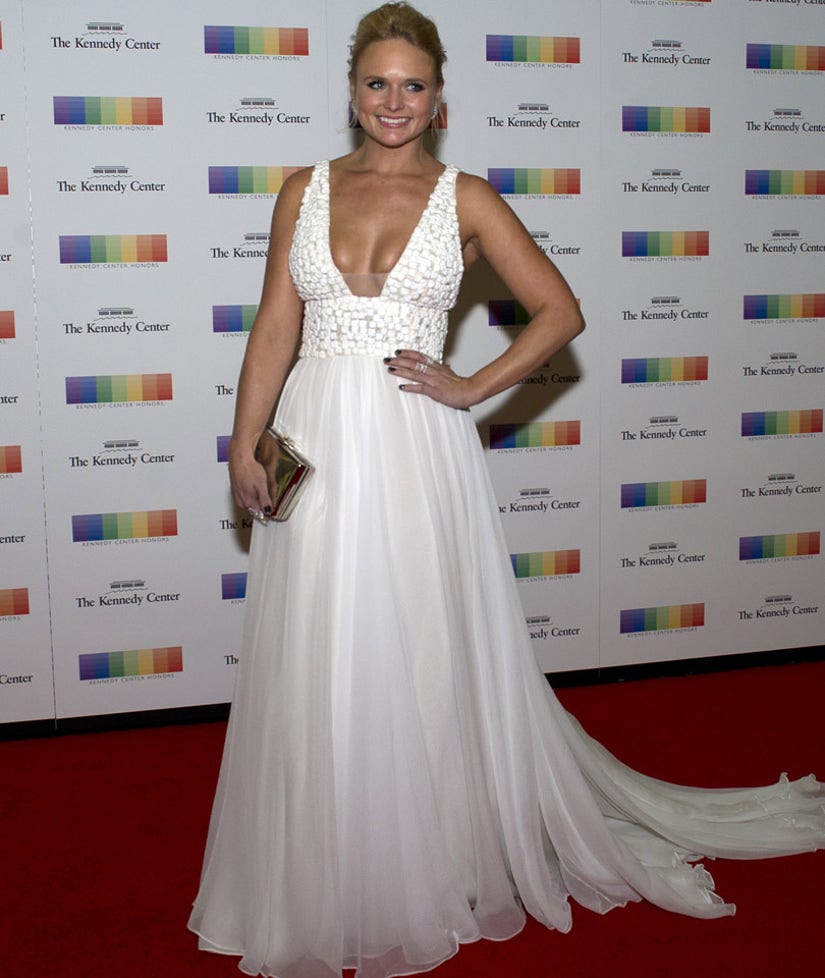 Getty
"[Marriage is] a tough business, and we gave it our best college try… If I ever were to get married again—which is completely not on my radar at all right now—I feel like it's not about it being a step in life," she continued. "It's not about a piece of paper or a diamond. It's the way you feel about somebody and the commitment in your heart."
And even though it's been a hard few months for the "Automatic" singer, Miranda said she's hanging in there.
"I just want to live a life full of everything. Some of that might mean nights on my porch crying, drinking whiskey, and going, 'Man this sucks right now.' I don't necessarily want to know that I have really bad, long, lonely nights ahead of me, but I have had some, and I still have a bunch ahead of me," she declared. "But it's about living in the moment and feeling every tinge of pain, then waking up the next day and going, 'All right, I'm going to ride my ponies. I'm going to have a girls' night.' That's where I am. That's where I'm gonna live."
Check out more of today's hottest headlines in the video below: