What happened to Jon Snow? Will we ever see Lady Stoneheart? How will the Dothraki treat Daenerys when "Game of Thrones" returns?
These are just some of the big burning questions fans have for Season Six of the HBO series, which doesn't hit the small screen until April. And while we can speculate as much as we want, don't expect to get any input from show star Natalie Dormer.
With Margaery Tyrell last seen in prison for covering up her brother's sexuality, the actress says she's excited to see what happens next -- and has a fool-proof system to avoiding letting a spoiler or two slip.
"I purposefully don't read the scripts anymore of other people's storylines," she tells toofab while promoting her new film, "The Forest."
"I only read my own storylines in King's Landing, so I'm as interested as everyone else is out there in what happens and how it happens. It kind of protects me from spoilers if I don't know," she adds. "I came to the show as a fan in the first season, I thought, 'Wow, this is a phenomenon!' How bold to make the decision they made at the end of Season One by killing Ned Stark. I was so impressed by it. I'm genuinely looking forward to the next season as much as everyone else is."
So ... is she allowed to tease anything? Here's what we were able to get out of her.
"She's just doing her thing like she always does, trying to get herself out of a sticky situation and stay two steps ahead of the game," Dormer reveals. "She's doing her damnedest to get out of that jail cell, so I'm afraid the audience will have to wait and see if she actually achieves that."
While filming "The Forest," Dormer was inundated by questions about the series from her own costar, Taylor Kinney.
"I wasn't having any of it!" she exclaims. "I love it when I work with someone who loves the show. It's always a joy," she continues. "People realize really quick that I'm not going to give them any spoilers, so they ask me more about stuff from the past as opposed to stuff from the future."
Focus Features
Though Dormer's character has to deal with the villainous Cersei on "Game of Thrones," she faces something even more sinister in her new flick.
The freaky film revolves around Aokigahara, the real life Japanese park known as "The Suicide Forest," a beautiful but unfortunately common destination for those wishing to end their lives. In the movie, Natalie's character enters the woods with Kinney by her side, as they try and find out what happened to her missing twin sister.
"Oh, honey, I have to tell you — shooting a horror movie is not scary at all," she tells us about the shoot. "The way a sex scene is the least sexy thing you can ever do, making a horror movie is actually the least scary thing you could ever do. Doing a horror is very technical, it's a bit like doing a comedy, you gotta set up the joke and the punchline and it's all about hitting the mark. Doing the scares right and doing the scares well, getting the suspense right and the payoff of the jump, the scare, my brain was often in so many different technical places of trying to hit my mark on the right spot, make sure I run and stop at exactly the right place. It was fun and challenging and hysterical and I giggled, but it was not scary."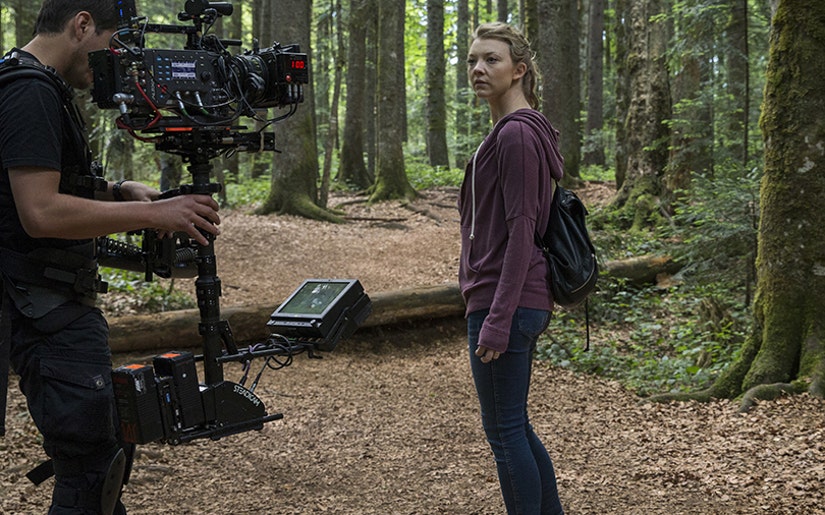 Focus Features
And while the Aokigahara may appear creepy on the big screen, Dormer says her visit to the mysterious locale was anything but.
"It was a beautiful sunny day, birds were singing, it was a beautiful sunny sky and there's lots of families on the hiking path. It's actually a really beautiful part of Japan, it's just the fact that it's steeped in this heritage and if you wander off the path, you get lost very quickly and very easily," she explains. "I suppose people quite literally are left with their inner demons."
"I arrived at the forest, to be perfectly honest with you, I just felt compassionate and sad more than anything," she adds. "People do go there with the intention of not coming out. On a very human level, I find that very sad. That was my overriding feeling."
The 33-year-old actress plays two characters in the movie -- and both get put through the wringer.
"I love a physical challenge, that's one of the things I really loved about 'Mockingjay,' I'm kind of quite a physical person," she says, referencing her role as Cressida in the "Hunger Games" films. "To me, the physical breakdown and the demands this role put on my body, really helped me with the phychology and the emotional demands of it."
See Dormer's hard work payoff when "The Forest" hits theaters this Friday.