When the champagne's flowing!
Katy Perry and Orlando Bloom were spotted getting a little flirty at the Weinstein Company and Netflix Golden Globe after-party in Beverly Hills, California Sunday night.
Bloom was even pictured leaning into Katy to speak, and the pop star looked like she was enjoying every word he was saying -- at one point, it looked like the stars almost kissed!
In another photo from the celebrations, the "Pirates of the Caribbean" star reached out for the "Roar" singer's hand in an effort to dance with the brunette beauty.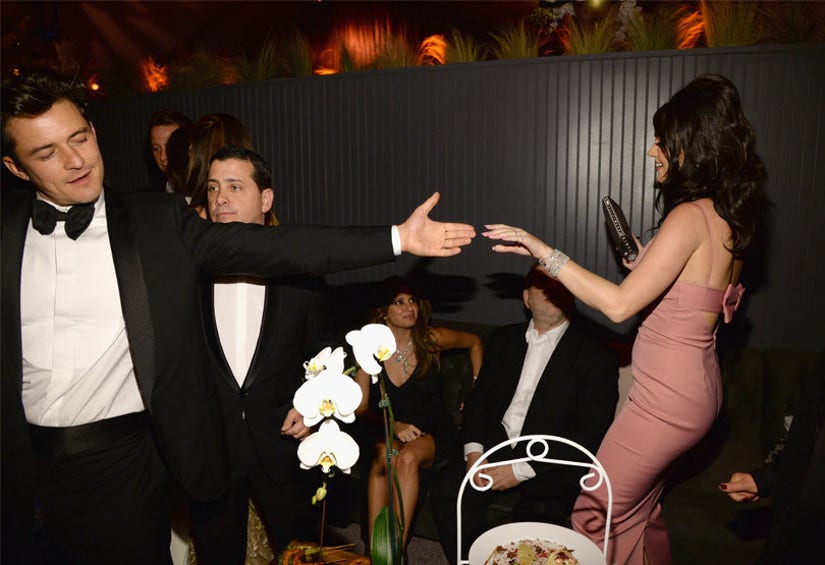 Getty
According to Us Weekly, Katy and Orlando were "extremely flirty" as they spent the night in the VIP section. "He would lean in to whisper into her ear and touch the small of her back as they chatted," the insider added.
After party hopping with one another all night, Perry and Bloom were even seen leaving together ... or, at least at the same time.
This isn't the first time the stars have crossed paths -- they both attended a benefit together in 2013 ... but the "Dark Horse" singer was still with her on-again-off-again beau John Mayer and the "Lord of the Rings" actor was still married to ex-wife Miranda Kerr.
Both stars seem to be single now, though -- wouldn't they make one gorgeous couple? Tell toofab what you think about their firty photos in the comment section below!
Check out toofab's picks for the best and worst dressed stars at the Golden Globes below: