Gwyneth Paltrow is opening up about her life after splitting from husband Chris Martin.
The actress and her rocker hubby were married for 12 years before announcing their split (or "conscious uncoupling") on Paltrow's GOOP website in March 2014.
Since the split, the estranged pair has been spotted vacationing with their kids, Apple and Moses, and they often spend holidays together.
"We spend a lot of time together," she says in the March issue of Glamour. "He's been away for two weeks [promoting his album]. Last night he got in at midnight and slept here so he could surprise the kids in the morning, we could all have breakfast, and he could take them to school. So…we're not living together, but he's more than welcome to be with us whenever he wants. And vice versa: I sleep in his house in Malibu a lot with the kids. We'll have a weekend all together; holidays, we're together."
"We're still very much a family, even though we don't have a romantic relationship," she adds. "He's like my brother."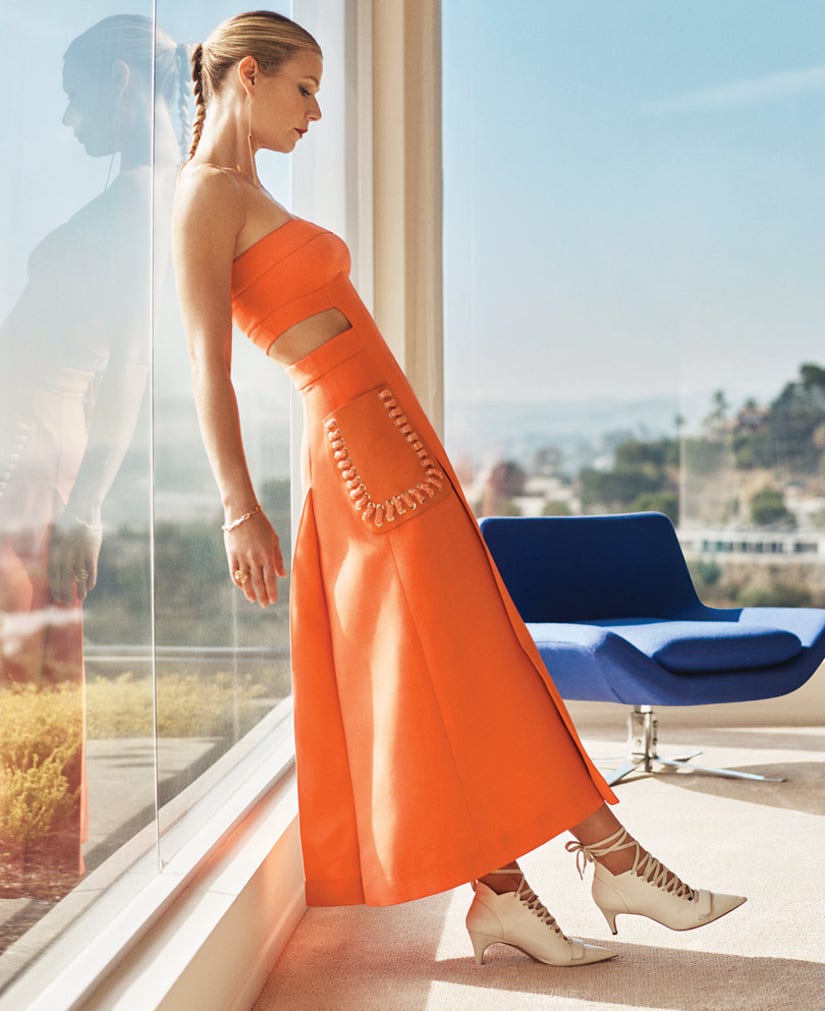 Steven Pan
Having such a healthy relationship with her ex has helped their kids stay grounded.
"Right now [knocks on table] they're in a really good space. They're smart, they're funny, they have pretty good heads on their shoulders," the mother-of-two says of her kids. "We'll see what difficulties come with adolescence and what careers they want. Unfortunately, I think they're both gonna be drawn to perform. They're naturals—they sing, act, play guitar, do stand-up—it's brimming out of them. So I feel like my mother. Whenever I said I wanted to be an actress, she said, 'Oh no, don't. You're too smart to be an actress. Do something else!'"
Paltrow has found love again with boyfriend Brad Falchuk, but she isn't sold on the idea of getting married for a second time. "I mean, I believe in marriage. But I'm not even divorced yet! So give me a minute," she explains with a laugh.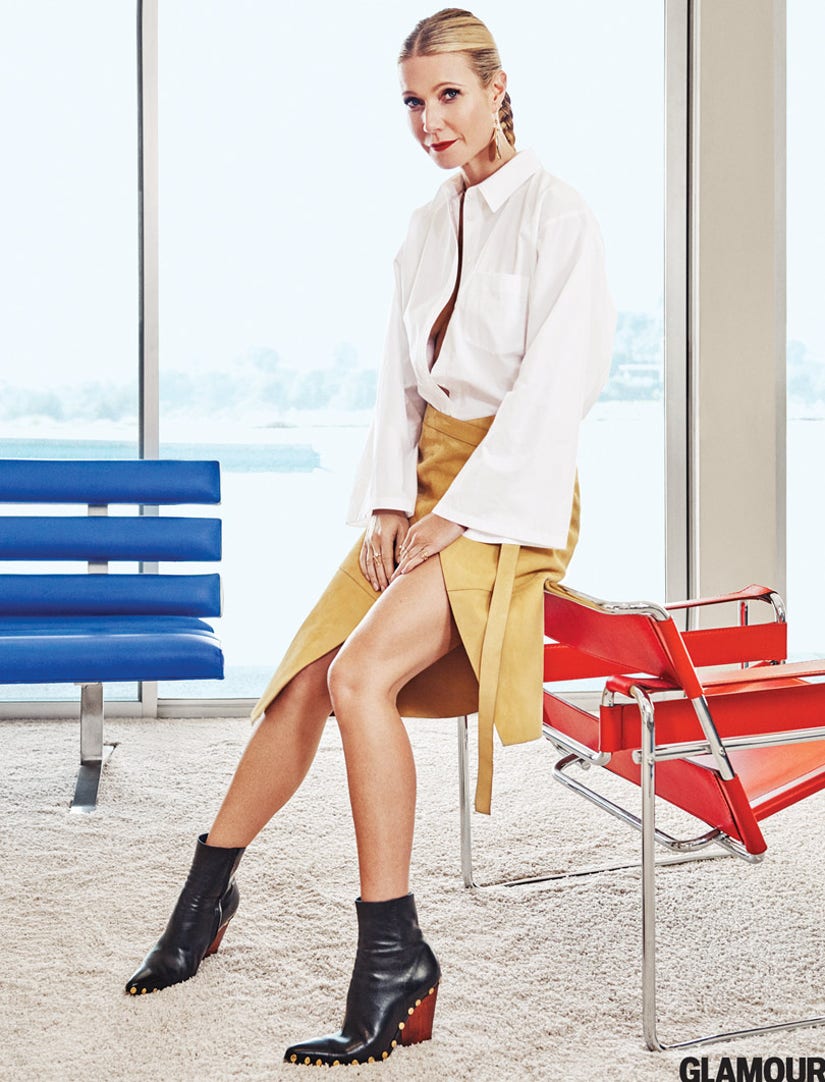 Steven Pan
While her marital status may be uncertain, she's definitely at peace with who she is, despite getting flack from her critics.
"I don't lose sleep over it. It's my business to live my life and learn my lessons," she declares. "I don't care what anybody else thinks…. Maybe when I was 25 that would have been different. But I'm 43 years old, and I know who I am, and I own my mistakes. They're my business. And when somebody who doesn't know me has an opinion, it's none of my business."
Even though Gwyn has an Oscar under her belt and a thriving lifestyle website, she hasn't always had it all.
"People think, 'She's just a rich kid.' Until I was 18, I was. Then I was broke. I've never taken a dime off my parents. I'm completely self-made," she explains. "I went to UC Santa Barbara, and when I quit to try to be an actress, my dad was like, 'That's great, but I'm not gonna help you.' I was like, 'Yeah, right.' And he was like, 'No, I'm not.' So I got an apartment with a roommate; I worked as a hostess at a restaurant; I would scrounge quarters to buy Starbucks—and walk there to save gas. I remember once asking my dad for money, like, 'Please, I'm really stuck. Can you help?' And he said, 'You're more than welcome to come over for dinner.' That was it. Those were the days. Enough to know the value of money."
Check out her full interview in Glamour when it hits newsstands on February 9.