Britney Spears and Justin Timberlake were still going strong when she filmed "Crossroads" in 2002. While the couple would split a year later, their fairytale romance was picture-perfect during her time on set.
"It was just the most beautiful relationship, seeing the two of them together and how love-y they were," director Tamra Davis tells Broadly in a new interview about the movie. "They were just so close, and she was such a supporter of his. He worked just as hard as her. It was like, she would be doing rehearsals and he would be doing rehearsals. They really knew that life together."
Davis still owns a notebook that Spears doodled in on set. "All she was writing was 'Britney and Justin,' all these little curlicues. It was like looking at a teenage girl's musings—hearts and butterflies and Justin's name."
Not only was Brit making a name for herself in film, but "Crossroads" also gave "Scandal" creator Shonda Rhimes her first major screenwriting credit.
When she was deciding if the "Baby One More Time" singer was the right person for the lead role, she found that there was a lot more than met the eye.
"I was much more interested in the young woman that I met than the image that people had of her. She was a person, and I don't think anyone at the time was looking at her—because it's such a misogynistic society—as a person," Rhimes tells Broadly. "The idea that we could portray her as a three-dimensional young woman was interesting to me. To have mean-girled her and turned her into a caricature would have been a mistake."
According to Davis, Spears was anything but a mean girl on set.
"I knocked on her hotel room door, and she opened it up, and she was wearing, like, a little pink T-shirt and little shorts, and she was just hilarious. She opened the door and she was like, 'Man, I was hammered last night!' I was like, 'What! You're Britney Spears, and you were hammered last night?' She was, like, the funniest, really good girlfriend-y type of girl," she recalls.
Davis adds that Britney always requested tuna Lunchables and edamame on set ... and went on her own Starbucks runs.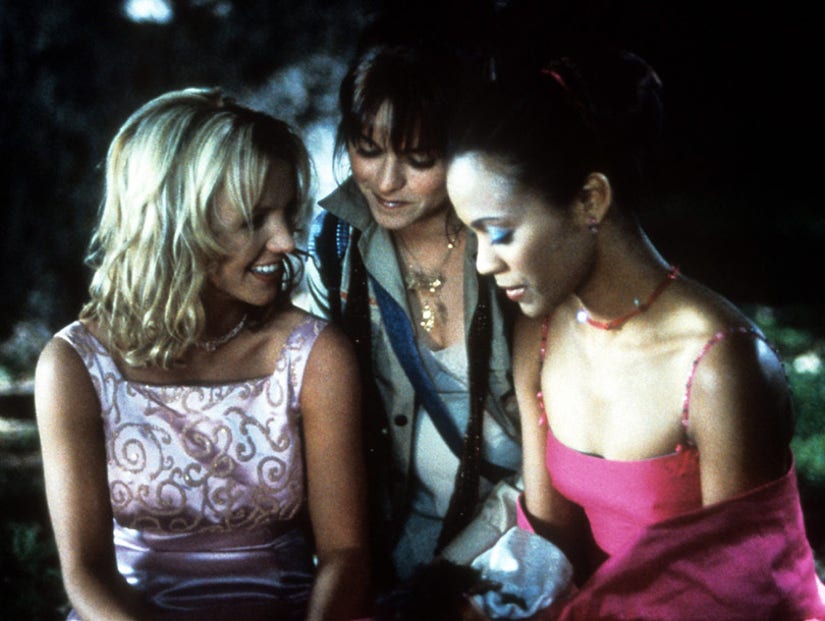 Getty
Fans have been dreaming of getting Spears, Zoe Saldana and Taryn Manning back together for a sequel, and the production crew isn't shooting down the idea.
"We've actually talked a little bit, in a weird way, about a sequel. There's a lot of people [involved], and they're really busy," producer Ann Carli says. "Who knows? I think it would be a lot of fun, but everybody's in different places, from Taryn to Zoe to Britney to Shonda."
Rhimes isn't sure she would return to write it, though. "It's 20-something years later. I don't know what Crossroads 2 would be!" she declares. "Would I work with that group of people again? Absolutely!"