Jason Voorhees is going back in time.
While promoting the upcoming "Teenage Mutant Ninja Turtles 2" at WonderCon over the weekend in Los Angeles, Platinum Dunes producers Brad Fuller and Andrew Form revealed a few key details about a long-in-development "Friday the 13th" film.
"I can tell you I believe there will be a set visit for everybody soon," Form teased, when toofab's Brian Particelli asked for the latest on the movie, which has gone through numerous delays following the 2009 release of a franchise reboot.
The most recent delay came in December, when director David Bruckner left the project due to scheduling after a new writer, Aaron Guzikowski, came aboard. Bruckner later revealed his team was working a "story that took place in the '80s," that could work as a "found footage" flick. He added that they also did a draft that wasn't found-footage, describing it as "DAZED AND CONFUSED meets Jason Voorhees, a genuine last-day-of-school coming-of-age story."
So ... will they be keeping the '80s setting? When asked flat out, Form hesitated.
"There is truth that this is period," he confirmed, without saying which period it'd take place in. Fuller quickly added, "And NOT found footage."
"We're so lucky to have Aaron Guzikowski writing, who is a fan of the franchise," Form added. "He's come up with an amazing story and we can't wait to make this one."
We can't wait to see it! The last confirmed release date for the film was January 13, 2017 -- and yes, that's a Friday.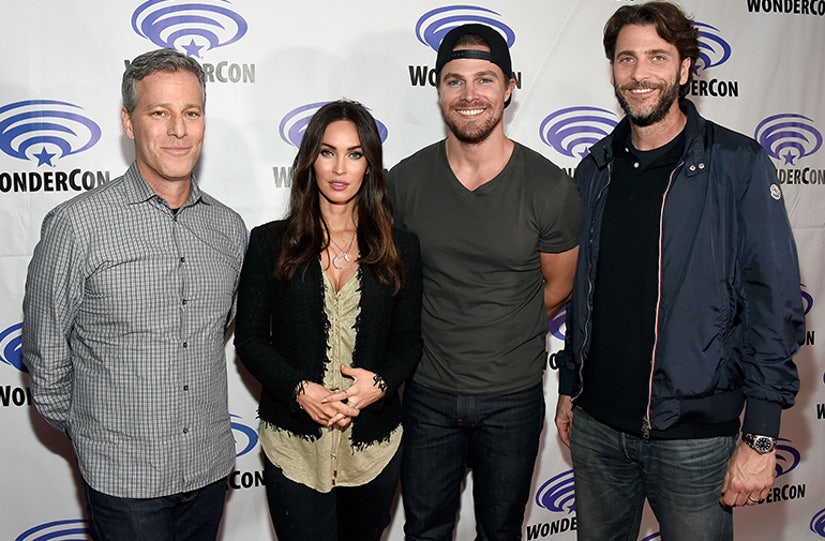 Getty
Until then, these two are gearing up for the release of "TMNT 2," which sees a ton of new characters from the cartoon joining the heroes in a half shell on the big screen.
Casey Jones, Krang, Bebop and Rocksteady are among the newcomers to the franchise -- but which was the most challenging to adapt to film?
"I think ultimately, Krang will be the most channeling," Fuller explained. "Audiences obviously have a lot of affection for him, it's incumbent on us to come up with a design that incorporates what people expect form him and at the same time raises the bar."
"It's a very hard character to bring to life," added Form. "A lot of animation, you're dealing with the suit, the brain, how they work together and yes, he's definitely the most challenging."
As for the most fun, that award goes to who they lovingly refer to as "the knuckleheads."
"When the rhino and the warthog walk into any scene, you're already smiling," Form says of Bebop and Rocksteady. "They haven't even said a word yet and you're already smiling. They're just pure comic relief. I can tell you when they walk into Hayden Planetarium at the Museum of Natural history, it's pure entertainment. To have them in that location is very funny."
On the human side, Stephen Amell was cast as hockey mask sportin' vigilante Casey Jones -- and the producers swear he was their only choice for the role.
"I wish I could tell you a sordid story, but he was the guy from the first minute," explained Fuller. "Then we screen tested him with Megan [Fox], those two together, they're great together."
"That was Casey and April. It was a very easy decision," added Form.
"TMNT 2" hits theaters June 3, 2016.