Bravo has once again expanded its uber-successful and incredibly catty "Real Housewives" franchise -- and this time, the network is heading to Dallas, Texas to for some southern charm.
toofab's Brittany Kyles chatted with "Real Housewives of Dallas" star Stephanie Hollman ahead of tonight's premiere, as she spilled the sweet tea about her new castmates and the season as a whole.
Though this the first time she's appeared on the "Real Housewives" franchise, she's long been a fan of the shows.
"I watch all of them and I make my husband watch them [laughs]," she tells us. "I literally [watch] every one of them. You know I really love Beverly Hills because it's such a fantasy out of the 'Housewives' franchises and I really love Orange County because it was the first one. I don't know, I love the ladies there. I feel like I can relate to them a little bit."
And when it comes to Hollman's favorite Housewife, she's a big fan of "RHOBH's" newest addition.
"Well, right now, I am kind of loving Erika Jayne," she says. "She's so cool and gorgeous. Like I kind of want to be here [laughs]. I think she freshens up the show. She makes it kind of young and exciting ... I really like her."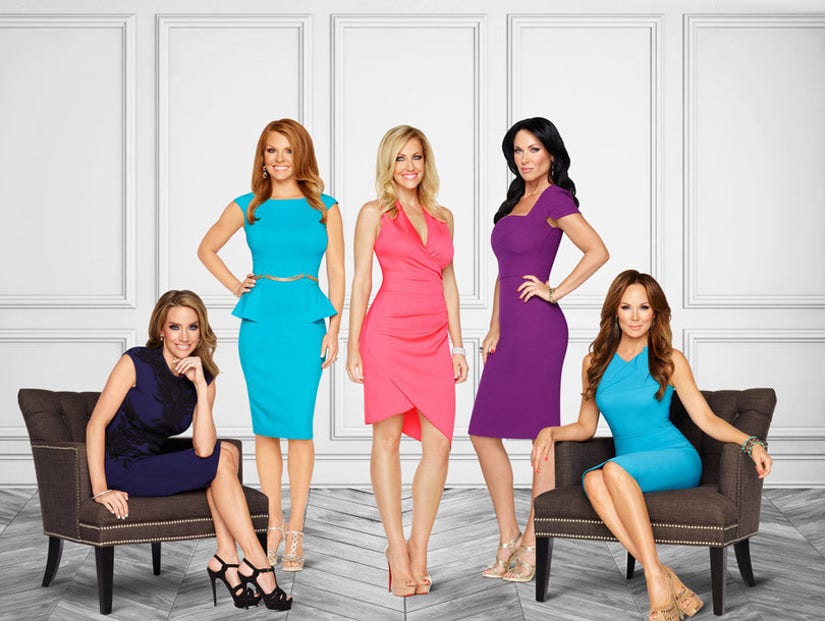 NBC
Stephanie and her costar/BFF Brandi Redmond sure bring some fresh energy to the "RHOD" this season, too. The ladies -- who have known each other for 10+ years -- definitely know how to have a ton of fun together.
"She was actually one of the first people I met when I started dating [my husband] Travis [Hollman] when I was still in Oklahoma, and we went to dinner and got each other's humor -- not many people get it -- I can honestly say that I fell in love with her before Travis," she recalls. "I think if I wasn't married we'd probably just be living together. She's hysterical."
Stephanie and Brandi are also huge fans of wine, or as they call it, "Jesus juice."
"Yes, it's kind of our thing," she confesses. "A lot of times we will do play dates or sleepovers and the kids will play and we will hang out and drink a little bit of Jesus juice. It's fun."
Although, there have been some problems when they've had a bit too much Jesus juice together.
"She never gets me into too much trouble -- she gets me more in trouble by being drunk around town than anything else," she reveals. "We've gotten in trouble for like, you know, peeing in bushes and that kind of stuff but that's about it."
Stephanie also says she met most of the women before doing the show at various charities ... but her costar LeeAnne Locken didn't make the best first impression with her.
"How honest can I be? I always get nervous when I say something I shouldn't say. My first impression of her was she was really loud and aggressive at events and honestly I never really knew her knew her but she had the reputation of being very much a bully -- [that] you have to tread lightly, if you don't agree with her she will try to ruin you, things like that," she says.
While Holland names Brandi as her closest ally, Stephanie says LeeAnne's definitely been her biggest nemesis this season.
"Brandi has been, hands down, my best friend -- we support each other," she reveals. "Definitely [my] biggest nemesis I would say 100% is LeeAnne," she confesses. "She is probably the only person for me, and I feel like it wouldn't have been that way if I let her walk all over me."
Well, it sure sounds like there will be some drama between these two this season! Are you excited to check out the "Real Housewives of Dallas'" Bravo debut? Sound off below and check out the gallery above to see more of your favorite "Housewives" before the fame!
Make sure to tune into Bravo April 11th at 10/9c for the premiere of "RHOD"!