Before Drew Barrymore announced her split from her husband of four years, Will Kopelman, she opened up about her struggle to find happiness.
"Happiness is not this yellow, blithe, floating thing. It's something that takes a tremendous amount of work," she said in the May issue of Good Housekeeping. "There's a warrior aspect to being happy. You've got to fight for it. And only when you've got that kind of earned happiness is it really good."
"It's not the word 'happiness' that's so powerful. It's the word 'choice,'" the actress admitted, without revealing why she was so upset at the time.
"I don't think there was one moment when I knew I wanted to spend my life with Will," she later adds. "It was a sweeping, fluid process. It was falling in love with his family, being ready to have a family of my own and thinking if I had a family with this family, it would be really wonderful. Sometimes there's just a time to go for it with a good person."
Looking back, the "Miss You Already" star may have been hinting at her marital troubles. Earlier this month, she now-estranged pair released a statement saying they're focusing on daughters Olive, 3, and Frankie, 23 months, as they adjust to life apart.
"Our children are our universe, and we look forward to living the rest of our lives with them as the first priority," they said at the time.
"I thought I knew what love was, but holy cow, I did not. I could never have imagined the kind of love I have for my children," Barrymore told the mag. "I am who I am because of my daughters. I'm an overachiever parent, and not because I think I'm going to repeat the patterns of my parents. That's not my fear — I've already broken that pattern in my life. But having grown up in the opposite way, I'm raising my children with all consistency, all protection. This is my chance to get it right."
"I'd never let them become child actors. They'll have a chastity belt, a tracker system, no cell phones and we'll live in the middle of nowhere," she joked. "In reality, I'll just lead by example by being spirited, classy, consistent, philanthropic, hardworking, loyal to my friends and there any second they might need me."
Speaking of her famous pals, Drew called her girlfriends her "first family."
"I would lie down and die for them. My love for them is unbreakable," she said. Her devotion to BFF Cameron Diaz, in particular, is undeniable.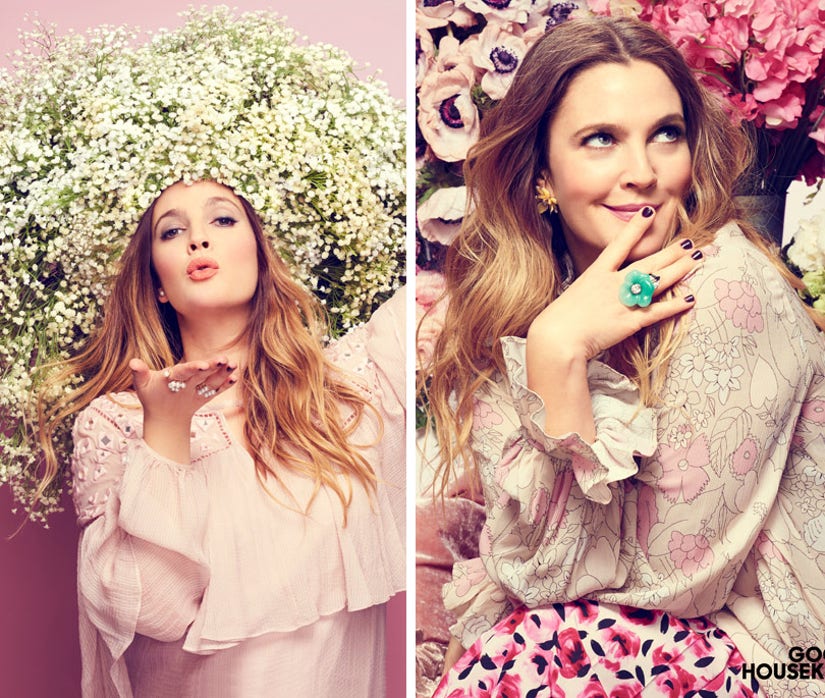 Brian Bowen Smith
"If you are in scary prison in the middle of nowhere, call Cameron. She'll get you out. If you're looking for the best dinner-cooking partner and watching-TV-on-the-couch friend, call her. If someone is in a medical situation, call her!" Barrymore said of her "Charlie's Angels" costar. "She's the most loyal, fierce, fun, cozy friend. We have incredible honesty with each other, and we work hard on our lives and our friendship."
Check out Drew's full interview with Good Housekeeping when it hits newsstands on April 19.