Katherine Heigl is still talking about all that "Grey's Anatomy" backlash.
In case you missed it, the actress famously dissed the show in 2007 when she withdrew her name from Emmys consideration.
"In an effort to maintain the integrity of the academy organization, I withdrew my name from contention," she told the Los Angeles Times at the time. "In addition, I did not want to potentially take away an opportunity from an actress who was given such materials."
The 37-year-old star is now backtracking on her choice to speak out, admitting that she should have kept her mouth shut.
"I didn't feel good about my performance and there was a part of me that thought, because I had won the year before, that I needed juicy, dramatic, emotional material," Heigl told Howard Stern on Wednesday.
Looking back, she admitted that she could have avoided all the drama that erupted with showrunner Shonda Rhimes.
"I was really embarrassed. So, I went in to Shonda and said, 'I'm so sorry. That was not cool. I should not have said that.' And I shouldn't have said anything publicly," she recalled. "But at the time, I didn't think anybody would notice...I just quietly didn't submit. Then it became a story, and then I felt obligated to make my statement. And...shut up, Katie. I should have been like, 'It's personal, whatever.'"
Rhimes didn't take the diss lightly. Last year, she slammed Heigl when she was asked about how she runs the "Scandal" set.
She told The Hollywood Reporter that she has a "no a--holes" policy at work, saying, "There are no Heigls in this situation...I don't put up with bulls--t or nasty people. I don't have time for it."
Heigl left popular ABC series in 2010 amid rumors that she was "difficult" to work with.
It sounds like these wounds are still fresh, right?!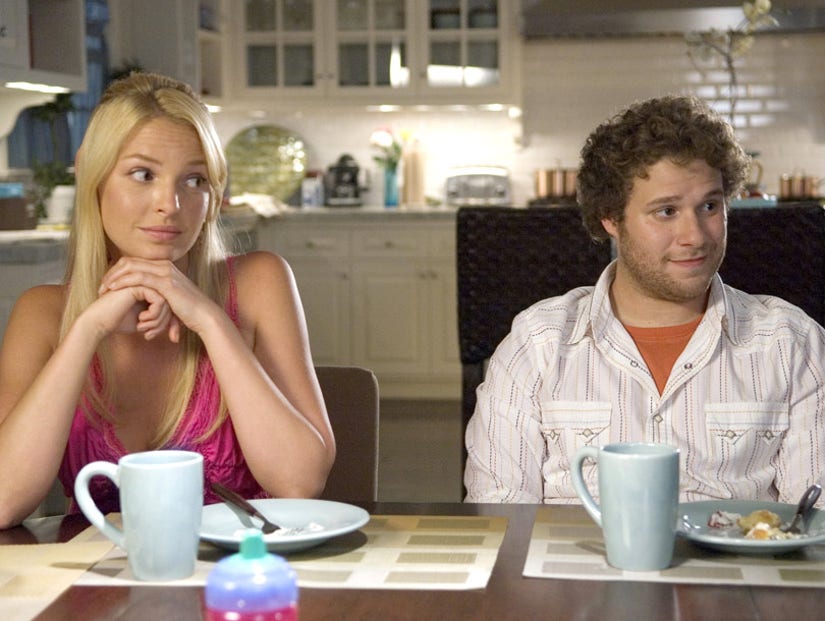 Everett Collection
Katherine also talked about the drama surrounding one of her other projects, "Knocked Up," after she blasted the movie as "sexist."
"I liked the movie a lot, I just didn't like me," she told Stern. "She was so judgmental and kind of uptight and controlling and all these things. And I really went with it while we were doing it. And a lot of it, Judd [Apatow] allows everyone to be very free and improvise and afterwards, I was like, 'Why is that where I went with this? What an asshole she is!'"
The actress insisted that her "sexist" quote was taken out of context by Vanity Fair, but it still infuriated her costar, Seth Rogen.
"I felt obligated to answer that. So, I tried in my very ungracious way to explain why I felt that it maybe was a little," Heigl said. "If you read the whole quote, I'm just saying, 'That can be the nature of broad comedy, they're exaggerating stereotypes, that's what makes it funny.' But they just took the sexist thing out."
While the star admitted that she would love to work with Rogen again, she doesn't see it happening anytime soon.
"I ran into him at a restaurant and I didn't realize it was as serious as it was," she explained. "Probably six years ago, seven years ago. I walked up like, 'Hey guys!' They were very like, 'Uhh…' and I was like, 'Oh, you are really mad.' I didn't realize it was that bad!"
"I think he's really mad at me," she revealed. "I probably should have [called], but I did it publicly instead. I've thought about like, writing a note, but I feel embarrassed. I don't want it to feel insincere on any level."