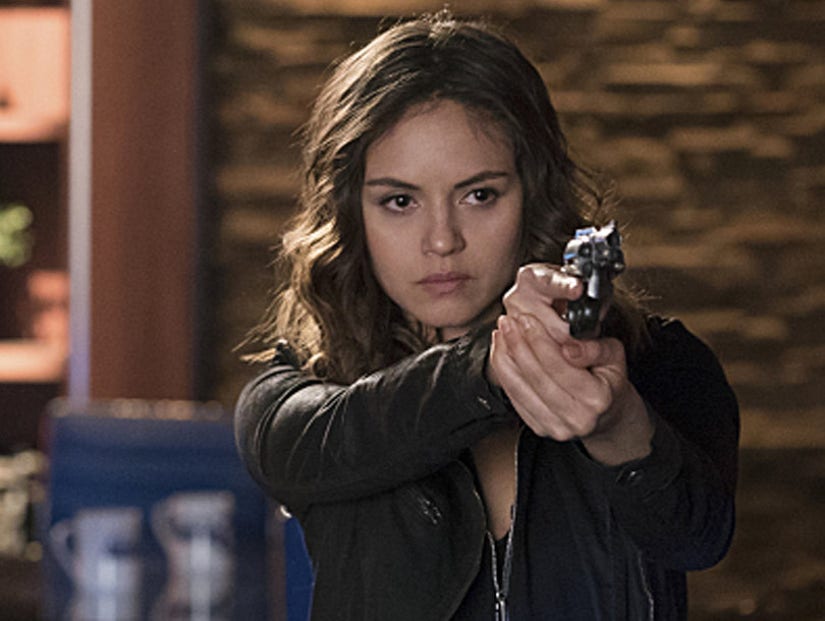 The CW
The brothers Salvatore have been battling a beautiful and badass new foe this season on "The Vampire Diaries," in the form of vampire hunter Rayna Cruz.
Played by Leslie Anne-Huff, we've seen Cruz shift from wanting to eliminate every bloodsucker alive to relying on Damon (Ian Somerhalder) after the souls she trapped in the Phoenix Stone were released when it was destroyed.
Last week's episode ended with Cruz nearly catatonic, after she focused all her energy on getting Damon, Enzo and Bonnie intel on the freed spirits, who they hunted down one by one. It was an exhausting episode -- but, from the sound of it, it's only the beginning.
toofab's Brian Particelli had a chat with Leslie-Anne ahead of this Friday's all new episode, where she opened up about her physical similarities to former show star Nina Dobrev, the intense training she took on to convincingly wield the Phoenix Sword and what surprised her about working with Somerhalder, who even directed one of the episodes this season.
"The Vampire Diaries" airs Friday nights on The CW.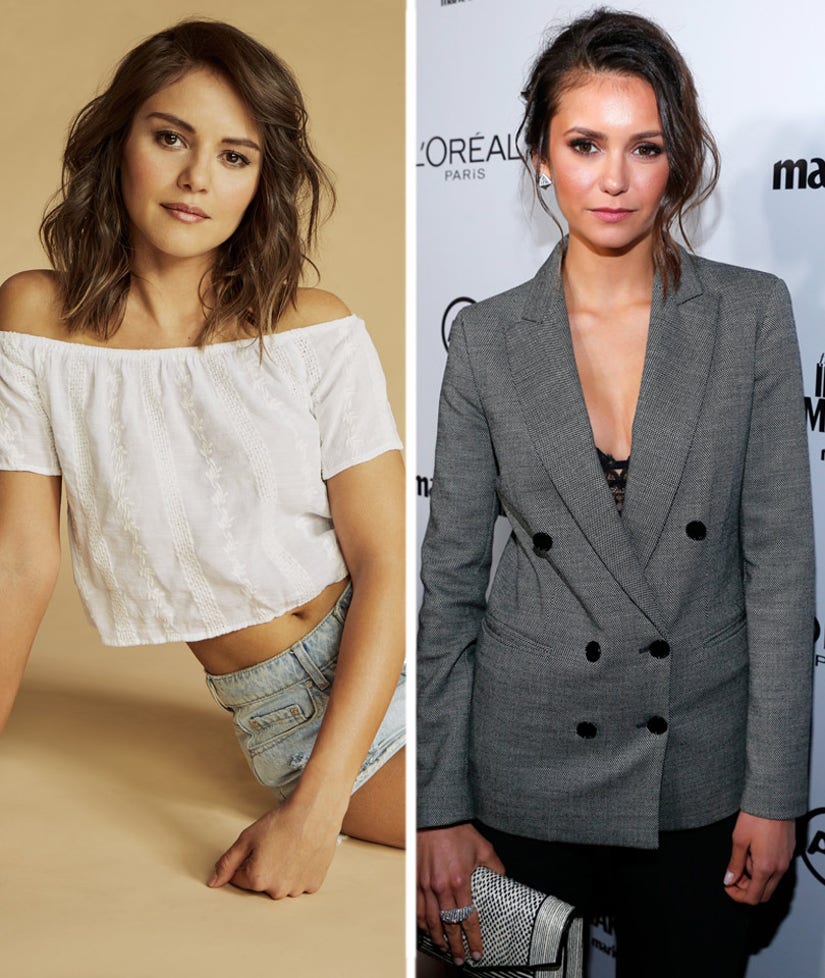 Isaac Sterling/Getty
toofab: When it was announced you were joining the cast, there were a lot of people who brought up the similarities between you (above left) and Nina Dobrev (above right) - how much you guys look alike -- were you surprised by that?
Leslie-Anne: Yeah! I mean, first of all, it's such a compliment - I'll take it! She's gorgeous. I just wasn't really thinking about it at the time. I was just so excited to be part of the show, and I was aware, you know, that she had done her last season and everything, but in terms of comparison, that definitely wasn't anything that was on my mind.
toofab: Did you ever think that maybe they would go somewhere with that? I know there was kind of like a throwaway line about you looking alike, but that was it.
Leslie-Anne: Yeah. I mean, they did mention it. I almost wonder if they just couldn't help themselves, and they kinda had to touch on it. I think that's something that's so fun about "The Vampire Diaries." They drop little hints, here and there, on different things that the viewers on their toes. I think the doppelgänger theme and the whole idea behind it is so fun, and such a big part of the show, that I think it was probably fun for viewers to wonder, "Wait, is it ...?"
toofab: When you got this part, did you have to do any sort of fight training? You have a lot of these big, badass moments.
Leslie-Anne: Yeah, and I definitely don't, as Leslie Ann, live my life as a badass, sword-wielding kind of a gal. I had to do a lot of training to kind of make it work and make it look like I knew what the heck I was doing. But the stunt team over there is just so great, and just ran me through the complete camp, essentially, of all the stunt basics. And then, of course, I trained with the Phoenix Sword to get it to a place where it sort of felt like it's part of me, and that was really fun. I learned to do little spins with it, and flourishes, and got to add my own little touches to it, and that was really fun.
toofab: Were there any mishaps along the way?
Leslie-Anne: Of course. Plenty of dropping the sword, plenty of bruises, a lot of shoulder soreness. When you're doing a lot of action with one arm, it's a lot of work on that shoulder.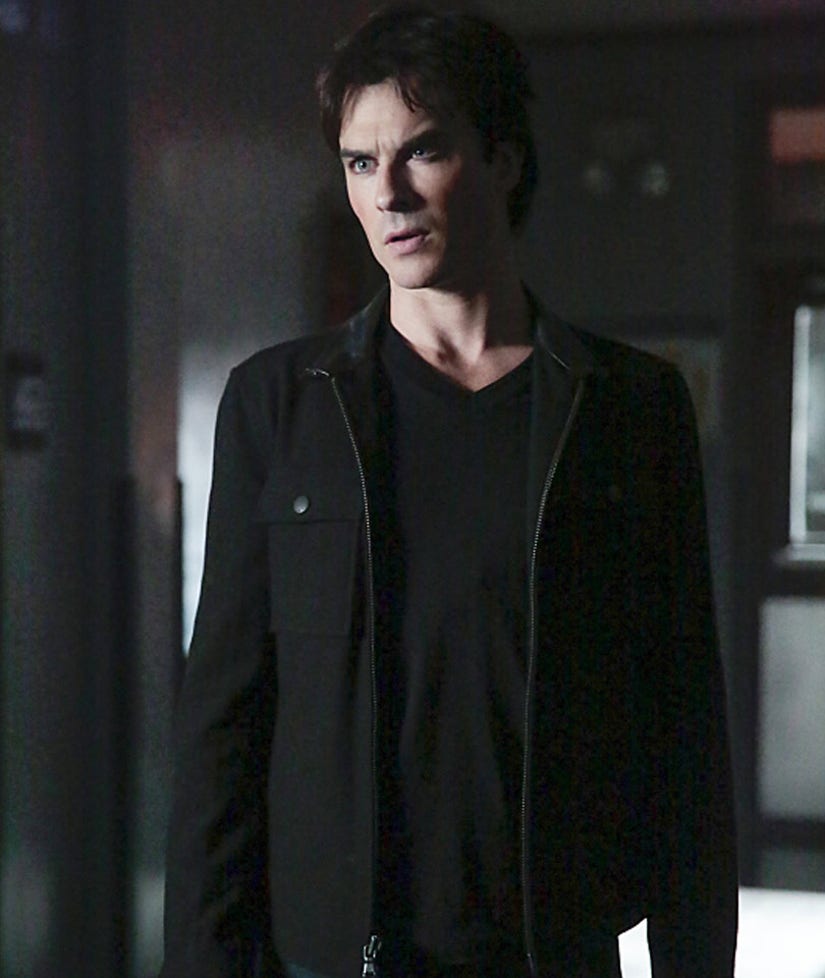 The CW
toofab: This question comes from our friends over at Alloy's "Vampire Diaries" website. You've done a lot of scenes with Ian Somerhalder this season -- what's one little-known thing about him that surprised you when you started working together?
toofab: He was also a director for one of the episodes as well, right?
toofab: How did that change the dynamic, and how was it working with him that way?
Leslie-Anne: It was so fun! I mean, I don't know if that changed the dynamic. I had so many scenes with him, he did sort of usher me into the world and kind of guide me through. And so, him directing that episode sort of felt like a continuation of all of that, just more, and better, because he was in charge that week, and he got to really put for an artistic vision for the episode for himself, and then also approach the work for all of us from such an actor's perspective - which is so much fun.
You know, every director comes on with a different point of view, or a different place that they're coming from, whether it be super visual or super action-oriented, and Ian is such an actor's actor. So that was really great, to get to talk about, "What is really driving Rayna in this moment?" or, "Let's think about, you know, this part of Rayna's backstory that's going to drive her here." So that was such a gift.
toofab: From Rayna's introduction to where she is now, the character's developed quite a bit. You definitely are starting to feel more sympathetic for her. What do you like about her arc, and is there one part that's more fun to play than the other?
Leslie-Anne: I just love playing her altogether. When I started to realize that we were going to see a more vulnerable side of her, when the Phoenix Sword and Stone were destroyed, I just thought to myself, "Oh, my God. What is gonna happen next?" Because it's kind of like that old saying, "See how strong a woman is when you put her in boiling water." I always thought about that, because Rayna is such a strong woman, and a strong force, and it's so interesting and fun to play the other side, when she's challenged to not be functioning under her normal circumstances, and to not have all the resources that she's used to having.
toofab: Last week's episode ended with Rayna quivering on the ground after getting all these names out of her. Can you tease what we might see from her this week? I know it's another big episode for you.
Leslie-Anne: Yeah, well, I don't know that I can tease too much, but the question is, "Is she even gonna get up off of that floor?" I mean she is pretty, pretty brutalized in that scene, and spent. I mean, she's not only taking it all - it's taken all of it out of her to just get all of that out of her, the names and the voices. And the whole purpose of that, for one, is to create this list, so that they can know which vampires to kill and go after, but also, hopefully for her, get all the voices and the visions out of her head.
It clearly took everything out of her to do that. And so, I think the big question is, like, "How will she recover? Will she recover?"
toofab: Another question from the fans: Team Damon or Team Stefan? For you personally ... or you as Rayna.
Leslie-Anne: Well, I would say Leslie-Anne picks Damon and Rayna picks Stefan. Rayna has such a soft spot, I think, for Stefan, because she watched him fall in love with Valerie, and she got a chance to see this other side of him where he's not as bad as she thought. But Leslie-Ann probably picks Team Damon, just because he's so funny.
toofab: Any message to the fans who have been tuning in every week?
Leslie-Anne: Oh, my gosh! I just wanna say thank you for the warm welcome that I've gotten. I mean, Rayna was teased for so long, and I know everyone was wondering. "Who is it? Is it somebody we already know?" And it was just such a overwhelming positive response when my episodes started airing, and people kept being so excited about her. And I'm excited about her, because I love playing someone so strong, and having yet another female badass on the screen. I think we need more and more of that. So, I just - I would thank the fans for all the positive response and all the support. I get comments and tweets, and people just telling me congratulations for getting this part, which is just so nice.
toofab: And where else can we see you? I saw something about a comedy show coming up ...
Leslie-Anne: Yeah! So clearly it's a little bit different from the "The Vampire Diaries," but I've been doing improv and sketch comedy, and comedy in general, for years now. I am honored to be part of the Sunday Company at the Groundlings Theatre, which is a super famous theatre here in L.A. A lot of the greats came from there. And the Sunday Company is a show that goes up every week. We write new material for it every week, and it's really scary and really exciting. So, starting in May, I am gonna be part of that Sunday Company for a nice, chunky six-month run.