It looks like Rita Ora is not "Becky with the Good Hair."
Rumors started swirling that the British pop star had a fling with Beyonce's hubby, Jay-Z, after she sang about it during her "Lemonade" special. But, it seems, these two don't have any beef, and they proved it at the Met Gala on Monday night.
The "Black Widow" singer took to Snapchat to take a video with her "family" member, Bey, to put an end to all the false reports.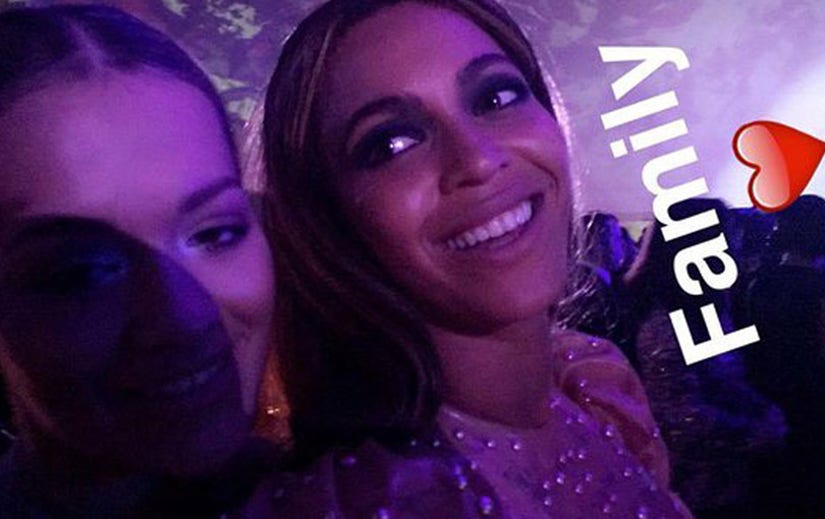 SnapChat
Ora, who is the rapper's former protégé, also denied being "Becky" on Twitter last week.
"I never usually address tabloid gossip but let me be clear, these rumours are false," she wrote. "I have nothing but the utmost respect for Beyonce. Let's continue enjoying Lemonade."
While Rita seems to be off the hook, designer Rachel Roy is still under fire for being "Becky." She became the target of the Beyhive, Beyonce's group of loyal fans, after Knowles dropped her visual album on Saturday night on HBO.
Roy seemed to confirm she was "Becky" later that night, when she posted an Instagram photo of herself with the caption, "Good hair don't care, but we will take good lighting, for selfies, or self truths, always."
Beyonce's fans went wild, spamming the comments with nasty remarks and lemon emojis ... and Roy eventually deleted the post.
She later tweeted, "I respect love, marriages, families and strength. What shouldn't be tolerated by anyone, no matter what, is bullying, of any kind" -- but, apparently that wasn't enough to distance herself from the rumors.
Roy didn't attend the Met Gala last night.