NOTE: This article was originally posted on May 10, 2016, after a screening of the film with the cast and crew. We're re-publishing to celebrate the movie's actual 25th anniversary, marking it's original opening on November 22, 1991.
A tale as old as time turns 25 years old later this year, as "Beauty and the Beast" celebrates its silver anniversary.
To mark the momentous milestone, the Academy of Motion Picture Arts and Sciences held a special screening on Monday night in Beverly Hills, where the cast and crew shared a few secrets from behind the scenes of the classic Disney film.
Stars Angela Lansbury (Mrs. Potts), Paige O'Hara (Belle), Robby Benson (Beast), Richard White (Gaston) and David Ogden Stiers (Cogsworth) were joined by director Gary Trousdale, producer Don Hahn, animation directors Brenda Chapman and Roger Allers and more to remember the first animated flick to gain a Best Film nomination at the Academy Awards.
Keep reading to learn a few surprising factoids they dropped during the 45 minute Q&A session -- including the battle over Gaston's chest hair!
1.) It Wasn't Always a Musical
When the film was first conceived, it was meant to be a straight animated film ... but the movie's predecessor changed everything.
"There was a little film that came out before us called 'The Little Mermaid,'" revealed producer Don Hahn. That flick's success brought "Mermaid" songwriters Howard Ashman and Alan Menken onto the project ... and the original version was totally scrapped.
Hahn says the tunes took what he called a "European story" and turned it into "something uniquely musical."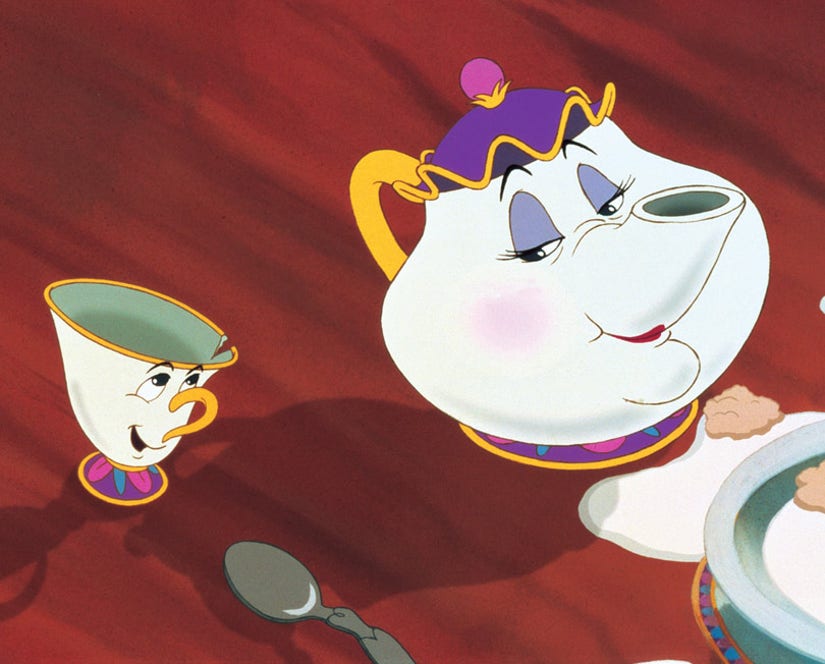 Everett Collection
2.) Angela Lansbury Crushed Her Musical Number
The "Murder She Wrote" star's performance of the title-track had everyone in tears, but she was hesitant at first to lend her voice to the cheery teapot.
Lansbury says she got a cold call from Alan and Howard, pitching her the song. The version they played her was "kind of rock style" though ... and not what she had in mind. The legendary actress had them send her the music and recorded a version with a cockney accent inspired by her childhood cook, a woman she lovingly referred to as Beatie.
"I'm happy to say that they grabbed it hook, line and sinker," Lansbury says of her rendition.
Hahn adds that Lansbury was delayed by a bomb scare the day she was supposed to record the track .. but showed up at the studio hours late, ready to lay it down. The first take is the one they used.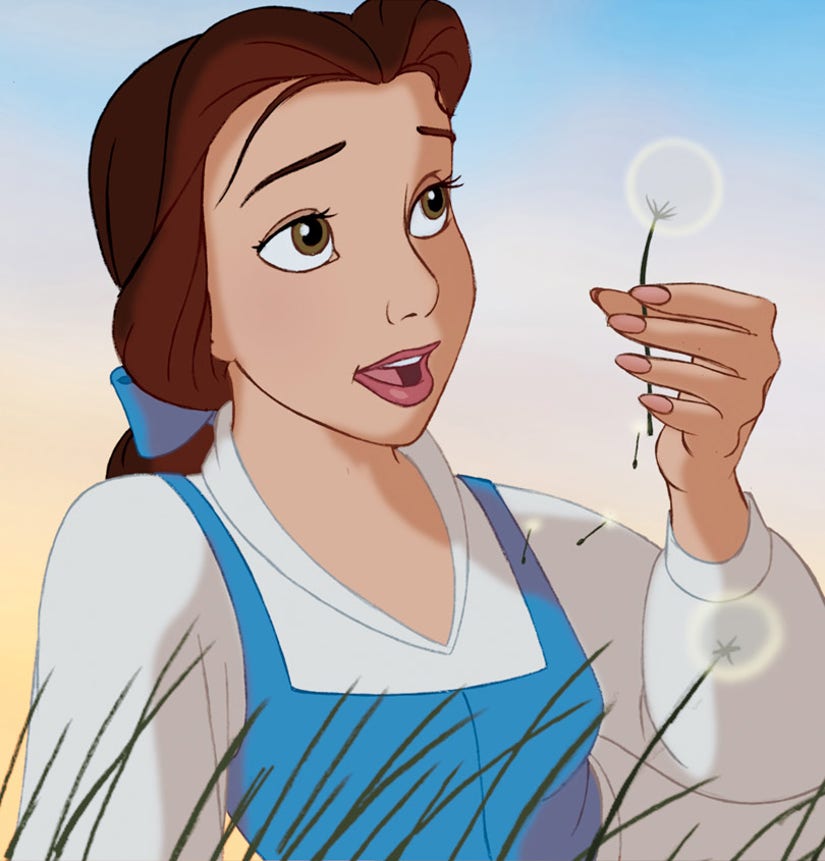 Everett Collection
3.) Belle's One of a Kind
Unlike her predecessors, Belle is a bit older than the other Disney princesses out there.
Animator Mark Henn says her age makes her "unique," especially compared to 16-year-old Ariel in "The Little Mermaid." "Belle is older and much more mature," Henn reveals, saying this brunette beauty didn't fall in love at first sight (a la Ariel and Prince Eric), but "there's an actual relationship you see grow ... and that's very magical."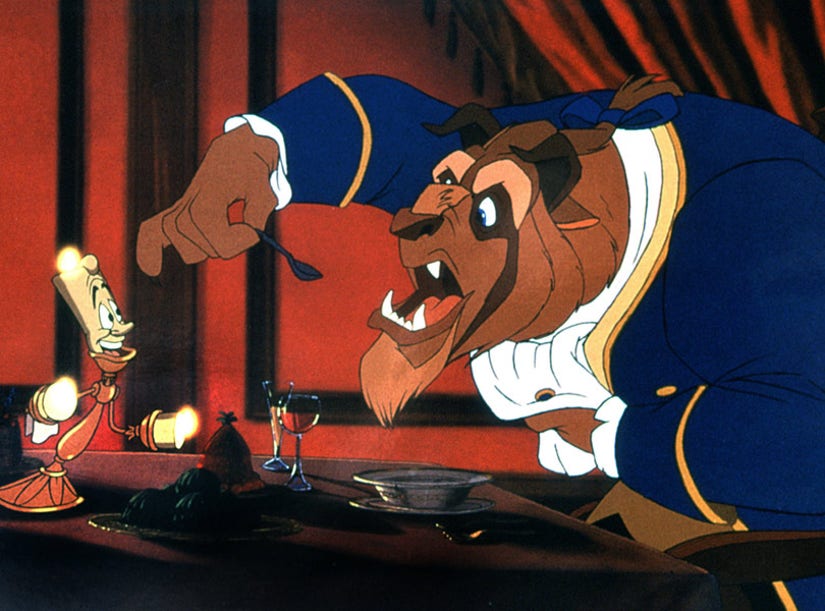 Everett Collection
4.) Beast's Design Was Inspired By a Few Trips to the Zoo
Animator Glen Keane says Beast's design started from the leg up.
While in London working on the film, he became entranced by the wolves at the local zoo ... and the way they "paced back and forth." He used their back legs for the beast. Early drafts of the Beast drew inspiration from mandrills as well, though the creature's colorful face and rear end didn't make the final cut.
Keane says they also picked up buffalo and wild boar heads at a nearby taxidermy shop to get the creative juices flowing in the studio ... and he observed gorillas from a close distance, "to know what it felt like to be Belle face to face with a 600 pound beast."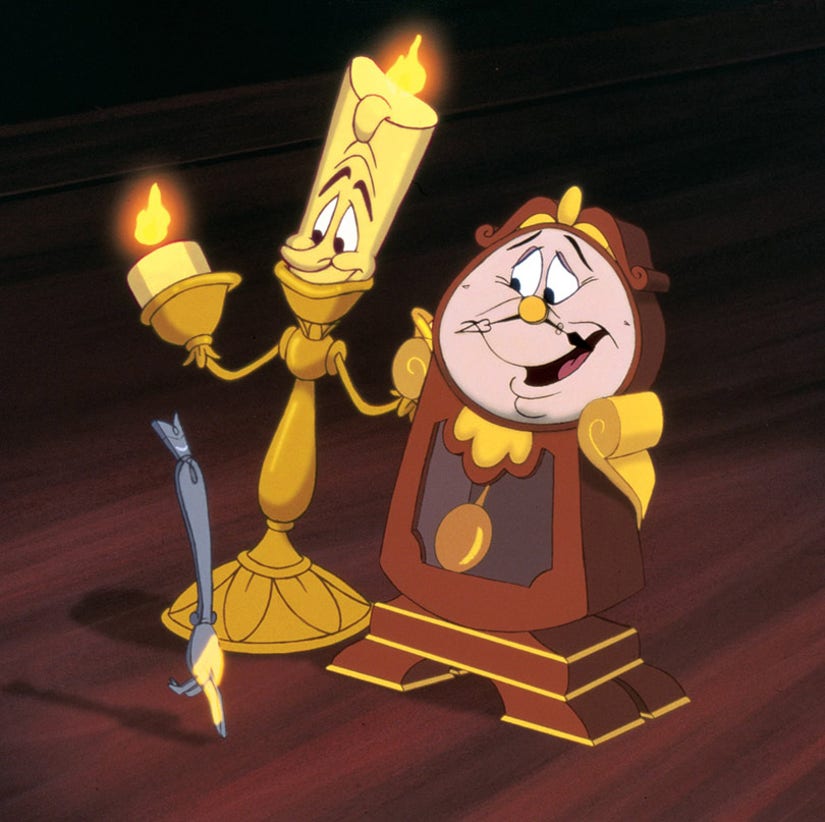 Everett Collection
5.) Cogsworth's One Liners Were Sometimes Improvised
"I don't recall being asked to improvise," voice actor David Ogden Stiers revealed during the panel, before admitting one of the character's best lines was created on the spot.
Which one? The clocl's response after Beast asks how he can win over Belle: "Flowers, chocolates, promises you don't intend to keep".
6.) Belle & Beast's Relationship Was Inspired by Spencer Tracy & Katharine Hepburn
The back and forth between the film's two leads was inspired by one of the most classic film pairings of all time.
"I love the old Tracy/Hepburn films, they were partly in my head," key story artist Brenda Chapman reveals.
In one of the flick's more memorable scenes, Beast acts like a "big baby" as his prisoner is patching up his wounds from an earlier wolf attack. "He's gonna yell at her, but Belle's gonna yell right backm," says Chapman. "It was very Tracy/Hepburn!"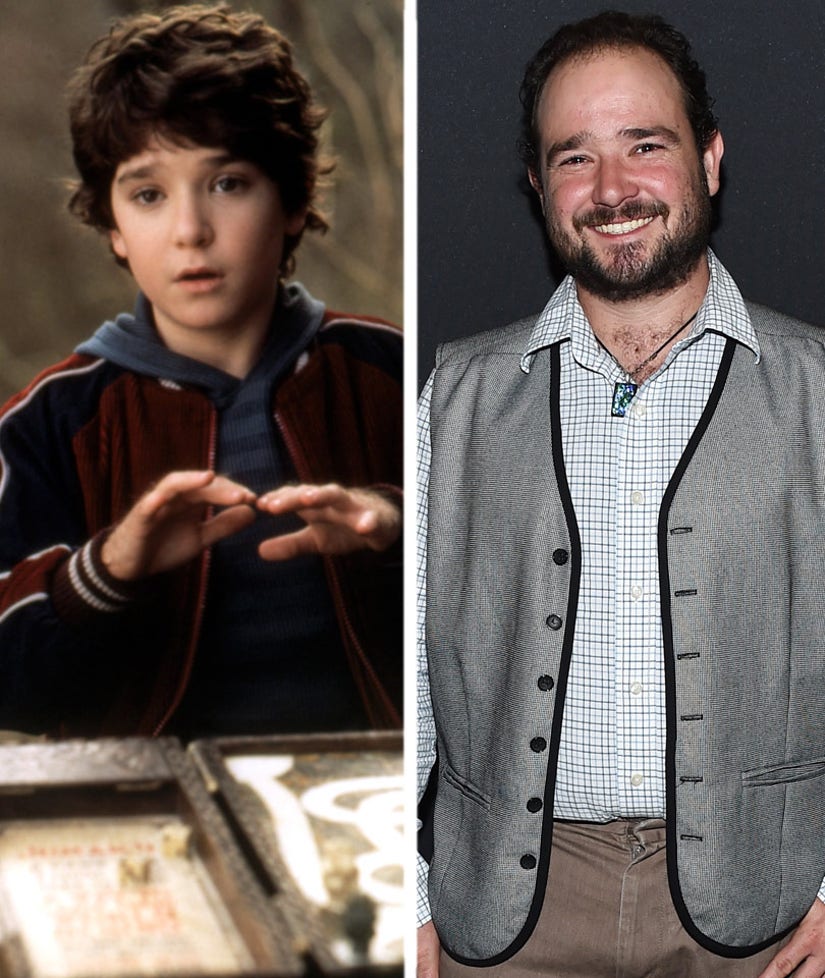 Everett Collection/Getty
7.) THIS Is What Chip Looks Like Now
Bradley Pierce was just 9 when he voiced the precocious teacup Chip in the animated film. Now 33, he certainly surprised some of his former coworkers at last night's event.
Fun fact: Pierce also starred as Kirsten Dunst's younger brother in the 1995 classic "Jumanji."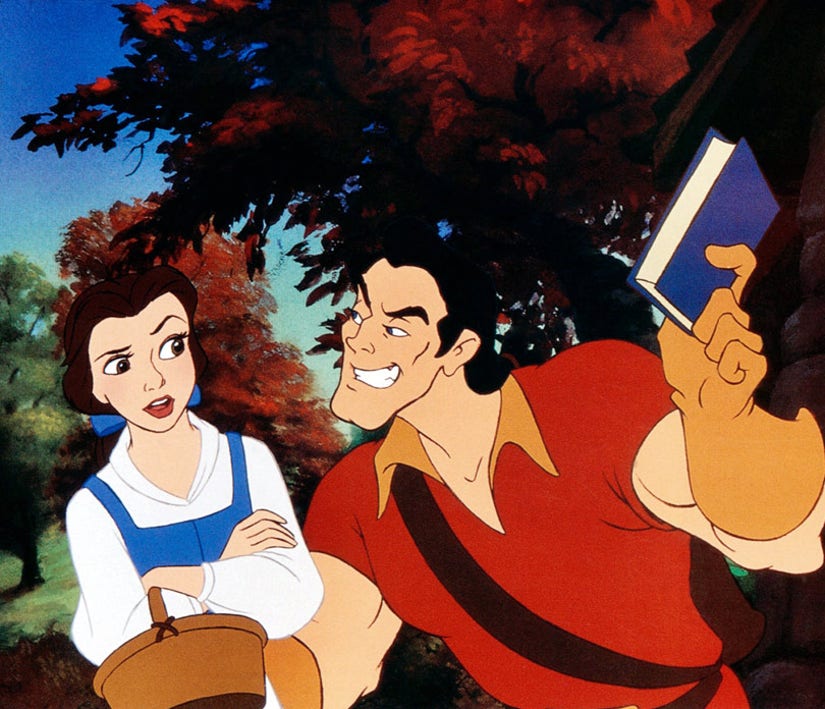 Everett Collection
8.) Gaston Was a Big Challenge to Design
The villain's designer, Andreas Deja, says he had a "hard time" getting Gaston's look right. At first, the higher ups said the bad guy's original design wasn't "handsome enough." The key to creating his appearance: understanding the theme of the film was "Don't judge a book by its cover."
Deja was told Gaston had to be the "opposite" of Beast, who is horrible looking but has a "heart of gold." Yes, he's attractive, but he's a "male chauvinist."
The lyric that caused the most tension in regards to Gaston on set? When he sings, "And every last inch of me's covered in hair!"
That meant they would actually have to show his furry chest ... and nobody could agree on a design. The first attempt was "slightly unsettling," admits Deja. He says it became a "contest" to see who could come up with the best look, and that's what appears in the final film.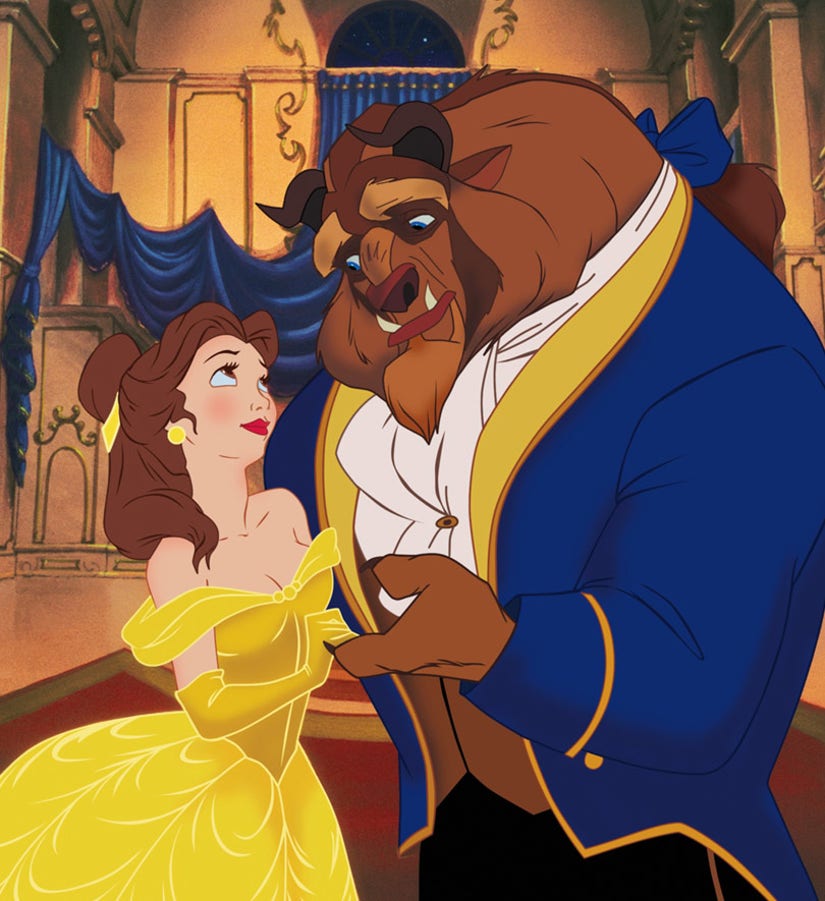 Everett Collection
9.) A Group of Drinking Men Came Up with Belle's Iconic Dress
Belle's gorgeous gold gown is one of the most famous dresses in film history ... and its origins are extremely unlikely.
"We were having pizza and alcoholic beverages, designing Belle's ball room dress," Hahn explains. At the time, director Gary Trousdale chimed in, saying "Yellow's nice" ... and boom, film history was made.
10.) Angela Lansbury's Friends Have a Sense of Humor
Hopefully Angela Lansbury actually likes tea -- because she has pots for days!
"I have the biggest collection of teapots you'll ever see," the 90-year-old reveals. "During the period the movie came out, everyone sent me teapots."
"Beauty and the Beast" turns 25 in November. A live-action remake, starring Emma Watson, hits theaters November 2017.