Selena Gomez is definitely proving she's up for anything!
The pop star is the latest celeb to take a spin in James Corden's "Carpool Karaoke" ride -- and she doesn't disappoint.
After belting out "Same Old Love," the pair hops out of the car and onto a roller coaster. The singer has no trouble performing "Come & Get It," but the late night host screams in between the lyrics as the ride goes down a huge hill.
Corden looks a little queasy as they get back in the car, but he still manages to sing "Hands to Myself" and take ginger shots.
And this isn't their only tasty treat!
Selena and James also stop at McDonald's for some grub and to chat with the employees.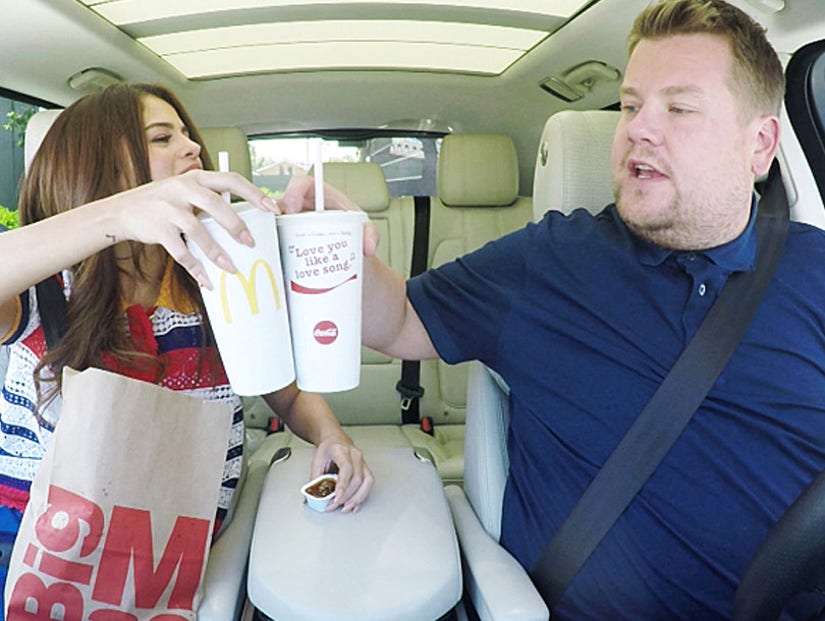 CBS
"Oh, my God! It's Selena Gomez! Oh, my God! I know her! I know her!" a fan screams. "Oh, my God! It's Selena Gomez."
"James Corden is also in the car. She couldn't care less," Corden replies. "I care!" Gomez exclaims.
After singing "Love You Like a Love Song," James asks Selena about being part of Taylor Swift's girl squad. "I'd like to consider myself an OG, like the original," the singer jokes.
"I think it's degrading to men," Corden declares. "I think this industry could use a little bit of female sexism," his guest says. "Find me a boyfriend and then we'll talk about it," she adds.
Check out the clip below to find out what Selena says about dating -- and to see these two sing Swift's "Shake It Off."