The stunning supermodel took to Instagram to show off the coveted feature, calling it "an ultimate dream come true."
"I am beyond humbled. Shooting my first American @voguemagazine cover, in my hometown, was so surreal. And to be able to share it with Olympic Gold Medalist and my new friend #AshtonEaton is such an honor," she wrote. "I couldn't think of a cover I'd rather be on than the one celebrating athletes. Being an athlete has brought so much pride and joy to my life and has instilled the work ethic that still drives me every day."
"This one's dedicated to my biggest inspirations to work hard, my family, to all my coaches throughout my life and of course to the fans that have stuck by me from the start!!!" she ended the post, adding, "Feeling extremely blessed."
Mario Testino / Vogue
The 21-year-old Santa Barbara native is on the top of her game, having covered endless fashion magazines and walked the catwalks for most of the industry's heavy hitters.
So, how does she handle her hectic schedule?
"I pretty much just go day by day," she tells the mag. "It keeps me a lot more focused and less stressed out." It's a strategy she takes from sports. "A calm mind-set—you know, refreshing your brain after every play."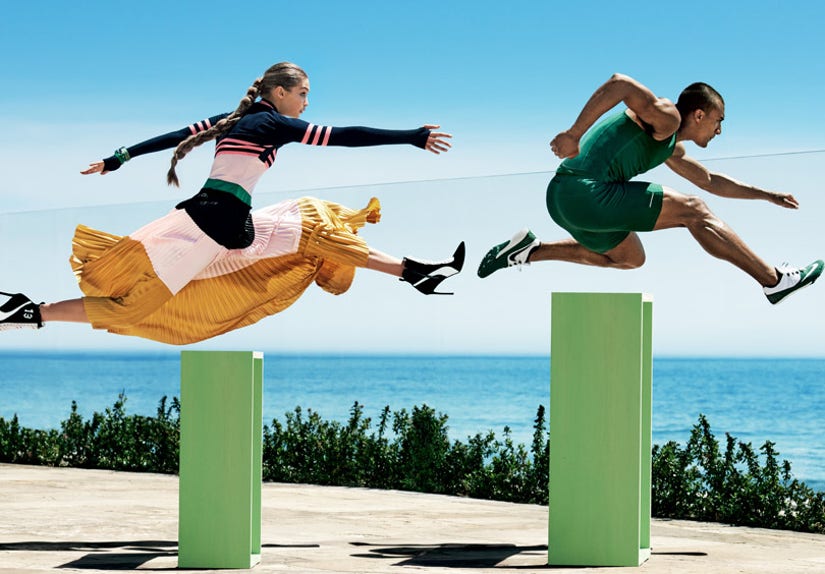 Mario Testino / Vogue
Gigi's new pal, Eaton, also couldn't help but praise his cover costar. "Probably my favorite thing about G was her humility," he reveals. "She was confident but she was humble, and even though she was good, she acted like, OK, this is good, but it's not everything, and I think that's what's helped her in her career."
"I mean, I trained like a professional athlete," Hadid herself says. "That's why I think I get along so well with athletes, although people cannot imagine me as a volleyball player. I'm just a lot more intense than you assume. I'm very competitive."
Grab your copy of the August issue of Vogue on July 26th, and check out the behind-the-scenes video below to see more of Gigi and Ashton's shoot!