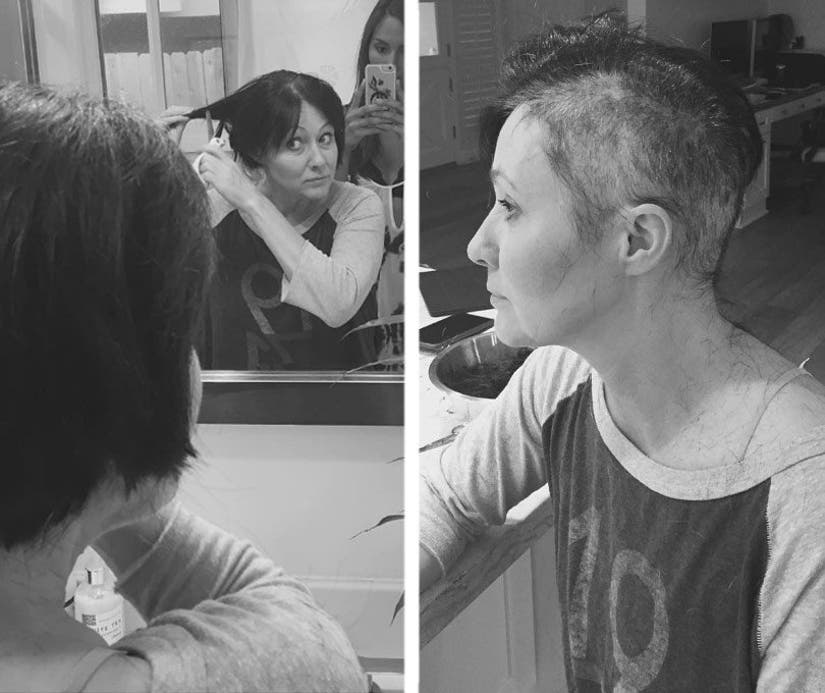 Instagram
Shannen Doherty shaved her head and chronicled the emotional moment on Instagram page Tuesday evening.
The 45-year-old actress, who was diagnosed with breast cancer last year, is seen documenting the six steps it took for her to cut off all her hair. In the photos, she's surrounded by mom Rosa Doherty and friend Anne Kortright-Shilstat.
"I couldn't be prouder of you today. Your strength and courage is so inspiring and I am so very lucky to have you in my life. Thank you for blindly trusting me today to help you with such a big step," Anne shared on Instagram. "I will forever be there for you no matter what. #f---cancer."
Waiting for your permission to load the Instagram Media.
Doherty's diagnosis was revealed via a lawsuit in 2015, when she sued her former business managers and blamed them for the severity of her cancer. She says her treatment was delayed because they screwed up her insurance.
The "Beverly Hills, 90210" alum spoke openly about her battle in an interview on "The Dr. Oz Show" in February.
"You have no idea what that extra time might have afforded you," she said of her managers' alleged mistake. "Mine, for instance, spread to a lymph node or two. It might not have spread ... The most important thing is catching it as early as humanly possible."
She also revealed she's considering a mastectomy.
"Ultimately, they're just breasts, right? I mean, I love them, they're mine, they're beautiful," she explained, "but in the grand scheme of things, I would rather be alive, and I would rather grow old with my husband."