Camille and Kelsey Grammer's daughter, Mason Grammer, couldn't wait to walk the runway at the Malan Breton show on Thursday at New York Fashion Week. But there was a time the 14-year-old balked at the idea of strutting her stuff on the catwalk.
"She was the girl who wasn't interested in modeling and didn't want anything to do with it," proud mama Camille Grammer tells toofab's Rose Curiel. "She only wanted to play soccer when she was asked to do her first show. She was like, 'No, soccer and school are my things -- I don't want to model."
But when designer Breton expressed interest in having Mason walk his show back in February 2016, the teen had a change of heart and decided to make her runway debut at New York Fashion Week.
Not too shabby for a model newbie, but the blonde beauty admits she was intimidated by her foray into the fashion world.
"My debut, I feel, I was a lot more nervous because I had no idea what I was doing," Mason admits. "Now, I feel like I know a little more, so I'm not as nervous."
But that doesn't mean Mason, who is no stranger to having cameras on her due to her appearances on "Real Housewives of Beverly Hills," isn't still a little shy when it comes to taking center stage.
"At first they were going to put her in a bathing suit and Mason was like, 'No! I'm not walking the runway in a bathing suit,'" Camille says of Mason's more recent walk on the runway.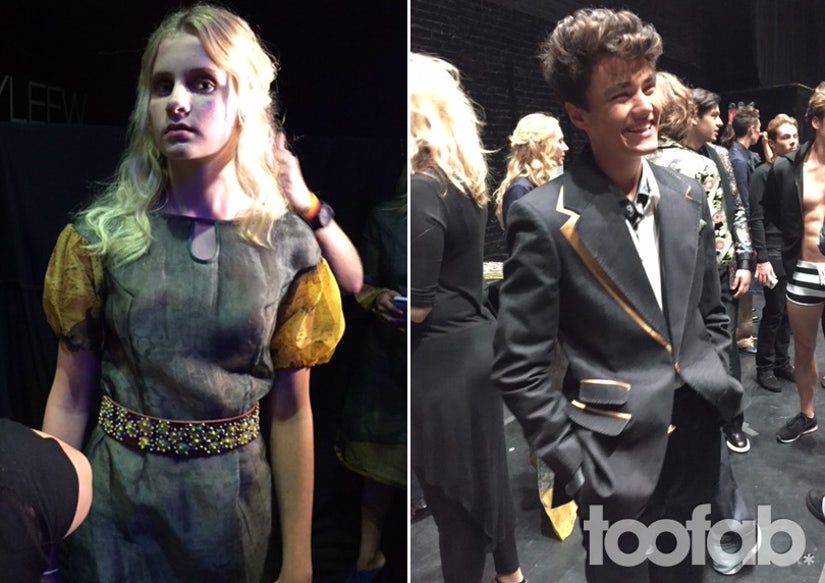 Mason Grammer, left; Richard Grieco's son Dylan, right, backstage
Still, the 48-year-old says she has seen a change in her kid since she started dabbling in modeling.
"This is her own thing—separate from her father, separate from me and it gives her a sense of accomplishment and empowerment, which I think is really important for girls these days," the mother of two says. "I see a change in her self-confidence since she's first started this."
And speaking of her famous father, how does Kelsey feel about his little girl's burgeoning career?
"At first, he was a little shaky, he wasn't sure," confesses Mason. "But now he's really supportive and I'm glad that he is."
Despite his support, Kelsey was absent from both of his daughter's fashion shows.
"Kelsey's in New York but, unfortunately, Kelsey doesn't go anywhere that I am and he just won't talk to me," explains Camille. "There's no co-parenting with him, so it's unfortunate and I would love for him to put that aside and however he feels about me –because it's been, God, six years now. It's been forever."
"I know he wouldn't go if I was there and I'm not going to not show up for my daughter's show," she continues. "It's not fair and he knows he needs to put that behind and aside to support his kid. I mean, it's not fair for her."
See Mason crush it on the runway in the gallery above.