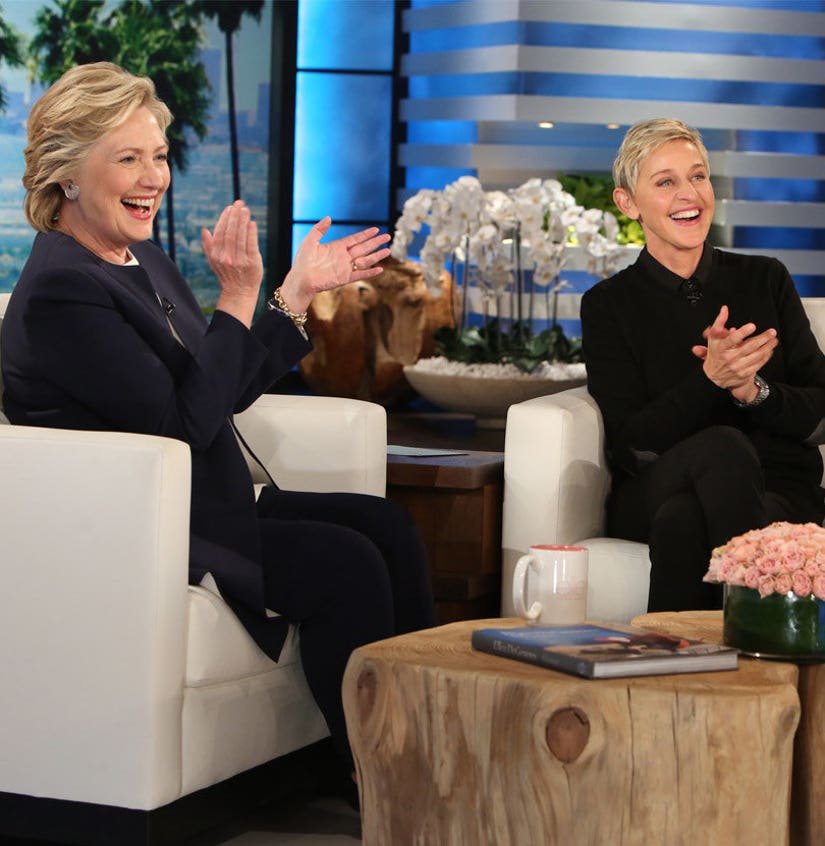 Michael Rozman/Warner Bros.
Hillary Clinton is sounding off on Donald Trump's questionable behavior at this week's debate.
The Democratic presidential hopeful sits down with Ellen DeGeneres on Friday's episode of "The Ellen DeGeneres Show," where the duo candidly chat about her opponent, her now infamous shimmy and having the support of FLOTUS Michelle Obama.
The bulk of the interview is about The Donald, as the two tackle his much-discussed antics at Sunday night's debates. Trump couldn't stand still the entire time and appeared to be almost lurking behind Clinton, something Hillary describes as "stalking."
"You stayed so calm. Let's talk about the debate because this is the first interview you've done since the debate," Ellen says. "What did you make of that?"
"First, it was clear that my opponent, Donald Trump, was going to try to dominate the space almost to the exclusion of the people who were sitting there," Clinton responds. "Because of the revelation of the public video and everything that came out on 'Access Hollywood,' he was really all wrought up and you could just sense how much anger he had."
"He was really trying to dominate and then literally stalk me around the stage and I would just feel this presence behind me and I thought, 'Whoa, this is really weird,'" she continues. "So I was just trying to stay focused. Trying to keep my composure, trying to interact with the moderators, but really for me, more with the people there and deal with the string of accusations that he was putting forth."
Clinton goes on to explain why it's "frustrating" running against him.
"To run against somebody and debate somebody who is consistently just spewing forth falsehoods, and when you catch him when you say, 'No, wait a minute you said this, you actually were on the record on this,' 'No I wasn't! no I wasn't!' and just hopes, I guess, that people will forget it," she explains. "I'm gonna keep trying to talk about what this election should be about, which is people's lives and our country and what we're gonna do to help each other."
DeGeneres then compares Donald to a "teenager," making it pretty clear she's Team Clinton.
"It's like debating a teenager, he just says things and then interrupts, 'Makes me smarter!' What's wrong with you?" she asks, perplexed. "As we sit here today it seems that Donald Trump's campaign is crumbling. This morning there were allegations of sexual assault from a few more women, which he is denying. It does seem like with the Republicans, the party and everyone is just backing away. It does seem like it's crumbling."
While Trump would definitely say otherwise, Clinton also doesn't want the public to think the election is a sure thing.
"Obviously, there's a lot that is coming out which is distressing on many levels, but I don't want anybody to think this election's over," she warns. "Because it's been so unpredictable up till now that I'm not taking anything for granted. We've got to work really hard for the next three and a half weeks because who knows. Who knows what can happen. So everybody who's watching and everybody who has followed this election, please turn out and vote."
Hillary also opens up about Michelle Obama having her back -- check that video out below:
And, for fun, see Clinton and viral debate star Ken Bone have a dance off in a video doctored by Ellen's staff: