Millie Bobby Brown is wise beyond her years.
The "Stranger Things" star covers the November issue of Interview magazine, where she opens up about her first kiss, reveals the best advice she's ever been given and dishes on her major Emmys moment.
Brown's interviewed by pal Maddie Ziegler for the issue, where she grills her about her first on-screen (and real-life!) kiss with her "Stranger Things" co-star Finn Wolfhard (Mike).
"Oh, what was I gonna say? We were talking about 'Stranger Things' being your favorite show because you get to kiss Finn [Wolfhard, who plays Mike]," the dancer says to Brown.
"You're an evil, evil person," Millie quips. "You know that? Are you aware of that, Maddie? Yeah, I did have to kiss Finn. At the end of the day, it's only acting, and it's something you have to do, and I would do anything for the show."
"I cut my hair, I kissed Finn. It was definitely strange," she adds. "It was, like, my first kiss, so it was kind of weird. But then, like, when I'd done it, I thought, 'Wow. It makes sense for the storyline.'"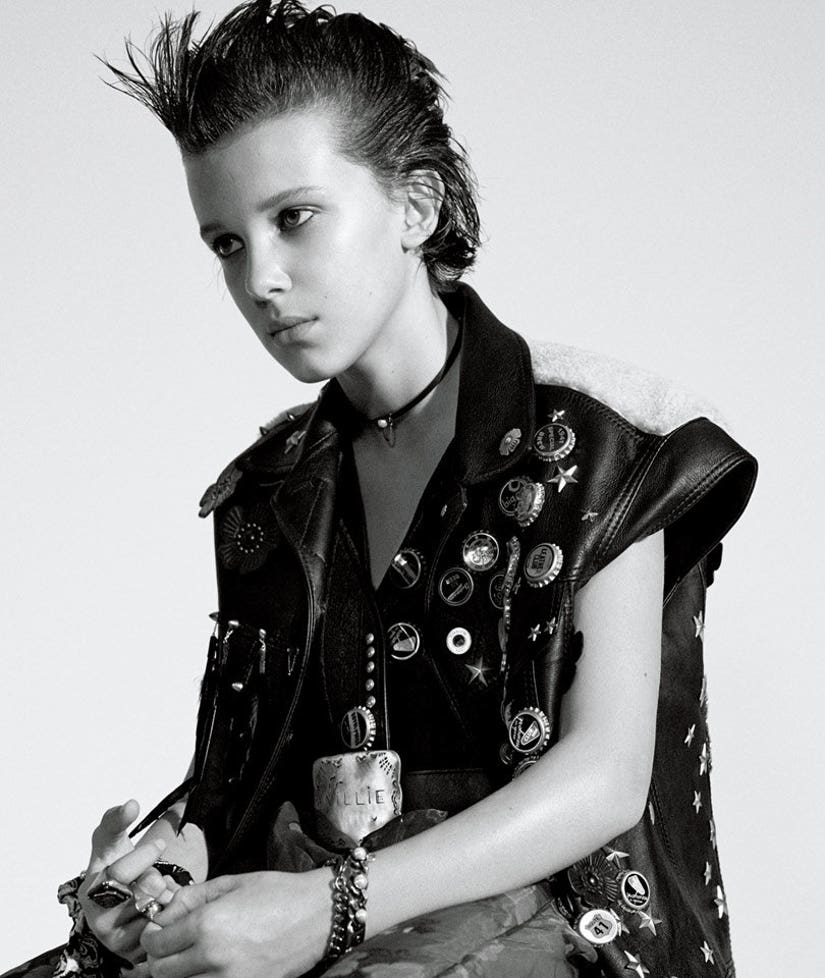 Mikael Jansson
"It was priceless, like, your reactions. You were like, 'Kissing sucks.' And then Finn ..." Maddie teases.
"Finn reacted quite well and I didn't. [laughs] I felt really bad afterwards," Brown reveals.
Though "Stranger Things" is arguably Millie's breakout role, she's already getting some solid advice from a few Hollywood vets.
"I'm curious, what's the best advice you've gotten, and who was it from?" the Sia music video star asks.
"I think David Schwimmer honestly, because a lot of people say to me, 'Stay grounded, be humble.' I get that a lot, and I'm sure you get that a lot, Maddie."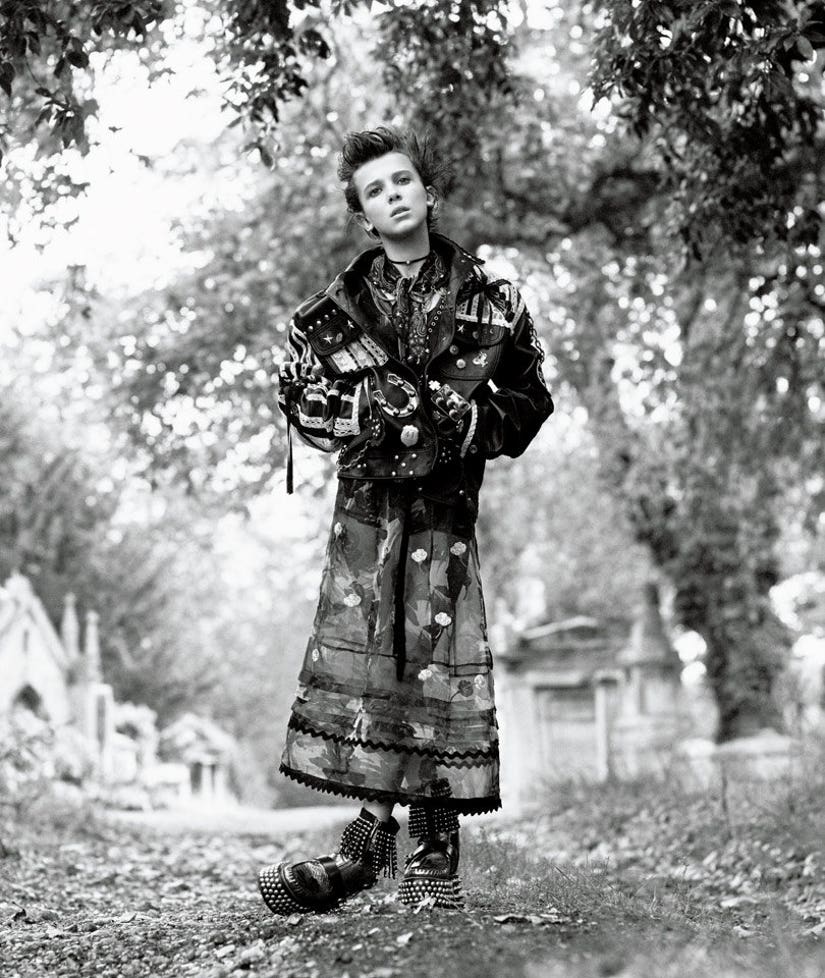 Mikael Jansson
"David Schwimmer was just like, 'You need to love what you do.' And I think that's really nice. Just love your work," Millie confesses.
"My family has given me great advice saying, you know, 'Don't work too hard.' And it's really nice to have someone like that—you know that they love you. It's nice to have famous people love you," she adds.
Millie also says singing at the 2016 Emmy Awards was exactly what she hoped it would be.
"It was really mental and I loved it," she says about her cameo. "It was nerve-racking. It was my first time onstage. I thought, 'Why not hit the Emmys?' And then I came off and I thought, 'I want to do that five times over.' I bet it was the same thing for you. You were at the Grammys, and you danced with Kristen Wiig. Well, I guess you've been onstage. I'm not scared of many crowds, but with this crowd, each and every one of them are so talented. I saw Tori Kelly and I was just like, 'I just want to be you.' David Schwimmer was singing with it. It was just incredible."
What do you think about the 12-year-old's comments? Sound off below and check out the gallery above to see more child stars today!