Sarah Michelle Gellar. Freddie Prinze Jr. Rachael Leigh Cook. Selma Blair. Seth Green. Admit it, you loved them then ... and you still do today.
This weekend, the stars of "Buffy the Vampire Slayer," "Cruel Intentions" and "She's All That" gathered at a private home in the Pacific Palisades for an adorable Halloween party celebrating the launch of Gellar's new Gilt x Foodstirs frozen hot chocolate cupcake baking kit.
The mix is made to prepare with the whole family, which is why most the celebs above showed up with their cute kids in tow. The event was tailored to tots, as Gellar and Prinze's kids Charlotte and Rocky, Blair's son Arthur and Cook's daughter -- also named Charlotte -- all ran around the yard sporting face paint and cute costumes.
"We are actors, we play dress up for a living ... needless to say it carries over to the next generation," Gellar told toofab at the event, where Rocky was dressed as Batman. "You will have to wait and check my Insta for my costume," she also teased ... though a pic this morning more than suggested she'll be Poison Ivy this year.
Her new treat with Gilt -- which launched today -- sprung from her love for a New York institution's staple sweet.
"As a child my favorite treat was going to Serendipity for frozen hot chocolate, so that was definitely an inspiration for this kit," she explained of the cupcakes. "I love when we can really get creative with our kits and replicate something that normally you think could not be made with baked goods."
It's that same thought process that led to the creation of Foodstirs in the first place. The subscription program offers up monthly, easy-to-complete recipes and USDA organic, GMO-free, and fairly traded ingredients.
"I love to take chances and explore different branches of my creativity," she added. "Nowadays with social media you really have a great outlet to show other aspects of your life and talents. Foodstirs is two of my great loves: DIY and BIY (BakeItYourself)."
But while she loves to bake, she admitted her hubby -- who released his own cook book earlier this year -- would probably come out on top if they ever went head-to-head.
"We try not to compete in our household," she explained. "That being said, he would win hands down. He is a culinary master, I am a creative."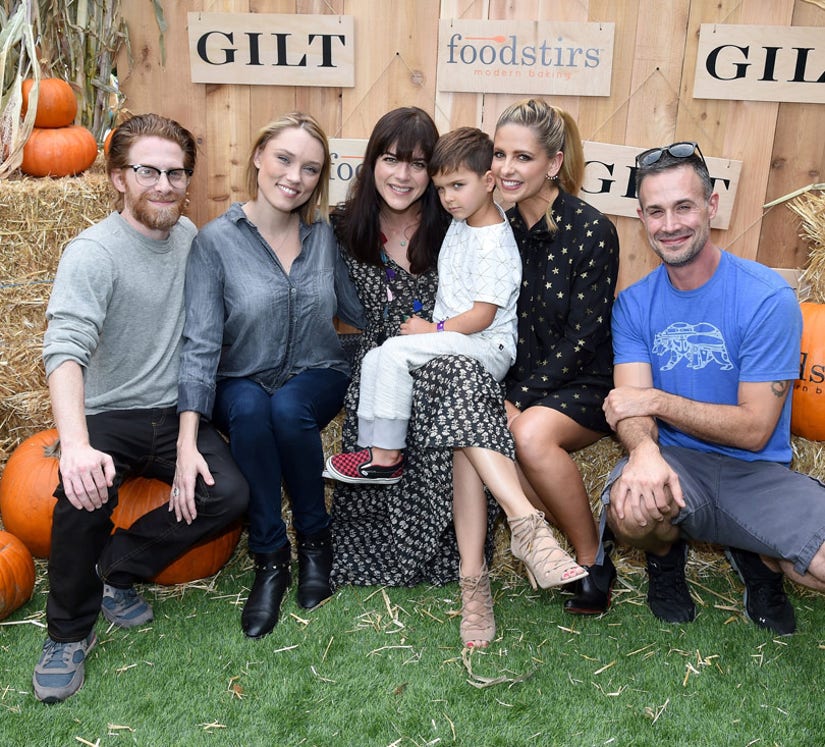 Startraks
Gellar and Prinze Jr. met filming "I Know What You Did Last Summer" back in 1997. With the film turning the big 2-0 next year, we had to ask: does it hold a special place in her heart?
"Every movie/show you do holds special memories of that experience and friends you make," Gellar replied. "It's hard to believe it's been 20 years though. I do get a reminder how much time has passed as my daughter is in class with Eric Feig's son. Eric was not only the producer of that movie, he was the one that originally found the book and had it adapted for screen."
Also among those lifelong friends she met on set were attendees Tom Lenk, Blair and Green. And "Buffy" fans will love this: we heard her refer to Green as "Uncle Seth" to her children. Everybody now: Awwwww!