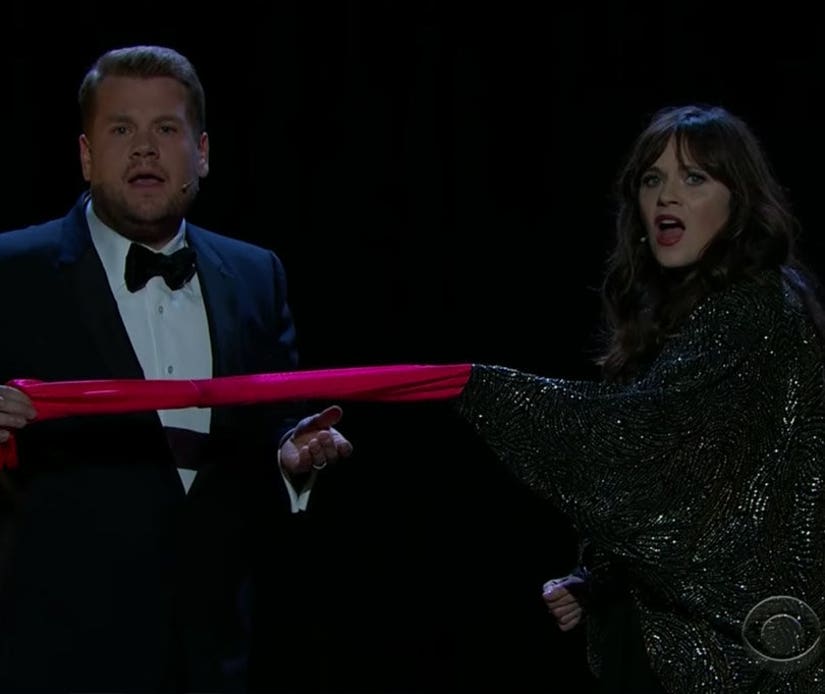 CBS
Zooey Deschanel and James Corden are giving us endless laughs!
The pair took to the stage at "The Late Late Show with James Corden" on Tuesday night to perform a hilarious parody of "My Endless Love."
In their reworking of the classic song, the stars profess their love for a literal object of affection: an "endless glove."
The bit kicks off with Deschanel appearing onstage in a sparkly black dress and a single red satin glove, which she looks at fondly.
"My glove, there's only you in my life, the only thing that's right," the "New Girl" star sings before Corden, dressed in a tux, joins her.
"Your first glove, it's every hand that you shake, it's every grasp you make," croons the talk show host as he lovingly takes Deschanel's gloved hand.
And when the songbirds reach the part of the tune that had them singing "You will always be, my endless glove," Corden pulls on the glove to reveal that it is in fact—you guessed it—an endless glove.
Throughout the rest of the duo's take on the Lionel Richie and Diana Ross classic, Corden pulls on what appears to be a never-ending glove that starts to create a pile of fabric on the floor.
Deschanel, who is one half of the band She & Him, is no stranger to singing onstage, but during her interview with Corden, she admitted she was pushed out of her musical comfort zone when she had to rap in her film "Trolls."
"I was like, wait, I'm sorry. I didn't realize that the rap was supposed to be me rapping," she said. "I thought that was for somebody else. Of course it wouldn't be me. I'm not a rapper."
The 36-year-old even took the time to warn costar Justin Timberlake, who was present for her rap debut, that her rhyming skills might be lacking.
"I just want to let you know I'm really nervous about this—not just because I don't know it, but also because I'm really bad at it," she confessed.
And while we won't be able to witness her rapping until "Trolls" hits theaters on Friday, we can appreciate her singing prowess in her "My Endless Glove" video with Corden (above).