Michelle Obama may be gearing up to leave the White House soon, but she has no intention of slowing down!
Hot off the heels of meeting with incoming First Lady Melania Trump on Thursday, Michelle Obama is giving us a window into what it has meant to her to hold the title for the past eight years—and what comes next.
And while the incumbent First Lady undoubtedly had some advice to share with Melania, she reveals that the role is pretty much defined by whoever holds it in an interview for the December issue of Vogue.
"Everything we do is by choice. I could have spent eight years doing anything, and at some level, it would have been fine," she explained. "I could have focused on flowers. I could have focused on décor. I could have focused on entertainment. Because any First Lady, rightfully, gets to define her role. There's no legislative authority; you're not elected. And that's a wonderful gift of freedom."
The 52-year-old has always admitted she never knew how she was going to use the platform going into the White House, but she decided to lead a life of public service, launching the "Let's Move" campaign in an effort to combat childhood obesity and the Joining Forces military initiative with Jill Biden to provide veterans and their families with support.
"Michelle never asked to be First Lady … Like a lot of political spouses, the role was thrust upon her," President Barack Obama gushes to the mag about his wife. "But I always knew she'd be incredible at it, and put her own unique stamp on the job. That's because who you see is who she is— the brilliant, funny, generous woman who, for whatever reason, agreed to marry me. I think people gravitate to her because they see themselves in her— a dedicated mom, a good friend, and someone who's not afraid to poke a little fun at herself from time to time."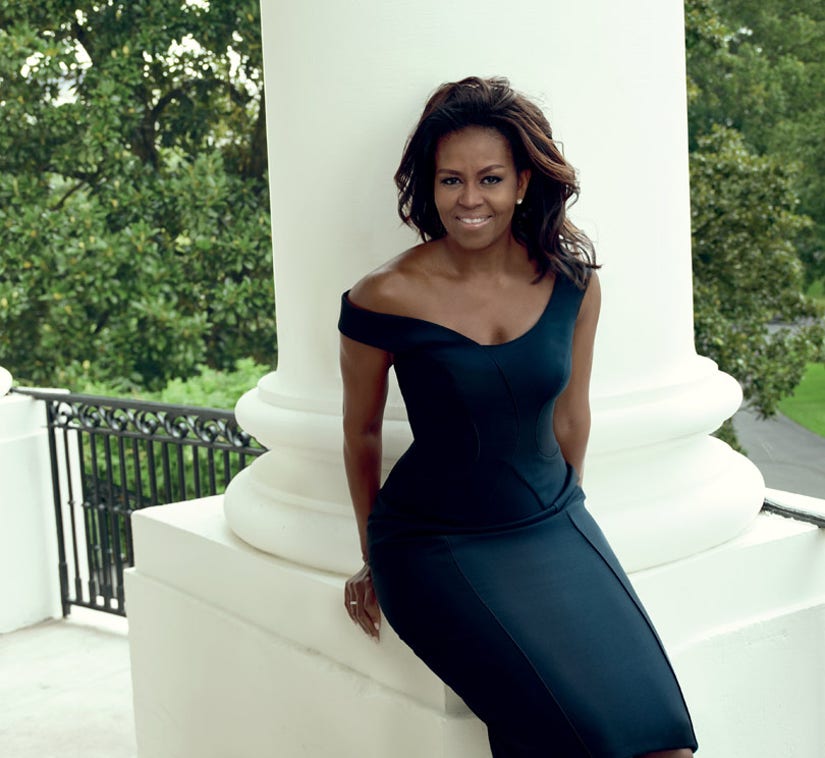 Annie Leibovitz/Vogue
"I will take the same approach leaving as I did coming in. I won't know until I'm there," she admits.
But don't take that to mean that she will stop working on behalf of others.
"But I will always be engaged in some way in public service and public life. The minute I left my corporate-law firm to work for the city, I never looked back. I've always felt very alive using my gifts and talents to help other people. I sleep better at night. I'm happier. So we'll look back at the issues that I've been working on. The question is: How do I engage in those issues from a new platform? I can't say right now, because we can't spend that much time really doing the hard work of vetting offers or ideas or options because we're still closing things out here."
And we can probably also expect the mother of two to continue to impress with her flawless fashion choices. Michelle, who stuns in her third Vogue cover in a white Carolina Herrera gown, also opened up about her number one priority when choosing her headline-making outfits.
"It all boils down to comfort level: If I'm going to make you comfortable, than I have to be comfortable first," she explains. "So my first reaction isn't 'Who made this?' But 'Let's try it on. What does it look like? Oooh, that's cute. Oh, wow. I never thought of wearing something like this. Let's put a belt on it. I feel gooood in this.'
Still, the First Lady admits, there are also larger issues she takes into account when stocking her wardrobe.
"There are definitely designers that I love, people I love to work with. And who they are as people matters," she continues. "Are they good people? Do they treat their staff well? Do they treat my staff well? Are they young? Can I give them a boost? But! When all of that is equal…is it cute?!"
Michelle's Vogue cover hits newsstands on November 11.