Alexa PenaVega really enjoyed trying for a baby.
The expecting star covers the December issue of Fit Pregnancy and Baby magazine, where she opens up about her many attempts to conceive a child with hubby Carlos PenaVega, being pregnant and overcoming morning sickness.
Alexa says that she and Carlos had to try for six months before they got pregnant.
"We tried to get pregnant for a good six months without luck. When it's not working, you think, 'Is there something wrong with me?' I struggled with an eating disorder when I was younger. It was a big part of my life, and I was worried that I wasn't getting pregnant because of some long-term damage from what I'd put my body through," she tells the mag, possibly referring to her battle with an eating disorder. "Even though my doctor said I was healthy, I felt so guilty about it. It's such an emotional ride, and you blame yourself for everything. What brought me peace was my faith in knowing that it would happen when it was supposed to happen."
While they did struggle to get pregnant, Alexa said she and Carlos really enjoyed trying for a baby.
"I started using an ovulation kit that gives you a happy face when it's a good time to try," she explains. "Carlos was rehearsing for Grease: Live at the time, and I'd text him, 'Baby, you need to get home now.' I found there's such a difference between having sex when you're trying for a kid and when you aren't. For us, sex became so much more intimate, beautiful, and passionate when we were trying. Suddenly the realization hits you: 'Oh my God, we could be starting another life!' That brought us so much closer. Of course, once I got pregnant, I felt so bad for him, because between the puking and exhaustion, I was just done. Carlos kept saying, 'I can't wait for that horny state to kick in.' He hasn't read any of the books, but he knew about the horny state! Now, in my third trimester, I'm finally getting riled up again."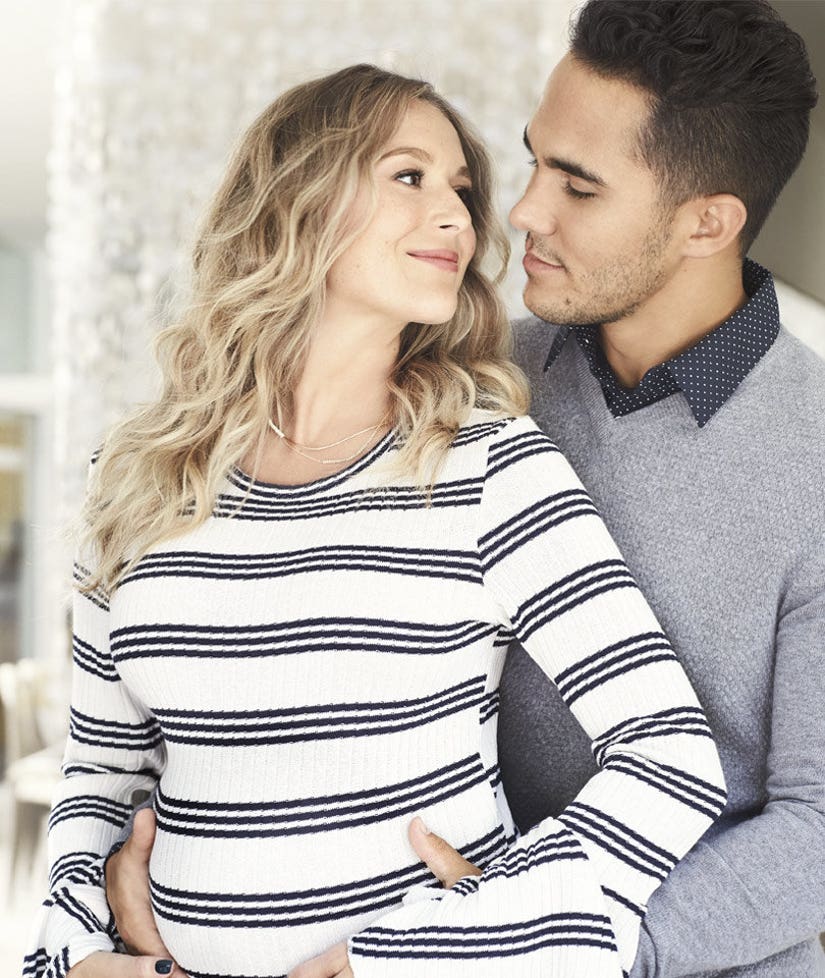 Coliena Rentmeester
Once the 28-year-old "Spy Kids" star did get pregnant, she struggled with a bad bout of morning sickness.
"I had a really tough time in my first trimester," she says. "Everything made me queasy, and I'd throw up at least twice a day. Nothing helped, so I tried to just suck it up. During my ninth week, I got picked for jury duty. Nobody knew I was pregnant, of course, and as I'm sitting in the jury box, listening to the case, I stood up and threw up everywhere. They had to clear the entire court room. Needless to say, I got dismissed from the trial. Finally, when my second trimester started, it was like somebody flipped a switch and that whole part was over. I've felt amazing ever since."
And if she could share any advice with fellow expecting moms, it'd be not to guess the sex before actually finding out from a doctor.
"We were so convinced that we were having a girl that we picked out a name and called the baby that," she explains. "Big mistake. I'd focused on what I thought was a little girl in my tummy, and when the doctor told us it was a boy, I felt a little crushed, like she just disappeared. Of course, now I'm so in love with my son that I'd feel robbed if it were a girl. But I wish I would've held off on allowing myself to get attached in the first place."
What do you think about Alexa's candid comments? Sound off below and check out the gallery above to see more expecting stars!