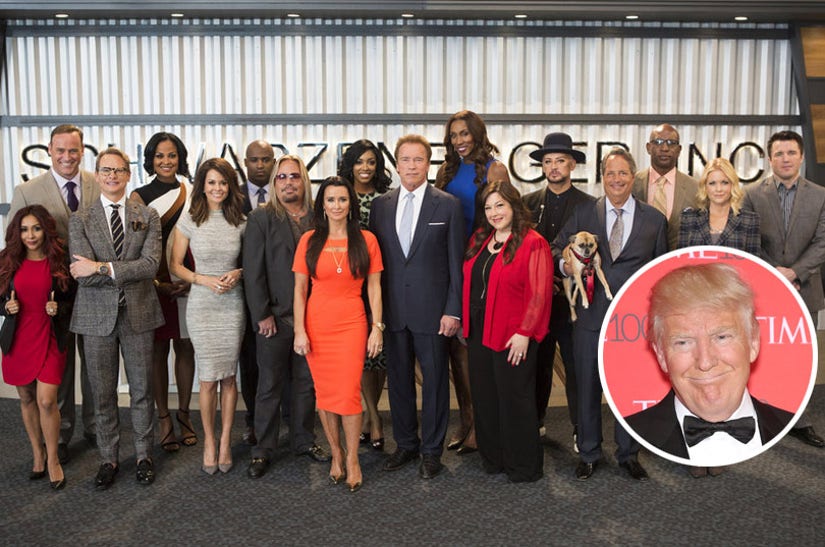 Getty
Donald Trump may have stepped down as host of "Celebrity Apprentice" Season 20, but that doesn't mean he's cut all ties to the TV series.
As previously reported, the President-elect will stay on as executive producer of the hit NBC reality competition show, which recruited Arnold Schwarzenegger as new host.
Toofab's Candice Brock spoke with the new crop of celebrity competitors during Friday's "Celebrity Apprentice" event on the NBC Universal lot. And it was clear that most want the show to distance itself from politics.
"This is an entertainment show, and we understand some people want to politicize it. But we're really focused on the show," Arnold's nephew Patrick Knapp Schwarzenegger told Toofab.
"We have an amazing show, Arnold did a tremendous job as a new host. We have a new location, the show has a completely new vibe, we have amazing boardroom advisers amazing contestants and that's what we want to focus on."
"We don't want this to be partisan. We want democrats, republicans, women, men, children, elderly people, Latinos, anybody. We want anybody and everybody to watch this show and be entertained," Knapp Schwarzenegger said. "I think we've had enough of the long campaign and so people should use this and let themselves be entertained and hopefully it doesn't get politicized."
"American Ninja Warrior" host Matt Iseman echoed Knapp Schwarzenegger's sentiments and even hopes that Trump will be watching the re-vamped show.
"I don't think he's actively going to be viewing cuts of the show. He is a producer in title of the show," Iseman said. "I know that Arnold Schwarzenegger's putting his stamp on the show and that he's going to be running it. Look, I hope everyone's tuning into the show including the President-elect."
Brooke Burke-Charvet said she "can't imagine" Trump participating in any way and compared Schwarzenegger and Trump's similar career paths.
"The governor made a great example today at the press junket that when he was governor of California his credits still rolled in all of his films," she explained. "We never saw Trump, we actually shot the show long before the presidential campaign even started but, you know, he's been an EP all along and I don't see it having anything to do with politics."
What do you think of Trump staying on as executive producer? Sound off below!