The women of "Girls" are saying goodbye to the HBO show after six seasons and just spilled some set secrets about who fought during filming, who nearly quit the show and their "hot-ass" co-star Adam Driver.
Lena Dunham, Allison Williams, Jemima Kirke and Zosia Mamet conducted an exit interview with series' executive producer Jenni Konner for the mag's February issue.
Here are the 5 most surprising revelations TooFab learned from the cover story:
Jemima Kirke Almost Quit the Show
"I think it's time for us to disclose to the world that, like, three days before season two, Jemima tried to quit," Dunham explained. "I remember being in a cab. And Jemima called me. She was like, 'I have to tell you something. It's not a big deal. I don't want you to freak out. I want to quit the show.'"
"That was the season where you said I had to get out of your dressing room or you were gonna punch me," added Lena.
Thankfully, she stuck around, but Kirke admitted that filming that season was "kind of traumatic" for her.
"I know that I was a bit of a tyrant myself," she added. "My sense of who I was and what I wanted was really thin. I really wasn't sure what the f--k I was doing."
Being on "Girls" Comes with Its Perks
"There are a lot of shows where the dudes make a lot more f--king money than the girls. And we were on a show where the girls were The Thing," explained Lena.
"We were very well compensated, which was a real privilege," added Williams. "Putting aside the fact that it's nice to be well paid ... it allowed me to be selective [with other projects] and thus much more creatively fulfilled."
Another thing they were able to get thanks to the show's success: reservations.
"Benefits of being on the job? I'm not mad about a good table at a restaurant," Kirke said. "Do you know I actually [pretended to be] my own publicist when I didn't have one? I was just like, 'Hey, I'm a publicist. I'm calling on behalf of one Jemima Kirke on HBO's Girls.'"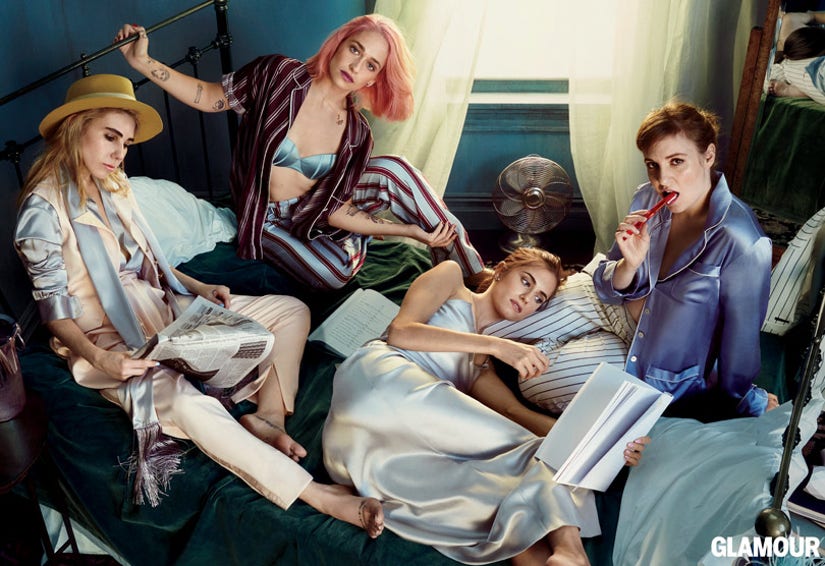 Emma Summerton
The Women Weren't Immune from Fights
"My best memory—I hope this isn't too personal, Jenni -- it was on our last episode," Dunham reveals. "You and I got in a small argument. Went in a room. And we managed to cry, apologize and work it out within three minutes, then go back to work."
"And then everyone outside was like, 'We heard you got in a huge fight,'" added Konner.
Longtime friends Dunham and Kirke got into it a few times as well.
"The least and the most satisfying thing about my job was my relationship with Lena," admitted Jemima. "In a good way. It definitely caused us to get closer [after 15 years of friendship], and it caused us to fight. And then at the end of it, you know, [our relationship] was nicer."
The Women Sometimes Felt Like Outsiders
"Sometimes I would get very lonely, because I wanted to be a part of the group, but there was also the element of, like, having to boss people around," Dunham told the mag. "And we would be doing all this as a team, [but] if we got criticism, I felt like it would all come down on me in this s--tstorm torrent. Even though I was surrounded by love, there were times where I felt very 'by myself' in the process."
Williams wanted to be included more as well.
"I always wanted to be in the show more," she said with a laugh. "That was my M.O. every year. I wanted to be a piece of furniture in Hannah's apartment, if that's what it took."
Adam Driver Gives Good Hugs
"My best day was the day that I experienced what it's like to be picked up [in the air] by Adam Driver," revealed Kirke.
"I like it too," echoed Dunham. "Adam Driver cradled me like a motherf--king baby for, like, eight takes, and I won't lie, it felt good," she added, comparing him to gymnastics vault.
"It's like a hot-ass future-Oscar-winning vault," she continued. "I'm glad we live in a world where women can reduce men to vaults. I also didn't mind being laid across, like, a satiny bed by Patrick Wilson while he stared at me like I was like a queen from heaven. Like, I'm not immune to that s--t. "
"Girls" returns for its final season on February 12.