"Fifty Shades Darker" star Dakota Johnson is Vogue magazine's February covergirl, just in time for the S&M film's release on Valentine's Day. Speaking to the magazine, Dakota opened up about the rumors she and co-star Jamie Dornan secretly hate each other, her unique upbringing as the daughter of Don Johnson and Melanie Griffith and her admiration for people who are really into the BDSM lifestyle from her films.
Here are TooFab's 5 biggest takeaways from her new interview:
Here's How Dakota Really Feels About the Man Who Plays Christian Grey
Reports Johnson and Dornan despise each other surfaced while they were promoting the first film, while other online gossip speculated the two were carrying on an affair.
"We hate each other and we're having an affair, so everybody's right. How about that?" she joked.
"Jamie and I worked so incredibly closely for so long. There were no inhibitions, and it was very honest, very trusting," she added of their relationship. "But I mean, what a gamble! What if he had turned out to be a total dick? There's no makeup. There are no clothes to tell you a bit about the story. There's no jewelry to give you a clue about social status. So it becomes purely about the performance."
She also shot down the notion she hates the franchise as a whole, saying she's "truly proud of it."
Her Upbringing as a Child of Hollywood Was Anything But Normal
"I was so consistently unmoored and discombobulated. I didn't have an anchor anywhere," Johnson said of growing up the daughter of Don Johnson and Melanie Griffith.
"I never learned how to learn the way you're supposed to as a kid," she continued. "I thought, Why do I have to go to school on time? What's the point when you're living in Budapest for six months while your stepdad [Antonio Banderas] films 'Evita' and you go to school in your hotel room? I was a disaster, and I thought for so long that there was something wrong with my brain. Now I realize that it just works in a different way."
How She Feels About Her Split from Ex-BF Matthew Hitt
"Shit happens," she said of their breakup last year. "I think I'm a little bit heartbroken all the time, even when I'm in a happy relationship. I don't do casual very well, and my feelings, even the good ones, get so intense that they hurt."
But, not wanting to sound like a sad single girl, she joked: "Can we make things really juicy? Can we say that I'm taking this time to explore my bisexuality? Or that I have given myself to the Lord following the release of my sexually explicit trifecta of films?"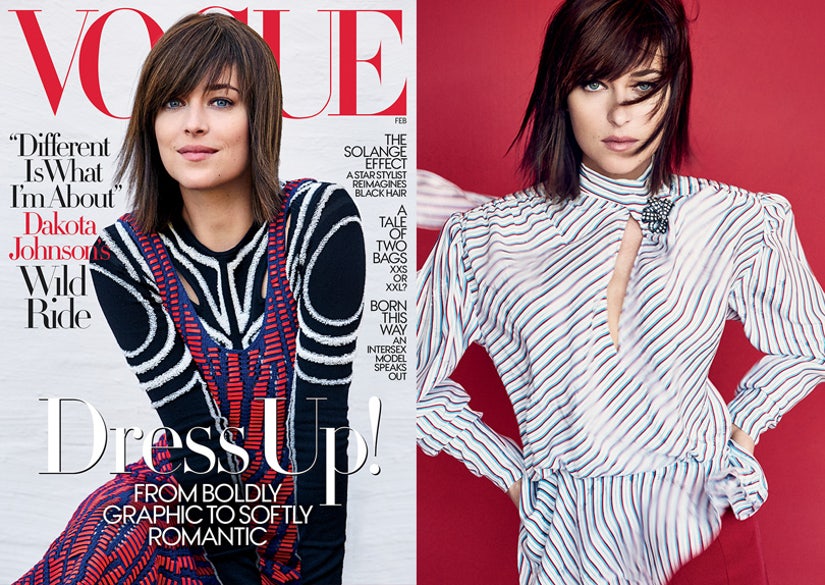 Patrick Demarchelier/Vogue
Johnson Isn't Exactly Comfortable with Fame Yet
"Normally I'm sitting there thinking, I don't belong here, I don't know all these people, I don't know what I'm talking about," she explained of life in the spotlight.
"I have a thing with the exposure, with the experience of the past two years," she continued. "I think I went into this weird K-hole of feeling so scared of people. I noticed myself becoming shut off to strangers, even cold. That's not my nature. I prefer to be tender."
Her Work In "Fifty Shades" Has Given Her a Respect for Those Into BDSM
Playing Christian Grey's paramour Anastasia Steele has opened Dakota's eyes to a new world and it's one she absolutely admires.
"What I admire is the bravery and the honesty of people who get down with it, who aren't afraid to say that they need something a bit more in order to get off," she told the mag. "America is still so sexually oppressed. Isn't God's gift to humans the orgasm? Here's a fun fact: A woman has the same number of nerve endings in her clitoris as a man does in his entire penis."
"It can be very beautiful and tasteful, and the materials can be luxurious," she added. "It's not like being on Hollywood Boulevard and walking by a ball-gag store."