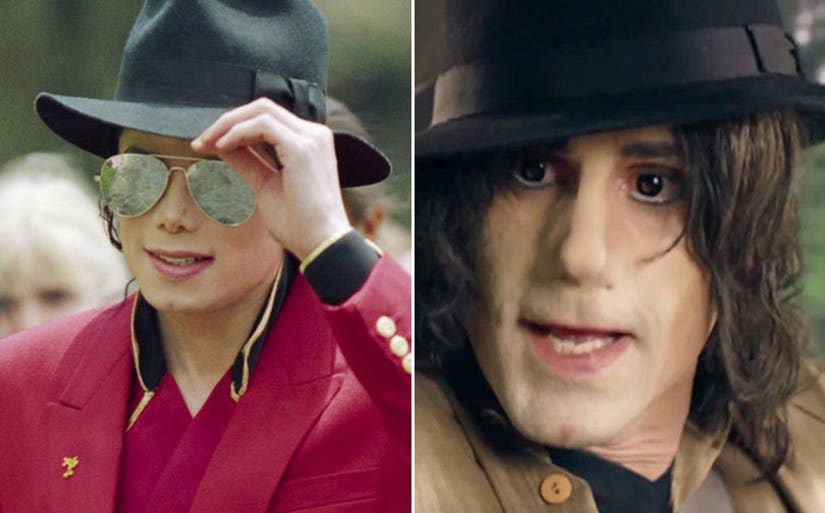 Getty/Sky Arts
We won't be seeing Joseph Fiennes play the King of Pop after all, as Sky Arts' "Urban Myths" episode about Michael Jackson has officially been canceled following protest from the late singer's family.
"We have taken the decision not to broadcast Elizabeth, Michael and Marlon, a half-hour episode from the Sky Arts Urban Myths series, in light of the concerns expressed by Michael Jackson's immediate family," Sky said in a statement. "We set out to take a lighthearted look at reportedly true events and never intended to cause any offense. Joseph Fiennes fully supports our decision."
The episode centered around MJ's rumored road trip from NYC to Los Angeles with Marlon Brando and Elizabeth Taylor after 9/11. Joining Fiennes in the episode were Stockard Channing as Liz and Brian Cox as Brando. Much of the criticism was directed at Fiennes though, as many were angry a white man would be playing Jackson.
"I'm surprised the family's feelings were actually taken into consideration for once," Michael's daughter, Paris Jackson, tweeted following the decision. "We all really do appreciate it more than y'all know."
Michael's nephews TJ and Taj Jackson -- Tito's sons -- reacted to the show's cancelation earlier this morning:
Thank you to the fans, you continue to fight for my Uncle Michael's legacy. And thank you to the media, for covering the extreme backlash.

@tajjackson3
Paris previously expressed her displeasure over the film earlier this week on Twitter as well.
@TheMJCast i'm so incredibly offended by it, as i'm sure plenty of people are as well, and it honestly makes me want to vomit.

@ParisJackson
@TheMJCast it angers me to see how obviously intentional it was for them to be this insulting, not just towards my father, but my godmother liz as well

@ParisJackson
@TheMJCast where is the respect? they worked through blood sweat and tears for ages to create such profound and remarkable legacies. shameful portrayal

@ParisJackson
Watch the trailer for the project below: