Susan Sarandon and Jessica Lange transform into Hollywood legends Bette Davis and Joan Crawford for the new FX series "Feud," and the first look is here!
The two actresses vamp it up for Entertainment Weekly's cover story on Ryan Murphy's new show, which chronicles the behind-the-scenes drama during the making of cult classic "Whatever Happened to Baby Jane?"
Here is what TooFab has learned so far:
"Feud" Is NOT Going for Camp
While "Baby Jane" is regarded as cult-camp classic, Murphy never wanted to go that route with this new retelling of the real-life battle between the two icons.
"I wasn't interested in just doing this broad, campy [show]," he said. "I was interested in the idea of sexism, ageism, misogyny. Turning 40, 45, 50 and feeling like you're at the height of your powers and people saying, 'Well, you're done.'"
Jessica Lange Has Never Seen "Mommie Dearest"
The insanely over-the-top biopic about Joan Crawford starring Faye Dunaway has almost surpassed the popularity of Crawford's own films -- but Lange somehow missed it. When Murphy had the "American Horror Story" alum soak her face in witch hazel and ice, as seen in that 1981 movie, Lange was mortified.
"The witch hazel was my shout-out to Mommie Dearest," said Murphy. "Jessica Lange has never seen 'Mommie Dearest.' She's like, 'What the f— am I doing?' And I'm like, 'I'm telling you, Joan Crawford did this!'"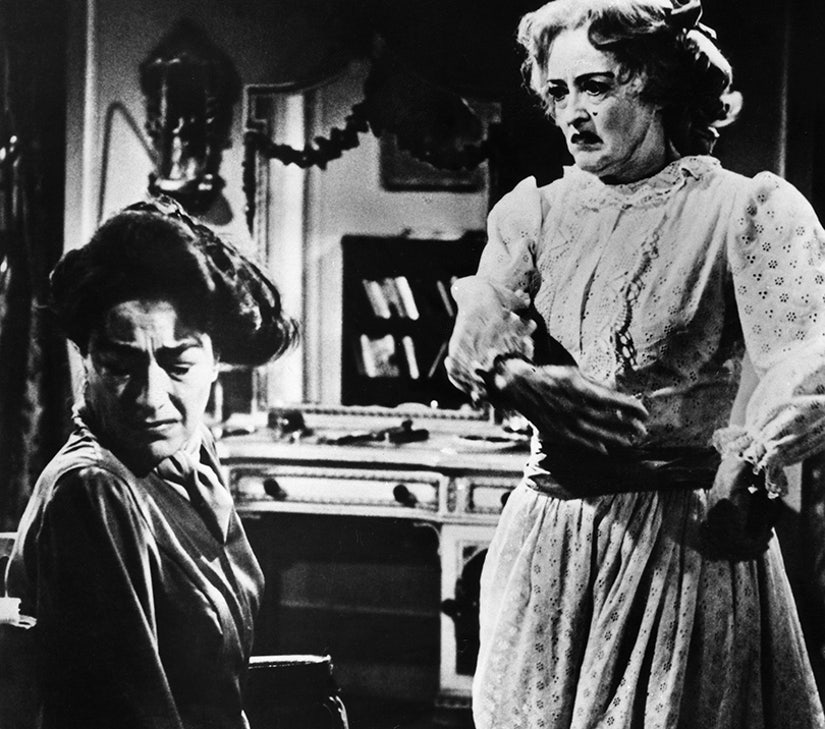 Getty
Susan Sarandon Related to Bette Davis
"I never saw myself as being one of the beautiful girls, so I kind of understood and related to that," Sarandon confessed.
For Lange, however, the role was "polar opposite" of her life with Crawford struggling to escape her troubled upbringing. "She lived with that always," said Lange. "That great fear of poverty. She used sexuality as comfort, as a bargaining tool, as punishment."
The Issues Davis and Crawford Face Also Plague the Two Stars Today
"I love about the show is the themes and issues in the show are so modern and women are still going through that sort of stuff," Murphy revealed at the TCAs. "Aging actresses still have the same problem, I can guarantee that," added Sarandon.
"That's a big part of this show, is what Hollywood does to women as they age, which is just a microcosm of what happens to women generally as they age," revealed Lange. "I think what we've tried to do is see not just in the overall milieu of Hollywood, but what happens to women as they age and become considered less than important."
They've All Done Their Research
With films and old interviews readily available, the research for the roles was easy. Living up to those infamous images, however, was a bit daunting.
"The good news and the bad news of playing someone so well known are that there is so many pieces of film and TV appearances and films and interviews and recordings and everything, so we all just hunkered down for the first six weeks," said Sarandon. "We were just getting as much as we could, but when Ryan first talked to me about it, I said, 'I'm just so terrified.' And he said, 'Well, I'm scared too.' And that really helped me a lot."
For Murphy, it also helped that he actually knew Davis.
"I had a very minor relationship with her and got to spend time with her, and the thing about her is you go into something like that expecting a very larger-than-life camp figure, which she helped propagate," he explained. "As she told me when I talked to her, she felt that she was never going to be anybody unless somebody could impersonate her, so in the public view she really turned that on, she felt that was important for her survival."
"She was not that person at all," he added. "She was not camp, she was not a broad, she was very emotional and real and all of those things."
"Feud" premieres Sunday, March 5 on FX.
Waiting for your permission to load the Instagram Media.