She's the gift that keeps on giving.
"The Bachelor's" most buzzed about contestant Corinne Olympios makes her first talk-show appearance Wednesday as she visits The Ellen DeGeneres Show.
"The Bachelor" newcomer instantly became a social media star thanks to her outrageous personality, hilarious commentary and natural little quirks. We have so many things we want to know! Is she really that wild? Does she really have a nanny? What actually IS cheese pasta? She answers all of our burning questions.
When asked if the show is depicting her accurately, Corinne said it "definitely is me, there's different sides to me." She told Ellen that she enjoyed her experience on the show and doesn't have any regrets about her behavior.
Corinne said she did the Bachelor after getting out a long-term relationship, and that "things just kind of fell into place with the show."
We also found out about her nanny, Raquel. Corinne explained that "she has been with my family for 18 years. She moved with us to Florida from New Jersey." Claiming she uses the word "nanny" because she "has a lot of respect" for her, not wanting to call her a housekeeper or maid, and that she's "like a mother to me." Corrine also agreed that maybe introducing her as her nanny didn't go over so well on the show.
It's refreshing to see Corinne clothed, and not trying to pry someone's eyeballs out for once. Taking the time do an interview really let all of Bachelor Nation understand what she's really like.
But we still don't know what cheese pasta is!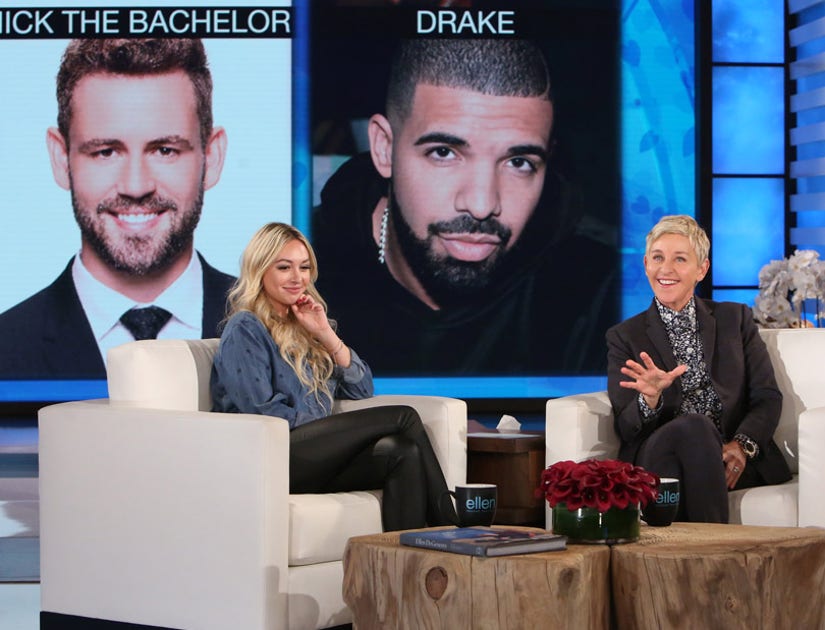 Michael Rozman/Warner Bros
Corinne then played "Who'd You Rather" where she chose Zac Efron for most of the game, until of course Nick Viall was thrown into the mix.