The Grammys weren't overtly political on Sunday night, but there were still plenty of digs at President Donald Trump and his vision of America.
James Corden fired the first shot at the POTUS during his opening monologue rap, during which he said, "Live it all up because this is the best and with President Trump we don't know what comes next."
In the same segment, he spit out another rhyme that could be a jab at the divisive nature of Trump's campaign and an overturned executive order that many perceived as a "Muslim ban."
"We sit here tonight, no matter our race or where we were born or color or face. Music is art, remember forever. We can survive by sticking together," the CBS late-night host said.
Later on in the evening, Corden did a bit where he read mean tweets and mocked Trump by saying, "Any negative tweets you see are FAKE tweets."
Jennifer Lopez was the next star to make a subtle dig at Trump's America. "At this particular point in history our voices are needed more than ever," she said on stage while presenting the award for Best New Artist.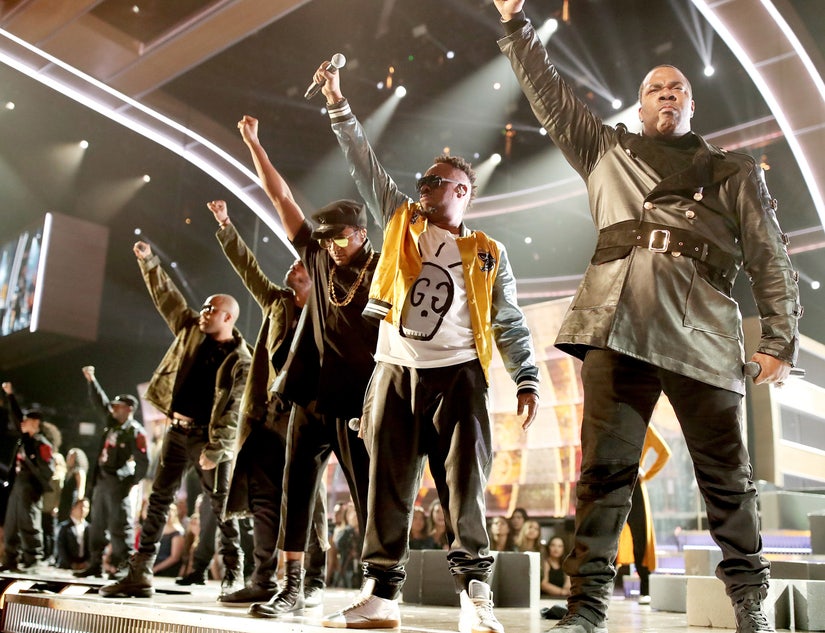 Getty
The most blunt criticism came from rapper Busta Rhymes' mouth while performing "We the People" with A Tribe Called Quest. He referred to Trump as "President Agent Orange," and accused him of "perpetuating all of the evil" throughout the United States.
"I wanna thank President Agent Orange for your unsuccessful attempt at the Muslim ban, for we come together - we the people," Rhymes shouted into his mic before launching into the song, which ended with the group chanting "resist" over and over again.
The word has become key vocabulary for those who oppose the Trump administration's policies, and is a commonly used hashtag in connection to protests that have sprung up across the nation since Trump was elected as the 45th President of the United States.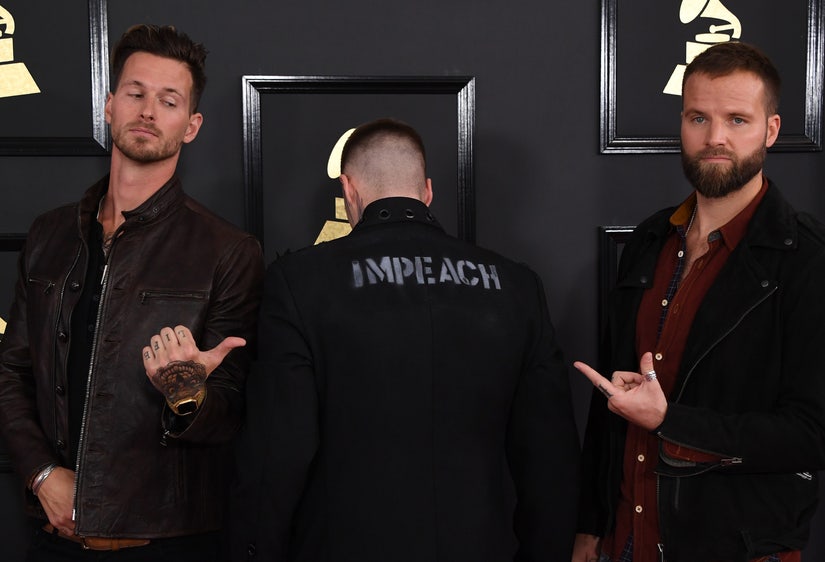 Getty
When comedian Patton Oswalt won the Grammy for Best Comedy Album, he blasted Republican voters for complaining about Hollywood stars voicing their opinion on politics, despite the fact that Trump is the nation's second president with roots in entertainment.
"Middle America voted Hollywood into the White House twice," Oswalt said in reference to both Trump and Ronald Reagan. "It seems they are pushing back against Hollywood, but then they are tripping and pushing Hollywood into the White House."