James TW dropped his new single "Ex" on Friday so TooFab met up with the British singer/songwriter to talk about the track, his journey from virtually unknown to touring with Shawn Mendes and playing ping-pong with Ellen DeGeneres.
The 19-year-old artist was born and raised in the U.K. and risked everything to fly to America to make his dreams come true. Now, families all over the world are having serious conversations about the messages in his soulful lyrics.
Here is what TooFab's Madison Sloane Brodsky learned from James TW during our interview:
Growing up, James idolized his father who passed on his love for music and gifted James a drum set to learn how to play as a child.
When James was 10-years-old, he stepped in for one of his father's band members and was bitten by the performance bug. His passion for music prompted him to start filming YouTube videos at 12-years-old. He sang and played guitar on video after artists like Justin Bieber paved the way for being discovered through social media.
"I was intrigued by their stories because I was young trying to do a similar thing so I aspired to have a chance like that," he said.
Three years later, James's manager stumbled upon his cover of John Mayer's "Neon" and thought the young artist had great potential.
After some Skype meetings, James visited Los Angeles with his father to meet the man who believed in his music and talk to record companies.
"I remember being terrified of record labels before I visited LA, but once I was sitting in the lobby, I somehow found myself so relaxed."
Later down the road, James was in New York meeting with various record labels when Shawn Mendes tweeted him that he was a big fan of his YouTube videos and thought they were inspirational. Expecting that would be the end of it, James then received a direct message from Mendes asking to hang out and bring him to his record label, Island Records.
"I got to play for Shawn and his A&R team. It's so surreal saying it back because it sounds like a fairytale, but it was a crazy few days."
Touring with Shawn Mendes
"Surprised," "flattered" and "intrigued" are a few of the words James used to describe his emotions when Shawn handpicked James to open for him on his world tour.
"It was one of the greatest experiences I've ever had," said James. "I dreamed about going on tour since I was 10-years-old and it completely lived up to my expectations."
James recalled constantly pushing himself past his comfort zone both on and off the stage. He played around with breaking his own barriers, integrating aspects like guitar solos into his music to show his fans a piece of his musical creativity.
But off the stage things got competitive big time -- in ping-pong that is. Shawn and James had an ongoing battle that "got serious" during a match after every show.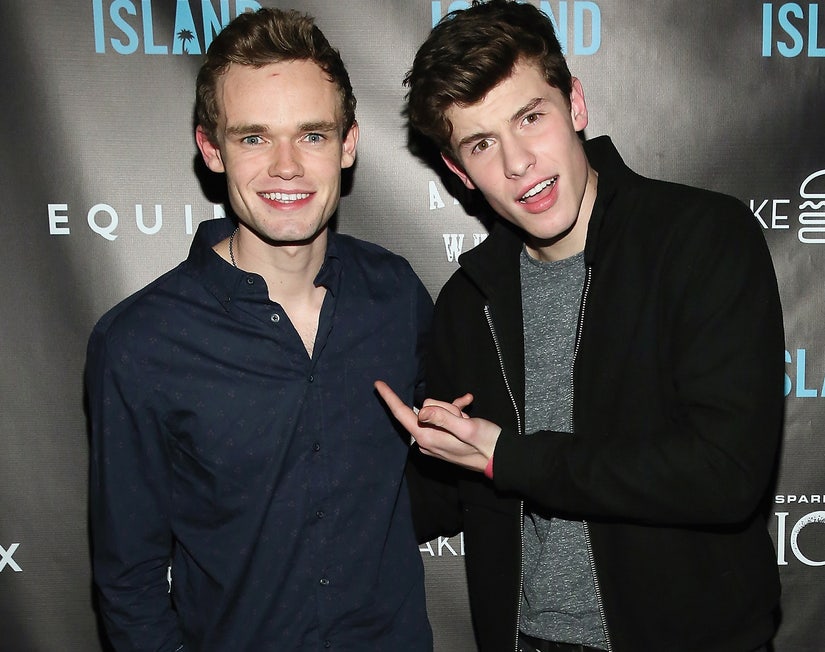 Getty
"We would play until we had to leave," James said.
When the tour went to Nashville, the boys celebrated Shawn's 18th birthday in the woods next to a bonfire relaxing and releasing the daily stress of being on tour.
James gifted Shawn a fancy ping-pong paddle, but was nervous to actually give it to him that night because he didn't want the pop star to start beating him in their daily matches.
Performing and Ping-Pong at 'The Ellen DeGeneres Show'
James has watched Ellen on YouTube since he was a kid in the U.K. so it was a fun and surreal moment to have the opportunity to perform on her show.
"I woke up the next morning like, 'Wow, I played on Ellen yesterday.'"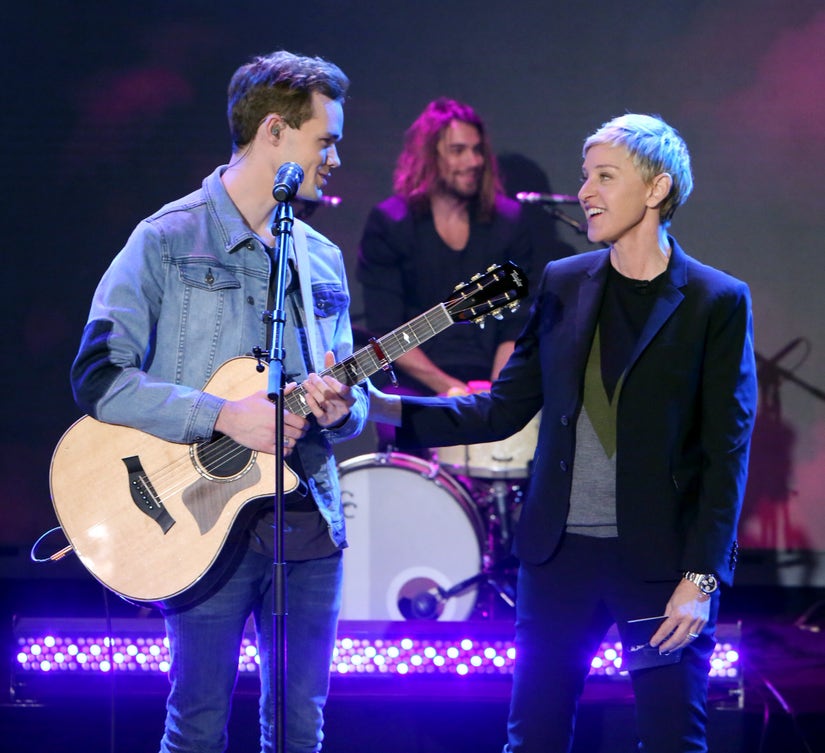 James TW
Fans seemed to love his performance as many viewers said his performance, "hit them in the feels."
And with Ellen and James' love for the game of ping-pong it wouldn't be fair to leave without a friendly match backstage.
"Ellen came into my dressing room and asked if I wanted to play a game so we casually played because we both didn't want to break a sweat before the show."
James TW on Camila Cabello's split from Fifth Harmony
While James was on tour with Shawn Mendes, he got to meet the pop star's close friend Camila Cabello at Radio City Music Hall. When asked what he thought of Cabello breaking off as a solo artist, the singer-songwriter said, "She's very sweet with a good head on her shoulders. I think her decision is tricky, but if she sees herself as a solo artist then that's a good decision for her because she'll have more freedom now."
With regards to possible collaborations, James TW really wants to find a female vocalist to vibe with in his music – "Alessia Cara, maybe?"
One of James' biggest musical idols is Ed Sheeran, who he was very excited to see play keyboard at the Grammys. James was also impressed with Adele's confidence to restart her George Michael tribute performance and hopes that he too will have the courage one day to admit a mistake on stage and restart to deliver a spectacular performance that his fans deserve.
The young singer/songwriter originally focused on his own life and fantasies to inspire the lyrics in his music, but recently found a new approach.
"We overthink everything as people, analyzing every word that someone says which helps us understand what others are going through a little better," James said. "It made me want to look into other peoples lives in an inspiring way."
James' hit song "When You Love Someone" was written to help one of his music students, who he was tutoring for pocket money, cope with his parent's devastating divorce.
"I found out that his parents were getting divorced before he knew so I wrote the song because I wanted to do something to help make him feel better about everything going on."
James will perform at Firefly Music Festival this summer along artists like The Weeknd, Chance the Rapper and Bob Dylan. This performance will not only be James' first time performing at a festival in America, but also his first time attending any music festival. He's really excited to see Muse, Flume, Thirty Seconds to Mars and Kaleo.
"I'll be performing with a band, which is new to me, but it will bring the show even more alive," James said. "But I still need to figure out how I can keep that special intimacy that I have with my audience when it is just me on stage."
James will also release his debut album later this year, which will feature even more diversity in his music than his first EP "First Impressions".
His new single "Ex" started out as a piano ballad but when the song started to get produced, he found a beat that brought it to life.
"It's about the struggle of moving past a relationship when you're not over it," James said.
James shot the music video in east London and had two of his childhood mates make cameos in the video.
Watch the music video here: