"Real Housewives of Beverly Hills" star Lisa Vanderpump is using her reality TV stardom and business prowess to launch a passion project that's near and dear to her heart: saving dogs.
TooFab was invited inside for a sneak peek of the Bravo star's new West Hollywood rescue center, Vanderpump Dogs, which opens its doors March 1.
"It's kind of ironic, really, because I'm not a tree-hugging, animal advocate," Vanderpump told TooFab. "I just wanted to make a rescue center that people wanted to go to. We created the Vanderpump Dog Foundation, and we're endeavoring to save dogs from kill shelters and rescue them.
"We also want to make it a nice environment that people can come in and they can get a coffee from next door and sit in here and enjoy the puppies and make a donation as well because what we're trying to do is save as many dogs as possible."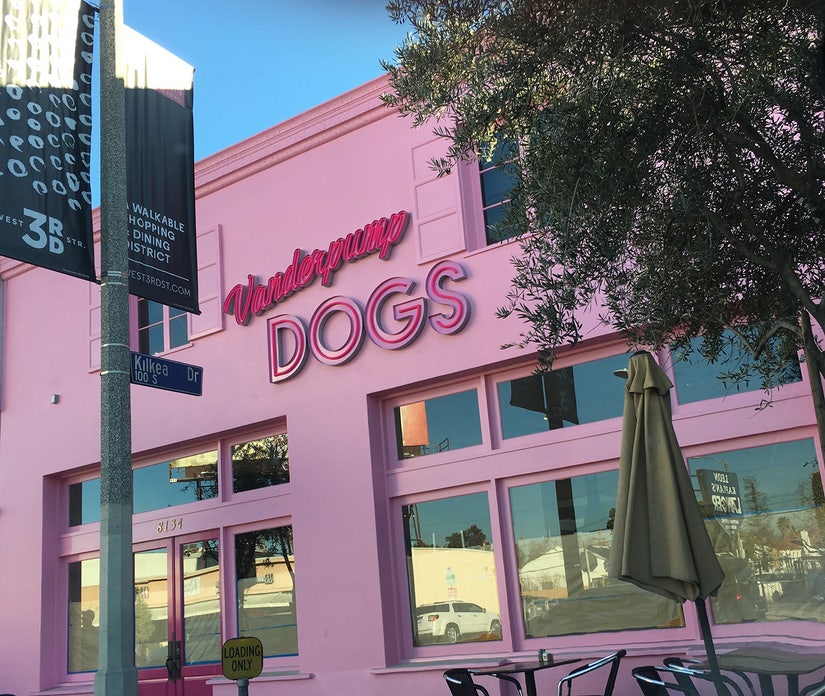 VanderpumpDogs.org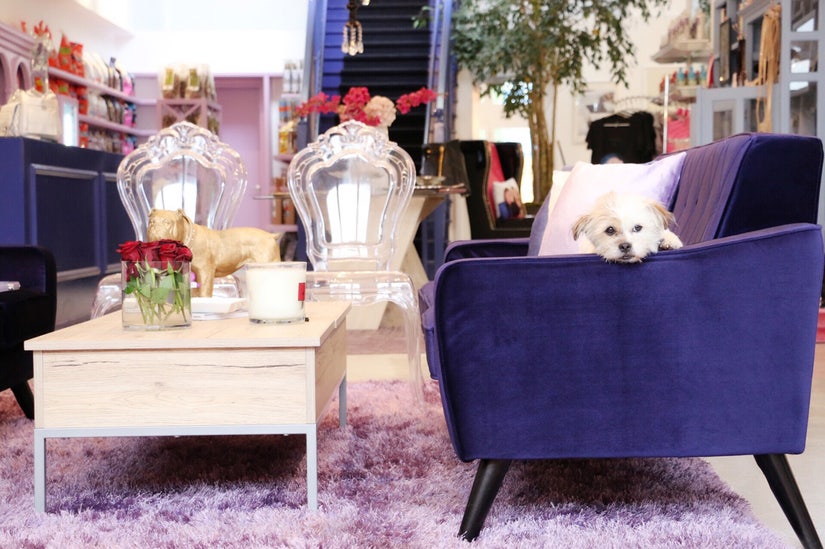 VanderpumpDogs.org
The mission of the organization is to provide a more human world for dogs, both domestically and internationally.
The initiative started with Vanderpump Pets, a line of dog clothing, carriers and accessories Lisa and her husband, Ken Todd, brought to life with the help of Petcos nationwide.
After the launch of the pet line, Lisa said: "Let's immerse ourselves in the pet business. Giggy's always worn clothes because he has alopecia, so we thought, this is a natural fit for us. It's something we'd have fun doing, let's do it as a business. So that's how we started off."
Upon the simple mention of her precious Pomeranian, who's made countless appearances on "The Real Housewives of Beverly Hills" and "Vanderpump Rules," Lisa picked up a framed photo of Giggy from her desk and lovingly whispered, "Oh, look at that little sex monster!"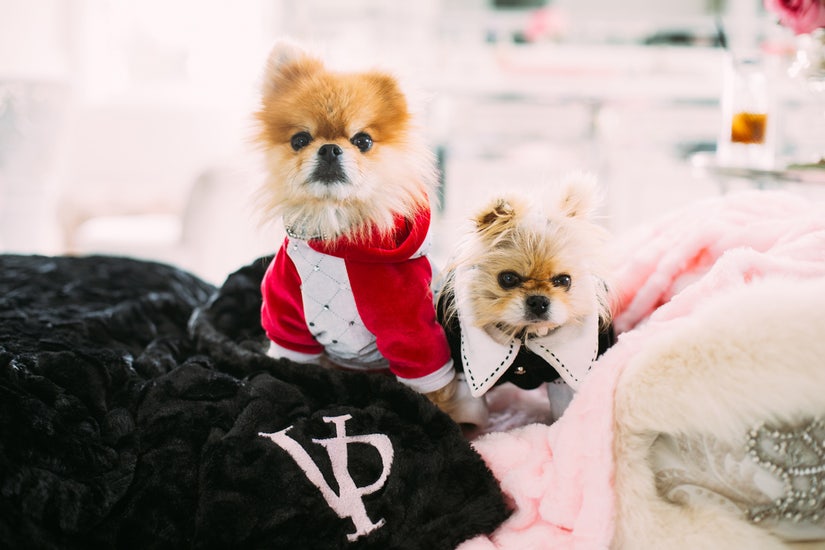 VanderpumpDogs.org
Vanderpump said she's always loved dogs, but it was learning of the Yulin Dog Meat Festival that pushed her into full-on dog-saving mode. She said Twitter users familiar with Vanderpump Pets began tweeting at her and sending her messages regarding the festival. That's when she changed her course of action.
"I was absolutely gobsmacked," Vanderpump said. "I could not believe what was going down in Yulin, and it sprung up right before our very eyes."
The Yulin Dog Meat Festival is an annual celebration held in Yulin, Guangxi, China, in June during the summer solstice. About 10,000 to 15,000 dogs are tortured, skinned, cooked and consumed during the 10-day festival. Yulin has long received heavy criticism, both domestically and internationally, but the festival is still held every year.
So what does someone with a platform like Lisa Vanderpump's do in a situation like this? Take it up with the big dogs in Washington, D.C.
"The beauty of this cause is that it is universal," she said to Congress in September 2016. "It transcends party lines, state borders and political stances. It doesn't matter if you're a Republican or a Democrat; our cause should be everyone's cause. As a country, we are judged by our actions and our beliefs. If we turn our heads and do nothing, we are condoning that this festival continues. By not doing anything, we are silently giving Yulin our blessing. We, as people, should not stand passive while watching this barbaric practice continue."
Vanderpump said she and Ken began making banners, T-shirts and even filmed a documentary chronicling dog torture and dog meat trade, specifically in Yulin.
"I was lucky that Bravo supported it and documented it," she said. "We created our own resolution and we started to gather a lot of support. And it was Ken that really said, 'You know, I would like to have a dog rescue center. I would like to save dogs.'"
In fact, back in October of 2015, Lisa and her "Real Housewives" co-stars, including Kyle Richards and "RHOOC" alum Gretchen Rossi, were joined by hundreds of other animal rights activists to march the streets of Los Angeles to #StopYulinForever.
Waiting for your permission to load the Instagram Media.
Waiting for your permission to load the Instagram Media.
Similar to most projects she takes on, Lisa has had both hands on deck during the entire process of executing Vanderpump Dogs. TooFab visited the posh pop-up, which isn't even open to the public yet, and it's already crawling with pups, ranging from newborns to dogs like Lucky, who was pulled off the streets of Yulin and saved from suffering an unimaginable fate.
"We wanted to make a puppy palace, but we also wanted it to be not intimidating and very friendly," she said. "And also, we were challenged by costs because it's a charity, ultimately."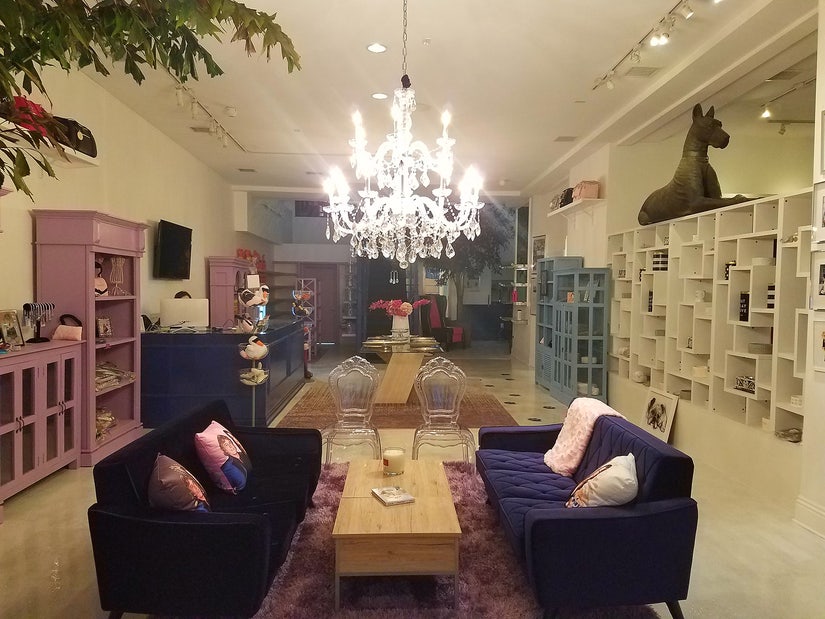 VanderpumpDogs.org
For Lisa, saving dogs is how she wants to devote her time, money and resources. And at the end of the day, she said she wants to use her voice to propel positivity.
"I think any torture of any sentient being is a crime against humanity, but I chose my course," she said. "And after being in charge of the Hero Dog Awards for many years and seeing what wonderful work these dogs do and how they benefit our lives and how empathetic they are to our needs, we should be empathetic to theirs. Seeing-eye dogs, dogs with post-traumatic stress disorder, dogs that detect seizures… Dogs are truly man's best friend, so this was a fight that I took on. If we can't go the compassionate route then we'll go the educational route."
Lisa has a total of eight dogs, six swans, two miniature horses, one show horse, a few turtles "and a potbelly pig named Ken Todd!" she added with a laugh. So it's no surprise the seemingly zoo-owning, non-tree-hugging animal rights activist would choose this philanthropic route.
"I think [dogs] are just incredible, furry little people. They are," she said. "They know what we're doing. I can get up in the middle of the night, and my dogs will follow me where I'm going and they'll sit down next to me because they wanna be next to me. So listen, any torture is awful, but I also can't imagine me having a crocodile or a cow follow me around the house, so the unconditional love that dogs give, I know it's cliché… This is really to highlight the plight of these poor beings, these poor creatures."