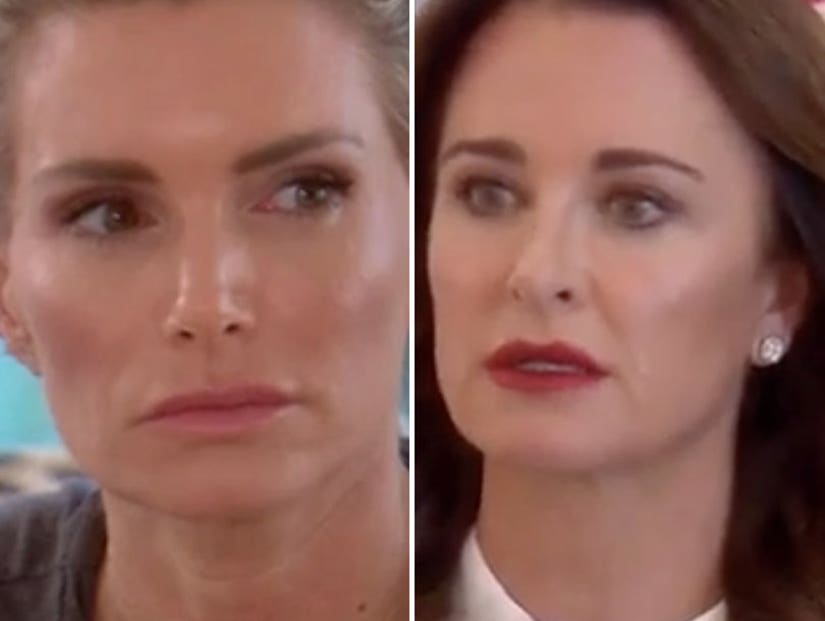 Bravo
The only thing Eden Sassoon is obsessing over is her diet.
During Tuesday's "Real Housewives of Beverly Hills," Kyle Richards accused the series newcomer of having an "obsession" with her and sister Kim.
ICYMI: throughout the season, Eden has expressed concern to Kim about her sobriety, after Lisa Rinna told her she was "close to death."
"Oh my god. I think it's absurd," Sassoon told TooFab. "One, I don't obsess over anything anymore. Maybe myself not exercising or eating. She lives in this world where sometimes she's like, 'Well you go online and you Google.' I'm like, are you crazy?! I was raised by a man who was known around the world. I don't care who you are. Because you're Kyle Richards or you're Kim Richards, that means nothing to me."
In fact, Eden said Kyle might have it twisted.
"The fact that you think I'm obsessing over your sister. No. Not in the slightest. I have a very big, full, healthy, happy life," she said. "When she said that, she's putting out an energy where she maybe wants to maybe be obsessed over, make myself more relevant, make me feel like I'm not threatened or whatever it is."
"This is her s--t, not mine," she added.
Eden also said that the situation with the Richards sisters has an "unfolding life of its own." While a promo for next week teases yet another explosive fight between all the women, Sassoon said it "needs to explode for it to then ... it goes there but then it's left unknown and it's sort of beautiful."
Sassoon has caught criticism for "inserting" herself into the Kim/Kyle family drama, but she doesn't have time for the haters either.
"It took me a good three weeks," she said of getting past the negative reactions. "Really, a lot of it was abusive and hurtful. I set all that free, let it go and block and do whatever it is I need to do. It takes away from the pure place that I come from everyday. Now I deal with people who understand or want to understand."
"To all the haters, I go to bed at night knowing who I am. It hasn't even for one second interrupted my sobriety or shaken that ground," she explained.