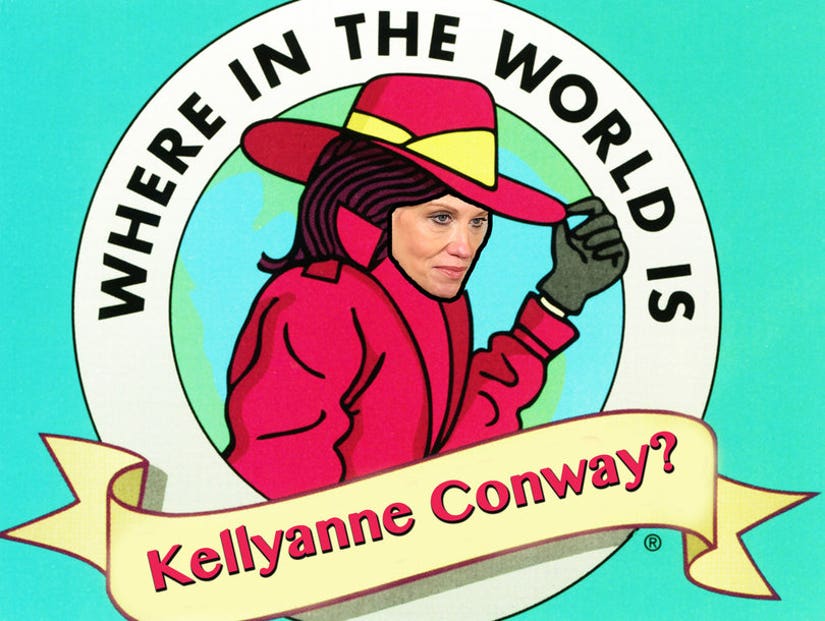 Everett Collection/Getty Composite
Once a daily occurrence, sightings of Kellyanne Conway on TV have gone down to almost zero since getting grilled about Mike Flynn last week.
Donald Trump's adviser has drawn comparisons to Waldo, the elusive Carmen Sandiego and Baby Jane Hudson after being MIA from the spotlight. So what's going on here?
According to CNNMoney, Conway has been "sidelined from television appearances for making statements that were at odds with the administration's official stance." Those statements included her saying Flynn had the president's "full confidence" just hours before his resignation over ties to Russia and her endorsement of Ivanka Trump's fashion line.
Despite her lack of televised facetime, Conway herself told the publication she's "been invited on shows every day, including two Sunday shows. I'm trying to focus on other pieces of my portfolio."
She also said she'll be on Fox News Wednesday night.
Conway's critics have definitely taken notice since she's been off the air, many of them sharing "Where's Kellyanne?" memes on Twitter.
See some of the funniest reactions below:
Where's Kellyanne Conway? Has she been dispatched to one of the few out-of-town affiliates that will still air her alternative act?

@JoeTraina
Where's KellyAnne these days? Haven't heard an alternate fact out of her in days. Must not be in favour right now. #Trump

@Westcoastmaven
Where's Kellyanne? Last seen at a casting call for "The Walking Dead."

@zgrammyz
Whatever happened to Kellyanne Conway? Is she in Bowling Green? Or Sweden?

@theharryshearer
What happened to Kellyanne? Has she been sent to the gulag?

@MadAlix14