Oscars 2017 marks the 14th year in a row that Chef Wayne Elias and Crumble Catering is collaborating with celebrity chef Gordon Ramsay for the Elton John AIDS Foundation Academy Awards Viewing Party a.k.a. Hollywood's hottest ticket to watch and party with the Oscar nominees.
Since TooFab's Madison Brodsky will be on the scene for the swanky soiree on Sunday, she talked to Elias this week for a preview of Sunday and some tips for viewers on how they can whip up some dishes to make their own Oscar viewing party a winner.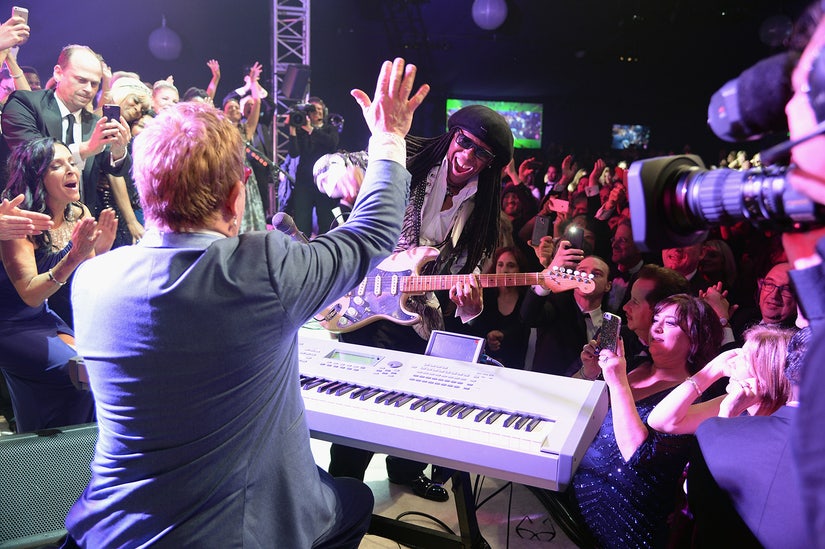 Getty
Elias and his team of 150 servers and bartenders and 70 kitchen staff members originally only made a 4-course meal for 700 people at Elton Johns AIDS Foundation Academy Awards Viewing Party, but since they were so successful and Elton John received so many compliments, the 5-time Grammy winner wanted to add a 5th course with an additional 300 people in attendance.
The expectation is that Elias will have to have the dessert on the table by the last award because they want to be cleaned up by the time the Oscar nominees arrive.
"Each celebrity pays $5000 to attend this party, so I am very honored that they trust me to ask me back all these years to serve these A-listers," Elias told TooFab.
Elias and his catering company also do their part in helping the foundation raise money by selling tickets for the party to their customers, hiring vendors who will work at a lower price or will donate items like wine, so the rest of the budget can go towards helping those in need who are living with HIV/AIDS.
On Working With Gordon Ramsay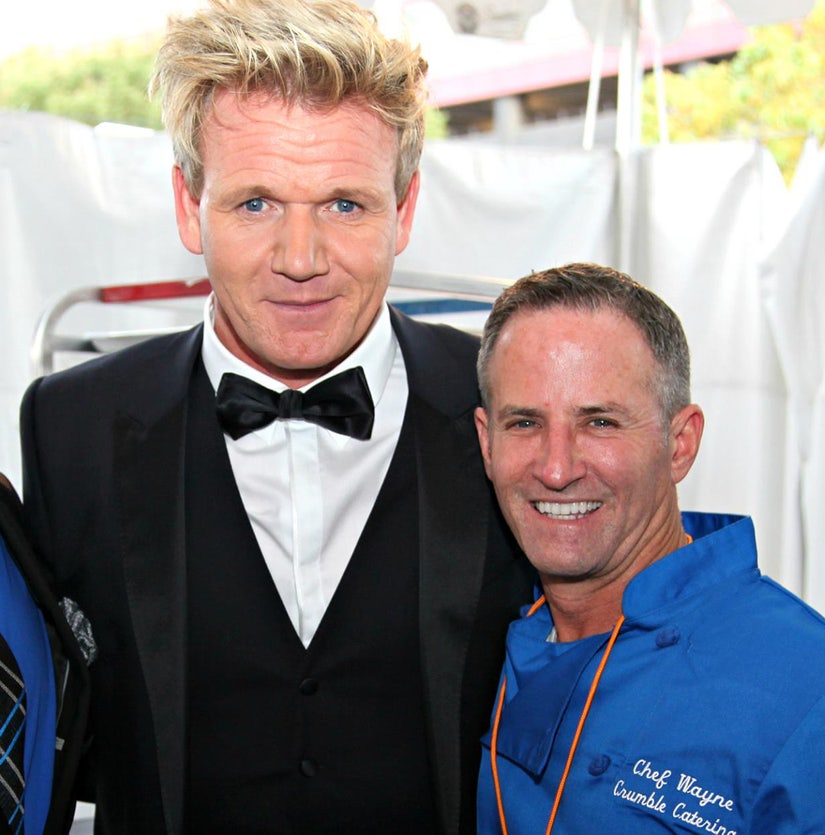 Getty
Although Elias has catered the party for the past 14 years, this is his third year working with Ramsay to create an A-list menu that can be cooked and preserved for a long period of time.
Elias enjoys cooking with the celebrity chef because they are both at a level of expertise in their career where they can have fun getting creative with their dishes.
"He's been very funny and easy to work with," Elias said. "He's not at all like he is on 'Hell's Kitchen.'"
On What the Stars Will Be Dining On
Elias worked closely with Ramsey in creating the perfect menu that is locally sourced and different from previous years.
"Celebrities know we change it up every year and they get really excited. Sixty percent of the guests ordered the beef, but it's the dessert that I think is really awesome."
Elias will be creating a smoked chocolate mousse with blood orange marmalade and a blood orange caramel with coffee almond crumbles and a silver leaf.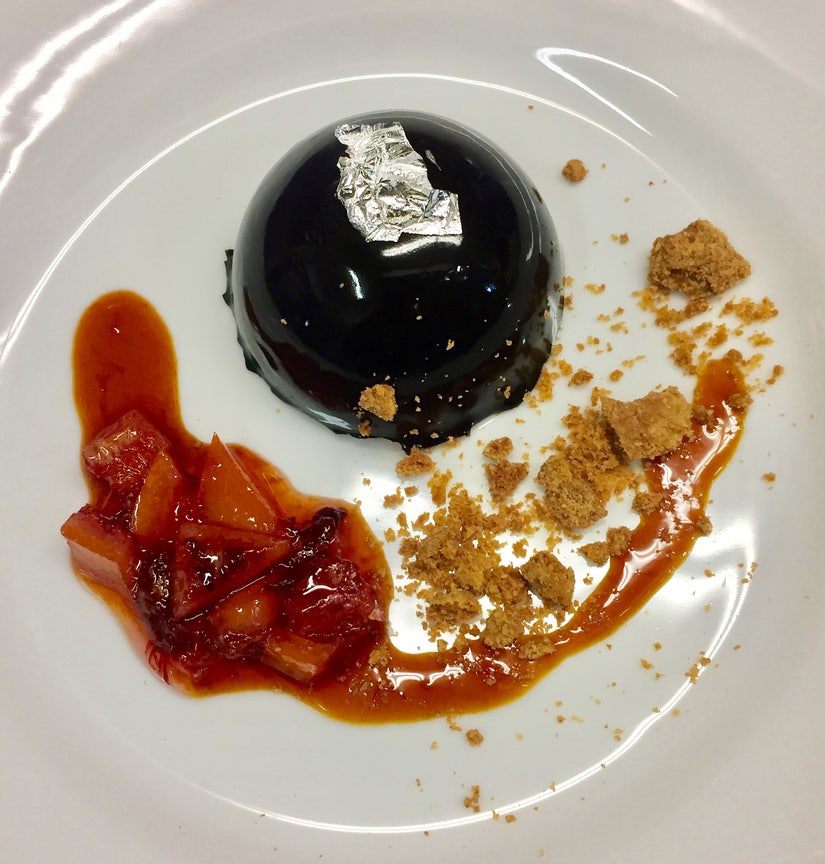 Chef Wayne Elias
"The silver leaf represents the silver anniversary of the party."
On Easy Recipes You Can Make At Home
Elias wants to be sure you can whip up something easy and delicious at your own Oscar party so you can feel like you're eating with the stars.
The first thing Elias suggests is making his signature "grown up grilled cheese" on raisin bread to put out as an appetizer.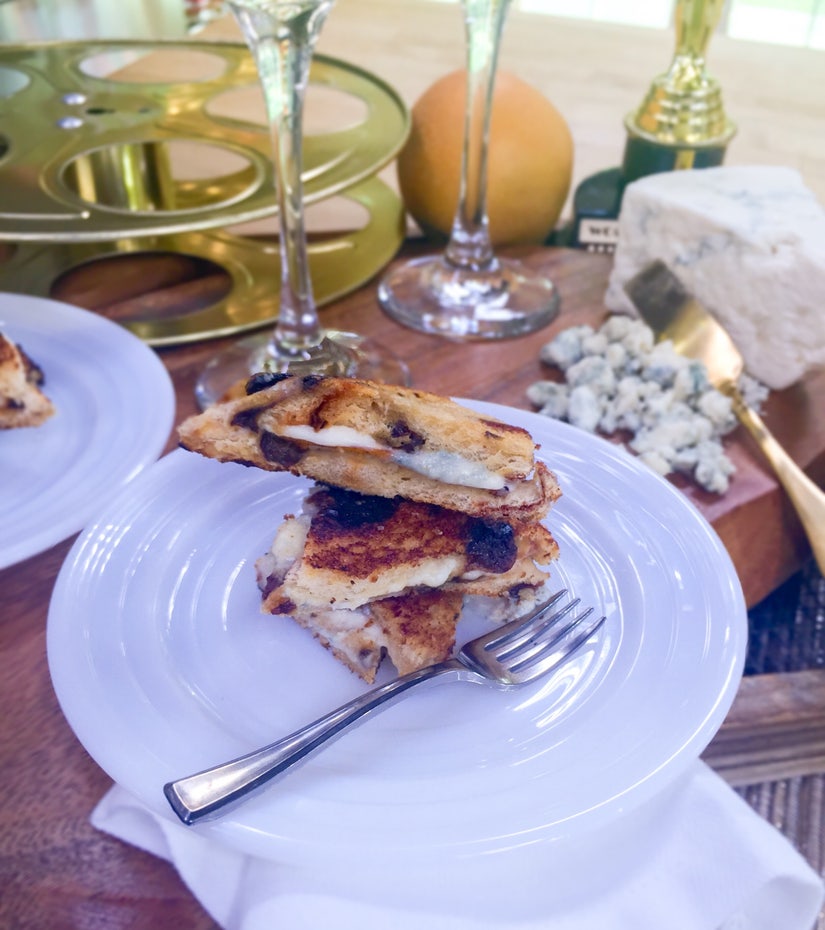 Chef Wayne Elias
3 Sandwiches = 1 Dozen Hors D'Ouevres
Ingredients6 Slices Of Thin Sliced Raisin Bread3 Oz. Marscapone Cheese3 Oz. Gorgonzola Cheese1 Asian Pear Peeled, Cored, Sliced Thin2 Oz. Butter For Pan Grilling
ProcedurePlace 6 Slices Of Raisin Bread On Work Table.Spread The Marscapone Cheese Evenly On All SlicesSprinkle The Gorgonzola Evenly On 3 Of The Raisin Bread Slices.On Top Of The Cheese Place 3 Slices Of Pear.Place The Other Slice On Top And Close The Sandwich.In A Saute Pan Melt 2 Oz. Of Butter And Over Low To Medium Heat Grill The Sandwiches On Both Sides Till Golden Brown.
To Serve Trim The Edges Off The Sandwiches And Cut Into A Criss Cross To Form 4 Little Triangle Pieces. Plate, Serve And Garnish With Fresh Herbs.
Elias swears by this easy breezy recipe because "all of the celebrities always ask for more. They're always the first dish gone."
And as for an entrée, Elias suggests the sea bass that he is sautéing for this year's party.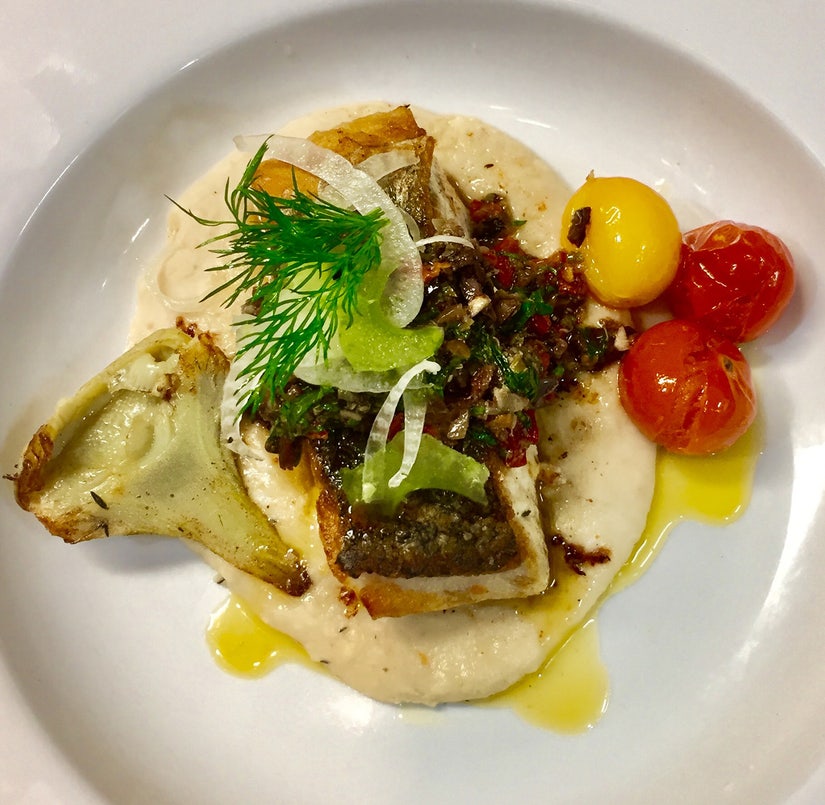 Chef Wayne Elias
Elias knows the recipe looks intimidating, but says the entire meal is actually quite simple.
Pan Sauté Artichoke 2 whole medium artichokes1 lemon1 teaspoon of peppercorns4 bay leafs2 teaspoons of slat
Cleaning Artichokes2 whole artichokeswith a scissor cut the tops of the pointy leavespeel the stem and the bottom of the artichoke coneBoil in a pot of water with the above ingredients until tender about 15-20 minutes depending on the size.Discard the water and chill artichokes in refrigeratorOnce chilled remove some of the outer tough layers and you are left with the heart and a few leavesWith a spoon clean out the center of the heart
Then you are ready to pan sautéCut them in half and sauté in olive oil, with salt & white pepper.Sauté both sides till golden brown
For a Quick Short Cut you can buy Canned Artichoke hearts or the Italian Canned Artichokes with the stems
Sea Bass4 portions of 6 ounce corvine sea basssprinkle salt on both sides of the fishsauté the fish on medium high heat in olive oil in a non stick pan until golden brown on one side, then flip the fish and place in a 350 degree oven for about 5 minutes
Blistered Cherry TomatoTake 8 red cherry tomatoes and 4 yellow cherry tomatoes. Saute on high heat with salt and pepper and very little oil till they blister or char about 1-2 minutes
Olive & Sun-Dried Tomato Rustic TapenadeServes: Makes about 2 Cups
Ingredients1 Cup Kalamata Pitted Olives٠Cup Sun-Dried TomatoesΠCup Fresh Basil Leaves1 Clove Garlic minced2 teaspoons Lemon Zest2 teaspoons Lemon JuiceSalt & Pepper to taste if desired
ProcedureCoarsely chop the olives and place in a bowl. Chop the sun-dried tomatoes, the basil, and finely mince the garlic and add to bowl. Zest and juice the lemon and add that to the bowl as well.Mix it all up, and taste. Add more lemon, salt and pepper if desired.
White Bean Puree1 1/2 cups dry Great Northern beans1 onion, cut into 1/4-inch dice2 cloves of garlic (1 smashed and 1 minced) and 1 bay leaf2 sprigs fresh thyme plus 1 teaspoon thyme leaves6 cups chicken brothsalt and pepper, to taste1/3 cup heavy creamFew drops extra-virgin olive oil
Soak the beans overnight. Or place beans in a pot, cover with cold water and bring to a boil over high heat; remove from heat and set aside, covered, for 1 hour.
Drain the beans; transfer to a 2-quart pot with the diced onion, smashed garlic, bay leaf, thyme sprigs, 5 cups of broth, salt, and pepper to taste. Bring to a boil. Lower the heat; simmer until beans are very tender, about 75 minutes.
Drain the beans; discard the thyme sprigs and bay leaf. Warm the beans in a pan over medium heat. Add the cream, salt, and white pepper. Let simmer. Cook until the cream is reduced and is almost dry on the beans, about 4 to 5 minutes.
Puree the beans in a food processor, adding a few drops of oil. Adjust seasonings.For a Kitchen Short Cut you can use canned white beans and drain the juice then start at step 3 and sauté away
See More: Why Cooking With Chrissy Teigen is Dangerous for John Legend
"It's delicious, clean, healthy and only takes about 15 minutes to put together."
Check out more photos of Elias' Oscar meals below and check out TooFab's Madison Brodsky cover of the party on Sunday night.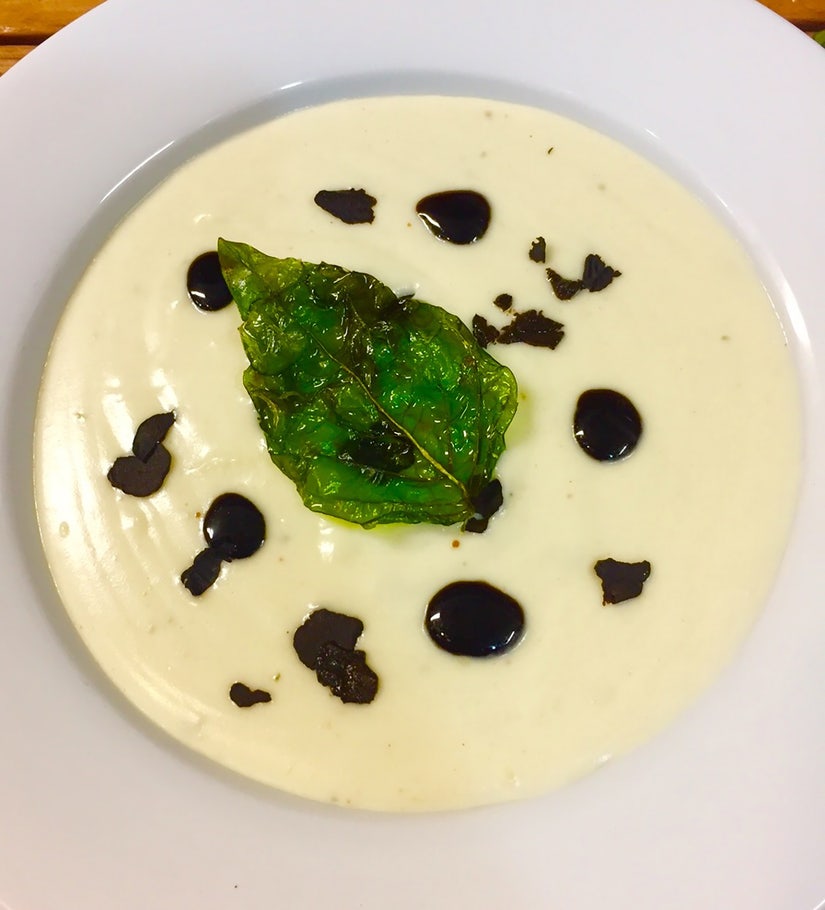 Chef Wayne Elias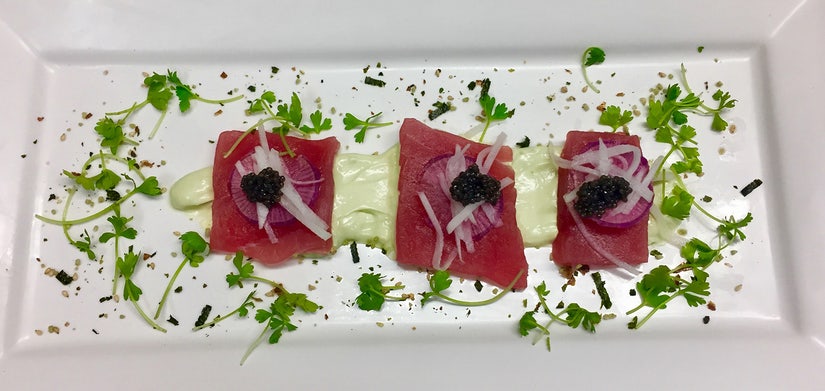 Chef Wayne Elias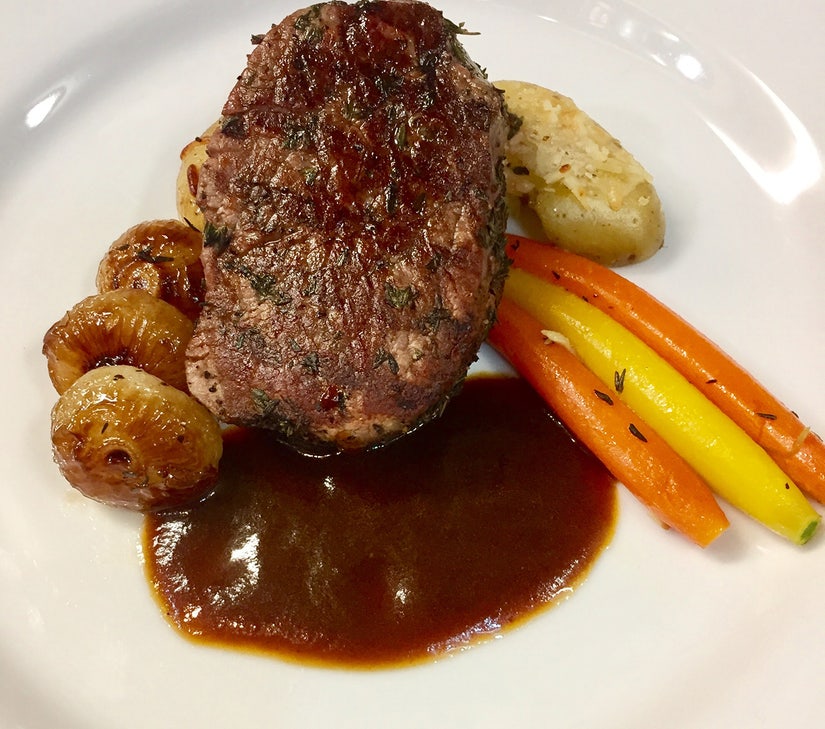 Chef Wayne Elias