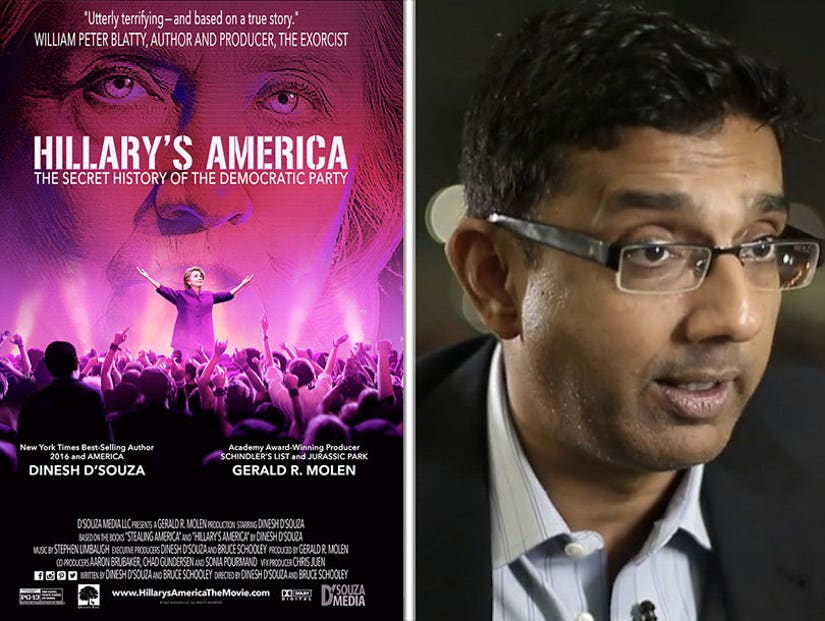 D'Souza Media/YouTube
The 2017 Razzie Awards winners were revealed on Saturday -- the day before the Oscars, as tradition has it -- and Ben Affleck, favored to sweep many of the categories, was upset by "Hillary's America: The Secret History of the Democratic Party."
Though "Batman v Superman: Dawn of Justice" won several awards, it was the Clinton movie that took most of the prizes. The film's director, writer and star Dinesh D'Souza gave an acceptance speech via video.
"Being sort of dissed by you guys," D'Souza said, "this is absolutely fantastic. My audience loves the fact that you hate me. Thank you."
See below for the full list of this year's Razzie winners.
Batman v Superman: Dawn of Justice
WINNER: Hillary's America: The Secret History of the Democratic Party
Independence Day: Resurgence
Ben Affleck, Batman v Superman: Dawn of Justice
Gerard Butler, Gods of Egypt & London Has Fallen
Henry Cavill, Batman v Superman: Dawn of Justice
Robert de Niro, Dirty Grandpa
WINNER: Dinesh D'Souza [as Himself, Hillary's America: The Secret History of the Democratic Party
Ben Stiller, Zoolander No. 2
Megan Fox, Teenage Mutant Ninja Turtles: Out of the Shadows
Tyler Perry, BOO! A Medea Halloween
Julia Robert, Mother's Day
WINNER: Becky Turner [as Hillary Clinton], Hillary's America: The Secret History of the Democratic Party
Naomi Watts, Divergent Series: Allegiant & Shut-In
Shailene Woodley, Divergent Series: Allegiant
Julianne Hough, Dirty Grandpa
Kate Hudson, Mother's Day
Aubrey Plaza, Dirty Grandpa
Jane Seymour, Fifty Shades of Black
Sela Ward, Independence Day: Resurgence
WINNER: Kristen Wiig, Zoolander No. 2
Johnny Depp, Alice Through the Looking Glass
Will Ferrell, Zoolander No. 2
WINNER: Jesse Eisenberg, Batman v Superman: Dawn of Justice
Jared Leto, Suicide Squad
Owen Wilson, Zoolander No. 2
WINNER: Ben Affleck & His BFF (Baddest Foe Forever) Henry Cavill, Batman v Superman: Dawn of Justice
Any 2 Egyptian Gods or Mortals, Gods of Egypt
Johnny Depp & His Vomitously Vibrant Costume, Alice Through the Looking Glass
The Entire Cast of Once Respected Actors, Collateral Beauty
Tyler Perry & That Same Old Worn Out Wig, BOO! A Medea Halloween Ben Stiller and His BFF (Barely Funny Friend)
Owen Wilson, Zoolander No. 2
WINNER: Dinesh D'Souza and Bruce Schooley, Hillary's America: The Secret History of the Democratic Party
Roland Emmerich, Independence Day: Resurgence
Tyler Perry, BOO! A Madea Halloween
Alex Proyas, Gods of Egypt
Zack Snyder, Batman v Superman: Dawn of Justice
Ben Stiller, Zoolander No. 2
WORST PREQUEL, REMAKE, RIP-OFF or SEQUEL
Alice Through the Looking Glass
WINNER: Batman v Superman: Dawn of Justice
Independence Day: Resurgence
Teenage Mutant Ninja Turtles: Out of the Shadows
WINNER: Batman v Superman: Dawn of Justice
Hillary's America: The Secret History of the Democratic Party
Independence Day: Resurgence