The Oscars are easily the most important night for film in Hollywood, when celebrities get together and celebrate one another and their victories with a whole lot of ... candy this year, courtesy of host Jimmy Kimmel.
Oscars 2017 didn't disappoint, providing some incredibly memorable moments both on stage and in the audience. From Justin Timberlake's hit opening number to Kimmel going where Fallon wouldn't -- directly at Trump -- it was a night filled with moments you won't forget.
Here are 11 buzziest moments of the evening:
Moonlight Wins Best Picture After Worst Flub Ever
As expected, "La La Land" took home Best Picture... until it didn't. Hollywood royalty Warren Beatty and Faye Dunaway presented the night's biggest prize, and after an awkward pause, it was announced that the front-runner musical had taken home Best Picture. La La Land's producer was almost done with his speech until a bombshell was whispered in his ear, which he then relayed to the audience: The real winner was... Moonlight!
Turns out that Beatty had been given the wrong envelope, as he explained to the crowd; the reason he paused for a moment was that the winner card he took to the stage was for Emma Stone's Best Actress win. Eventually, someone ran out the real Best Picture envelope, and soon enough, director Barry Jenkins and his crew came up on stage to claim the prize. It was one of the most shocking moments in Oscars history, and sure to be talked about for years to come. The fact that the underdog movie won top prize made it all the more unbelievable.
Justin Timberlake's "Can't Stop the Feeling" Opening
Jimmy Fallon opened up the Golden Globes with an elaborate opening number filled with pop culture references and cameos. His bud Justin Timberlake did away with all the pomp and circumstance, and focused on the music. JT danced his way down the aisles, singing his Best Original Song-nominated tune from "Trolls," the sunny "Can't Stop the Feeling." He made his way up to the stage and back down the other aisle, supported by dancers who were lucky just to be there. JT even managed a mini-Mouseketeer reunion with Ryan Gosling as he made his way to the stage.
Kimmel Goes Where Fallon Wouldn't: At Trump
Jimmy Fallon caught some flak for not coming hard at President Donald Trump in his Golden Globes intro, after ruffling his hair and playing along during the campaign. Kimmel gave no leeway: He began his opening speech by "joking" that all of the 225 nations that were watching the Oscars hated the United States now. He kept the insult train going, taking shots at Trump in between jokes about the nominees. Later, Kimmel suggested that Trump would be watching the show and tweeting about it at 5 a.m. tomorrow during his "bowel movement." Probably true! He continued the assault throughout the night, calling out Trump's assault on the media and misuse of the term "Fake News," providing the president plenty to angry tweet about on the pot.
Katherine Johnson Takes the Stage for "Hidden Figures"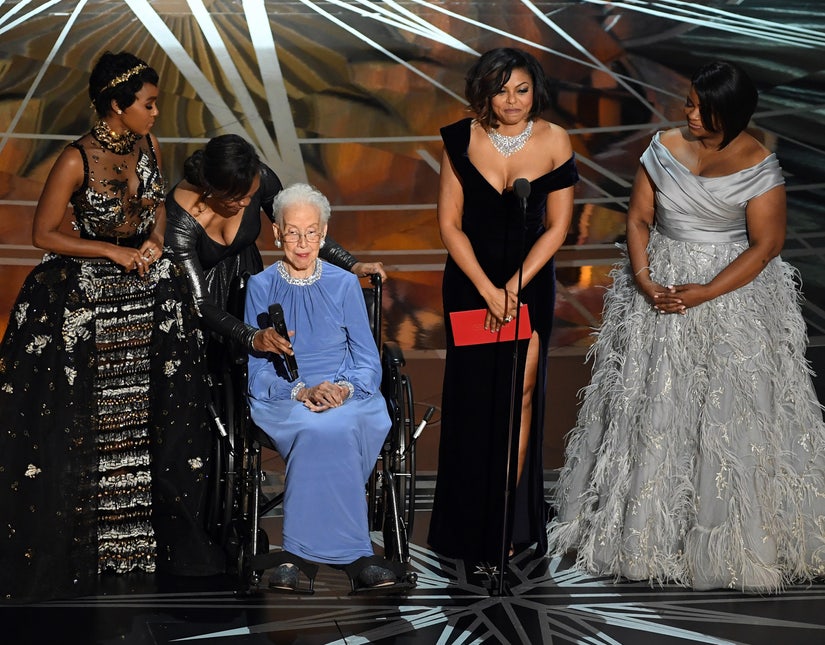 Getty Images
Taraj P. Henson, Janelle Monae and Octavia Spencer -- the three actresses at the center of "Hidden Figures" -- took the stage to present Best Documentary Feature, but before they got to the award, they called out a very special hero to the stage: Katherine Johnson, the central figure in the true story that inspired their movie. Johnson, a brilliant mathematician, survived and overcame racism and sexism to help NASA put humans on the moon. She got a standing ovation, though that pales in comparison to the Presidential Medal of Freedom she won in 2015.
"Moana" Star Auli'i Cravalho's Heady Performance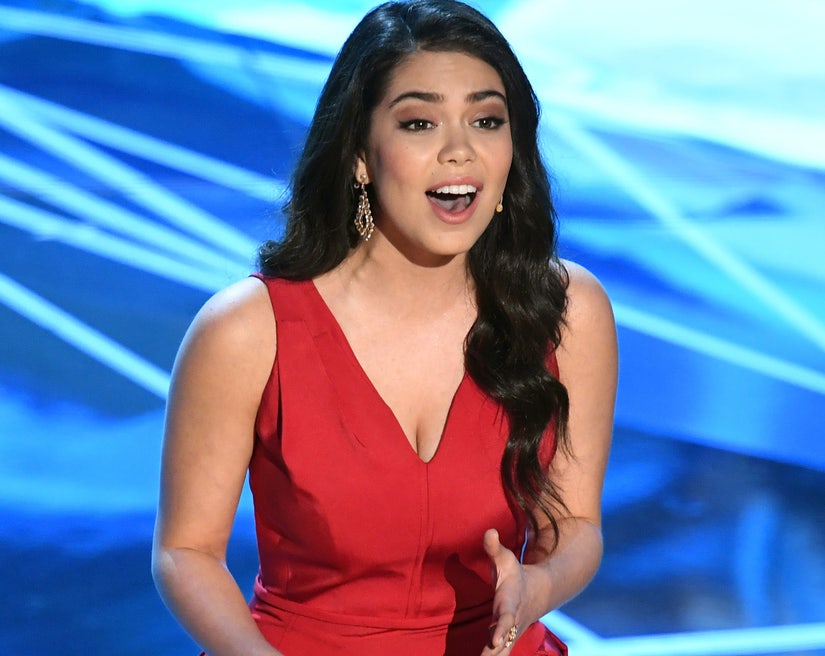 Getty Images
Disney's "Moana" earned several Oscar nominations, including one for the song "No One Knows." That nomination went to Lin Manuel-Miranda, and it was well-deserved. But a song is only as good as the person singing it, and young star Auli'i Cravalho -- a 16-year-old newcomer discovered by Disney -- delivered a knockout performance. Most people haven't ever seen Auli'i, because she provided the voice for a cartoon, but after this performance, she's gonna be a star. She can clearly handle the pressure, and even a surprise or two -- she got hit in the head with a flag during the performance, but just kept on singing.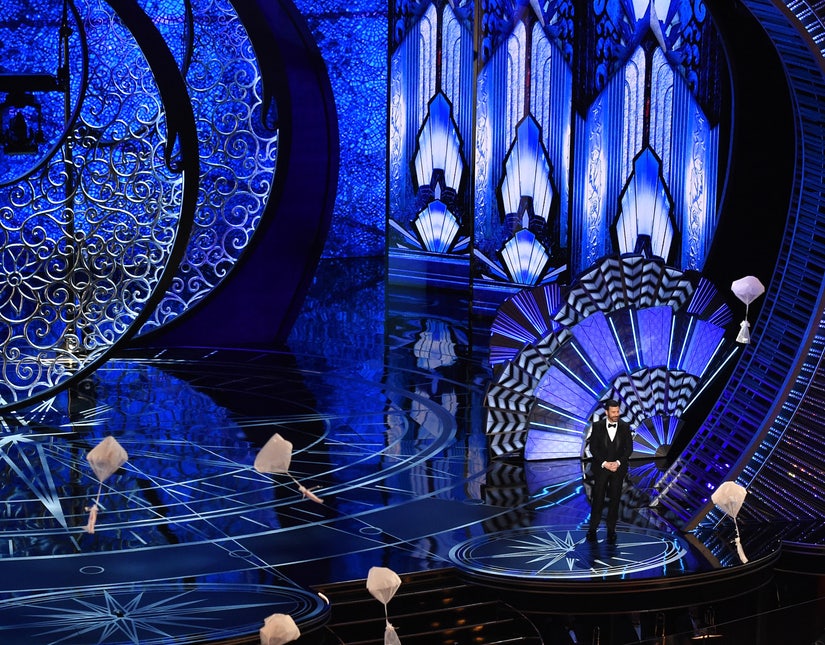 Getty Images
Hollywood is known more for its obsession with kale and smoothies than sweet stuff, but when you're stuck in an auditorium for hours and hours, you become more willing to splurge on some sugar. And so at least some movie stars had to grateful when Kimmel sent Junior Mints and Red Vines raining down from the sky. Hey, it wasn't Ellen's pizza, but who's gonna complain about some free candy? Cameras even caught Meryl Streep having a few during a commercial break!
Viola Davis's Moving Victory Speech
Davis won Best Supporting Actress for her role in "Fences" -- which earned her a Tony when she played the role on stage in 2010 -- and was given all the time in the world to give a long-awaited and very emotional speech. She had tears in her eyes as she thanked her director and co-star, Denzel Washington, and shouted out to her late parents, who she says taught her everything. Davis also paid tribute to her colleagues, her craft, and her husband, who she called "the foundation of my life." Lucky guy.
Jimmy Kimmel gave a small group of unsuspecting tourists the thrill of a lifetime when he hijacked their tour bus and brought them front and center at the Kodak Theater. They were parts thrilled and confused, and each of them filmed the event on their cell phone. The breakout stars were an engaged couple who got "married" by Denzel Washington, who offered a few smiles before retreating to his seat. Jimmy Kimmel also guilted Jennifer Aniston into giving some other tourists her very expensive sunglasses.
The Foreign Language Film Protest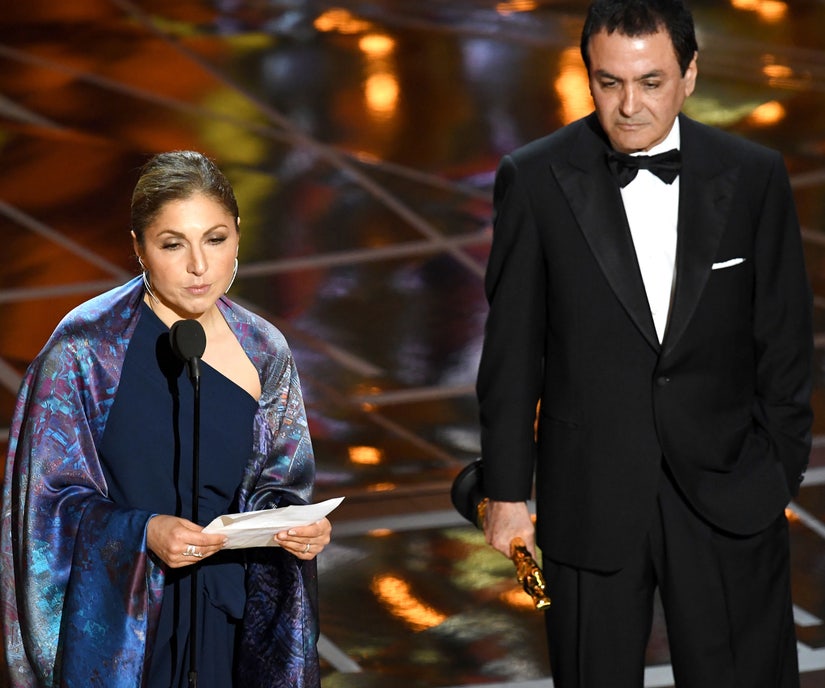 Getty Images
The directors of every nominee for Best Foreign Language Film released an open letter late last week, condemning Donald Trump's proposed (and, for the moment, squelched) Muslim travel ban. Iranian director Asghar Farhadi stayed back in Iran, and when he won the award, he sent up two prominent Iranian-American scientists to give his victory speech. "I'm sorry I'm not with you tonight," they said in his stead. "My absence is out of respect for the people of my country and those of the other six nations whom have been disrespected by the inhumane law that bans entry of immigrants to the U.S."
Seth Rogen Goes Back to the Future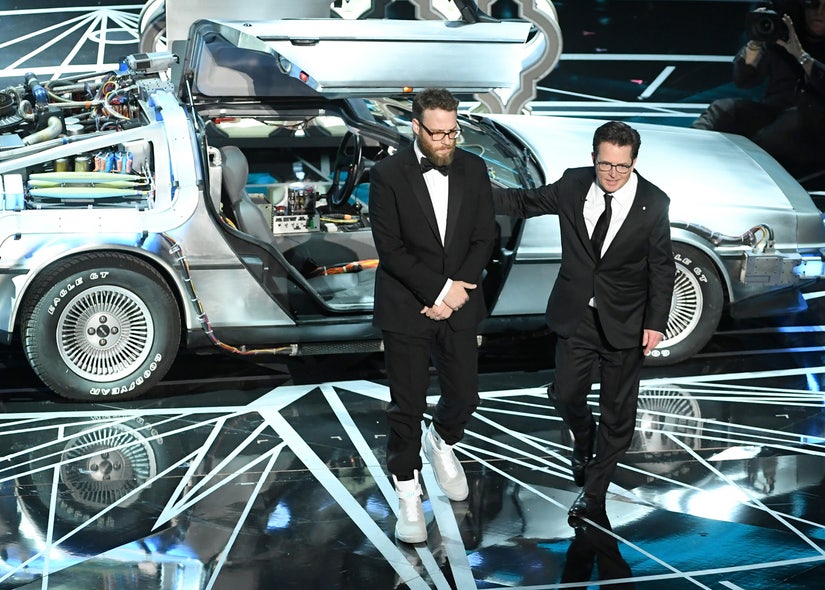 Getty Images
Michael J. Fox is Hollywood royalty, and "Back to the Future" fanboy Seth Rogen went all-in on paying tribute to his hero when they presented on stage together. With the DeLorean behind them on stage, Rogen -- wearing future Nikes from "Back to the Future II" -- took the stage next to Fox ... and sang a few bars from "Hamilton," thereby completing his bucket list.
Kimmel Tries to Slide into Trump's DMs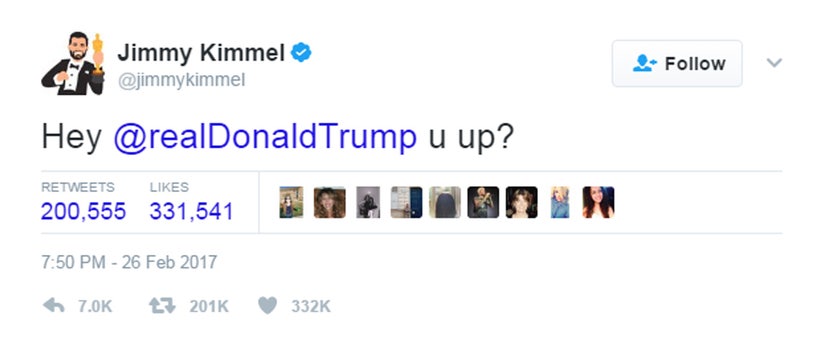 Getty Images
The host was counting on the president to give a grumpy review of the show on Monday morning, but evidently he got impatient for Trump to get on Twitter. Instead of waiting, Kimmel had his phone put up on the big screen, then sent POTUS a sexy message: "Hey @RealDonaldTrump u up?" and then gave him a little extra poke, by adding that Meryl Streep said hi.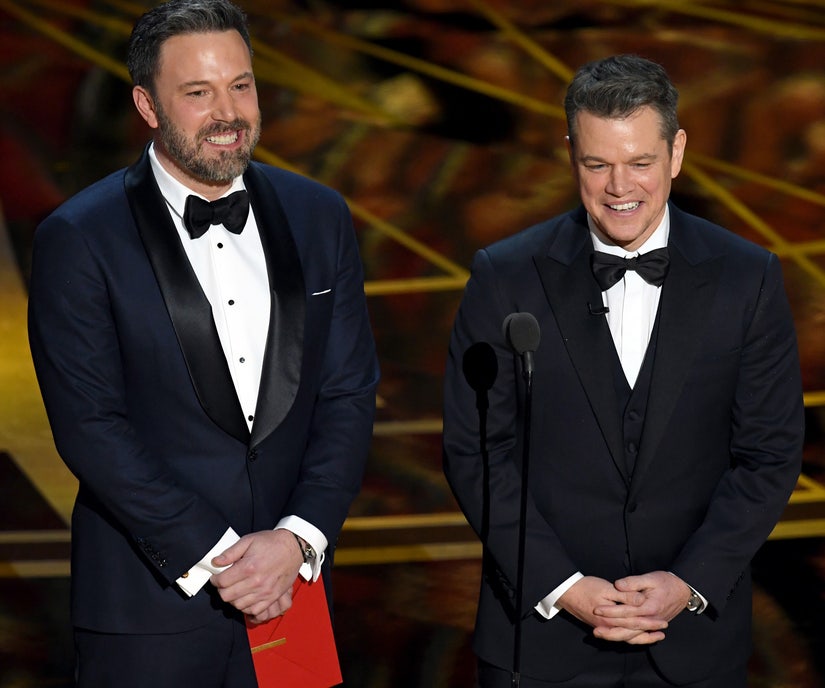 Getty Images
From the very beginning of the show, Kimmel took on his long-time "nemesis," Matt Damon. He dissed his work in "The Great Wall" in his opening. Later, he scorched "We Bought a Zoo" during a segment in which he was supposed to wax poetic over a classic movie. And then, adding insult to injury, he played him off with the orchestra as Damon and Ben Affleck presented the Best Original Screenplay award.