(Spoiler Alert: This post reveals details from Tuesday's March 7 episode titled "What Now?")
The penultimate episode of the best new show on television set the stage for next week's season finale to finally answer the question that's been on everyone's lips for months: How did Jack (Milo Ventimiglia) die?
Following a sobering and beautiful road episode two weeks ago that spotlighted the final days of William (Ron Cephas Jones) with his son Randall (Sterling K. Brown) in Memphis, the series again expanded to include the rest of the Pearson family as they came together to remember this kind-hearted man who'd been with them for such a short time only to have a huge impact on everyone he met.
The service, which William gave to his young granddaughters to turn into a memorable and fun experience, provided closure for many, but also opened new doors. When the mailman was reduced to tears after learning of William's passing, Randall realized how his father touched lives. It was by slowing down and connecting with people.
Randall, who is one of the most purely driven characters ever put to the screen, decides he wants to channel his biological father, and impulsively goes that very night to quit his job. What comes next is anybody's guess, but it will certainly push Randall well out of his self-disciplined and structured comfort zone.
It was a place the Big 3 found themselves in throughout the episode. Kevin (Justin Hartley) put it all on the line for the (second) premiere of his self-produced play, turning in an acting performance that blew his entire family away. He reached depths the Manny could never have fathomed, and it lead him to a near-impossible decision.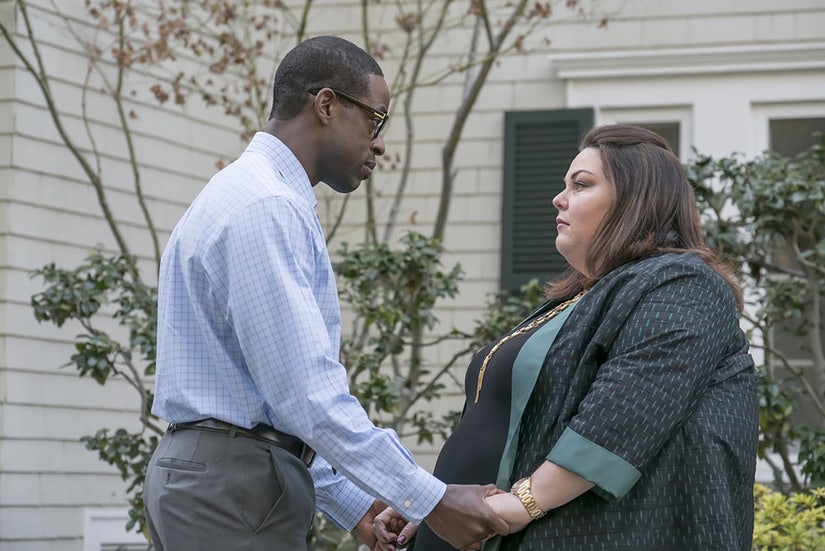 NBC
Kate (Chrissy Metz), with some urging from Randall, finally decided it was time to let Toby (Chris Sullivan) into her turmoil by opening up about the death of her father. The bombshell revelation that set up next week's finale was when she said that Jack's death was her fault. A quick cut to a flashback showed what she may have been alluding to.
The Jack and Rebecca (Mandy Moore) flashback picked up when the triplets were teenagers and Rebecca was poised to head out on tour with her band. We already know this is the age the kids were when Jack passed, and we know he had serious reservations about Rebecca going on the road with an ex-flame.
But it's a conversation with a concerned Kate that ultimately convinced him to head off to her show and try to salvage his marriage. Unfortunately, he went to a bar first and appeared drunk during a quick phone call to his daughter to tell her he was taking her advice. He then got into his car and drove off. Were those his last words to anyone in his family?
If this is what has been consuming Kate all these years, no wonder she has continued to struggle with her weight. Opening up to Toby may be the single most therapeutic thing she can do to regain her life and health. Learning to let go of that guilt is the only way she can move forward.
Rebecca had to do that very thing during the "Grandpa's old man walk" portion of the funeral service. She finally talked to Randall about keeping William from him for 36 years, admitting that it was from fear and selfishness. Thankfully, Randall was able to cherish the time he did get with his biological father, and thus could forgive his mother.
Randall's wife Beth (Susan Kelechi Watson) spoke at William's service, saying that their lives would forever be defined as the period before he entered their lives and the time after. It certainly looks like after is going to be a very different journey for just about everyone.
Kate is finally letting Toby in, which should open a whole new chapter for both her and their relationship. Randall has tapped his inner William and thrown caution to the wind for the first time in his entire life by quitting his job with no backup plan. And just as Kevin decides that maybe this play was really about going back to New York to reconnect with his ex-wife, he gets a call that could change everything for his career.
In the latest stunt casting that never really feels like stunt casting on this show, Ron Howard appeared as himself, having attended Kevin's play premiere. He liked what he saw and wants Kevin for his next project ... in Los Angeles. So which dream do you chase? The dream girl who got away, or the dream gig on the other side of the country?
It's about finding happiness, but where can it be found? Big decisions are looming as a stellar freshman season draws to a close.
Already renewed for two more years, there's only one episode left before 'This Is Us' says goodbye for the season, next Tuesday at 9 p.m. ET on NBC.
See what Chrissy previously told TooFab about Jack's death below: