It's not all decapitations, maulings and brutal murder for the cast of "The Walking Dead." Sometimes, a "I Want It That Way" karaoke jam breaks up the blood and misery.
Lauren Cohan opened up about some of the ensemble's antics in an interview with HarpersBazaar.com, revealing what really went down at Steve Yeun and Michael Cudlitz's "death dinner," the celebration the cast had after their characters were killed off the show.
"It's funny when I stop to think about calling them death dinners. It's such a frequent part of our lingo that I forget how absurd it is, like spying on your own funeral," she told the publication. "We've had some of our best nights together at them. There's always a lot of tears, but we also have bonfires and play games and get to tell the family member leaving how much we love them -- and, you know, completely embarrass them."
She went on to call the party for the duo "one of the best hurrahs" they've had so far.
"All the girls got together to plan. I booked a karaoke machine because Steve is a great singer, and especially good at hyper-sincere karaoke performances," she continued, adding that Danai Gurira (Michonne) suggested they perform Yeun's favorite Backstreet Boys tune.
"So, as you do, we dressed as the Backstreet Boys-meet-Abraham and reenacted the music video ... without the tarmac," she said. Dear God, AMC, please tell us footage for this exists somewhere and it'll someday see the light of day!
After Negan beat Yeun's character to a pulp in the season premiere, Maggie found herself riding solo.
"She's always grown in tandem with other people. She grew in tandem with Glenn. Now it's all on her more," Cohan said of her character. "I hate saying anything that implies, 'Oh yeah, in the middle of season eight when I'm still alive,' because I really don't know if I will be. But as a viewer, I am excited to see that arc being realized."
As for this Sunday's season finale, Cohan said fans are "certainly in for a lot of emotion." She also described the episode as "incredibly bittersweet, beautiful, and heartbreaking."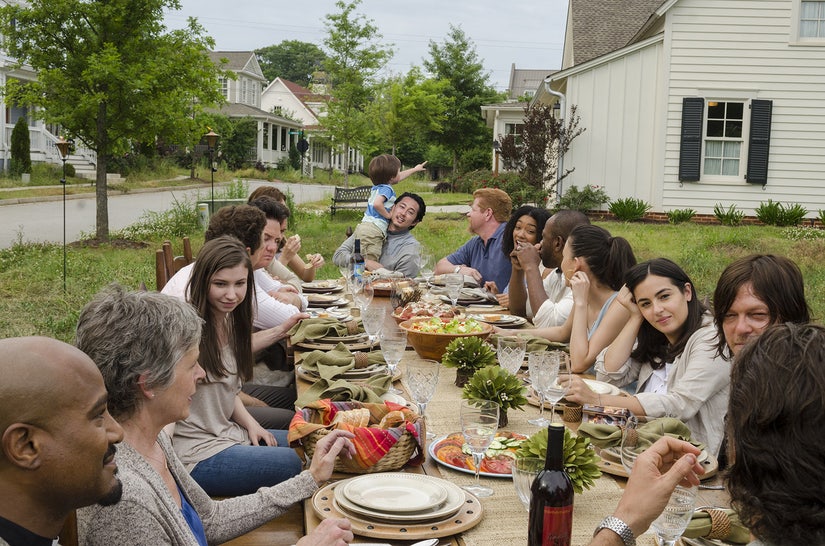 AMC