Eileen Davidson who does double duty for part of the year as Ashley Abbott on "The Young and the Restless" and cast member on Bravo's "Real Housewives of Beverly Hills" spoke to TooFab the day after she shot the Season 7 reunion.
Here is what the Emmy-winning actress had to say:
How was it working with Erika Girardi on "The Young and the Restless?"
As soon as she aired on the show in December, I called upstairs and said I'd love her to come back, but I don't have that kind of power. They need to make sure it works in. And I guess the casting person was casting for a part that was supposed to show my brother property, and they said, 'Well, Erika Girardi's character was a relator; she can do this.' So she had a few scenes this morning with Peter Bergman, who plays my brother, and Melissa Ordway, who plays my daughter.
I got a text from Peter Bergman, saying, 'Your friend Erika was prepared, interesting, interested, so incredibly lovely to work with.' And this is from a guy who doesn't watch 'The Housewives,' doesn't know from Adam, and he just thought she was terrific.
And the greatest thing about it – and I was talking to Erika about it yesterday – Peter Bergman was on 'All My Children,' and she was a huge 'All My Children' fan. He was one of the biggest characters on that show. And she was so nervous about it, basically working with one of her childhood icons, so that's pretty cool.
Tell me about the storyline with Ravi. Any plans for a romantic relationship?
It's so interesting because I've had mixed feelings about it, but it's kind of growing on me. He's such a terrific actor, Abhi. Abhi plays Ravi, which gets confusing, but he's really such a good actor, but it gets confusing to me because it's not like this romantic love story. It's more of like this is bizarre…I'm talking for Ashley…that I'm feeling this way about this person, and I really shouldn't be. This is kind of crazy, I don't understand it, and it's kind of a very compelling thing for me to explore as an actress because it's actually playing something I've never played before. I've definitely worked with younger men, but it's just in a whole different kind of… He's subordinate, he works for me, it's just a trip, but I'm really enjoying the journey, and I don't know really where it's gonna go, but I like being in the middle of it anyway.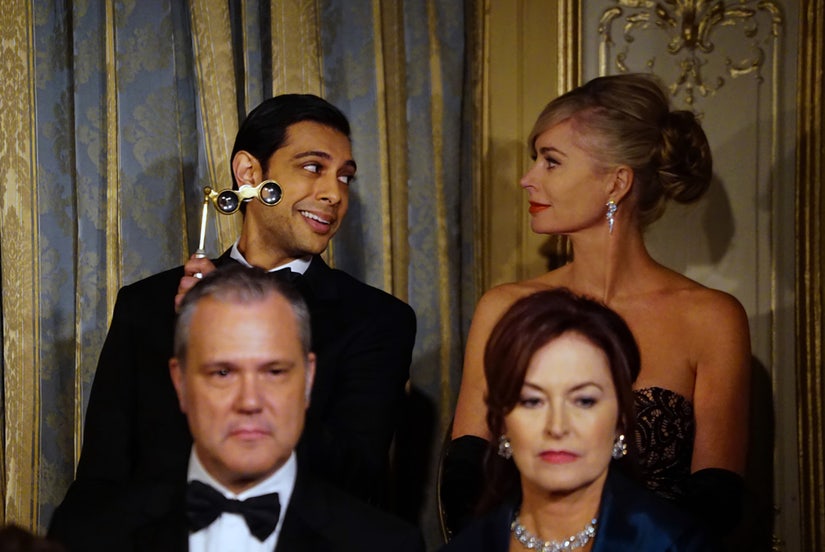 Everett Collection
They announced that Dina will be coming back to the show. Do you think they'll address who Ashley's real father is?
Well, I don't know. They might. They might. I think they have, but not really in a deep way, but I do know there's an amazing story coming up for the entire Abbot clan. I mean, it's something very pertinent, very compelling, involving her, our mother.
How are you feeling with the direction of the show under the new head writer, Sally Sussman?
I've known Sally forever. I worked with her in the '80s. She wrote a lot of my characters, great stuff. I worked with her in the '90s on days of our lives, where she continued where Jim Riley left off with my five characters over there, so we go way back. I have nothing but tons of respect for her talent. And she's got a very interesting, intelligent point of view, and it's a joy to be able to act the lines that she has written.
I love your dynamic with your daughter on the show, Abby. What's your relationship with her in real life? Does it stem from a motherly place?
I wouldn't necessarily say motherly; I mean it's certainly a part of it. I adore her. She's a hilarious person. She's greatly talented. She must be having so much fun today, by the way, because she's working with Erika, and she's a huge 'Housewives' fan – always has been. So this must be something really fun for her. I gotta check in with her later. But she's just great. We have a great dynamic. Part of it is a maternal thing, but we're also working together as contemporaries, so it's like this friends thing, too. I like to mentor her a little bit, you know? But I just adore her. She's fabulous. I'm very lucky.
Will we see you interacting with your soap cast on "Real Housewives?"
I don't know. I have no idea. The season is now over.
Also, I have no idea if I'm going to be asked back. You never know how you're gonna feel about it, what's gonna happen in your life, if you really wanna go back. It's an emotional rollercoaster, and you kind of have to weigh these things every time you re-enter the whole game.
If you are asked back, is that something you're interested in doing?
Um, yes and no? You kind of have to figure it out, you know. I have to take the family's temperature, how are they feeling about it.
I wanted to get your reaction about what Eric Braeden said in his book about you and him having had real-life arguments.
Oh, did he? I didn't know that!
Yes, he spoke about how you guys disagreed a lot in real life.
What is your relationship like today?
When you have a long-term relationship, you have your ups and downs. And he's a very strong, opinionated man, and I'm a very strong, opinionated woman. And I think sometimes our opinions would clash, rightfully so, especially over storyline and stuff that I didn't agree with him on. So I mean yeah, this is all kind of normal stuff, especially spanning for years and years and years. But overall, I have a lot of respect for him and tons of respect for the work that we've done together. We've done a lot of great stuff together.
CBS
What else do you have going on these days?
I mean, I do have other stuff that's going on, but I don't know if I want to talk about it right now. We have this movie they've green lighted, and it's gonna start in April, and it's very exciting. [Vince Van Patten] wrote it and is gonna star in it. I'm in it. We actually have a start date in about four weeks, so we're gonna be busy doing that. And my books were auctioned, so I've been writing the script for adapting my books for screenplay and for film, and we're hoping that's gonna be shooting in a few months, so stay tuned.